Antiplatelet Activity of a Newly Synthesized Novel Ruthenium (II): A Potential Role for Akt/JNK Signaling
1
Department of Chemistry, North Eastern Hill University, Shillong 793022, India
2
Graduate Institute of Medical Sciences, College of Medicine, Taipei Medical University, Taipei 110, Taiwan
3
Department of Pharmacology, College of Medicine, Taipei Medical University, Taipei 110, Taiwan
4
Gastroenterologic Surgery Division, Department of Surgery, Yuan's General Hospital, Kaohsiung 249, Taiwan
†
These authors contributed equally to this work.
*
Authors to whom correspondence should be addressed.
Academic Editors: Sotiris Hadjikakou and Nick Hadjiliadis
Received: 13 March 2017 / Revised: 4 April 2017 / Accepted: 18 April 2017 / Published: 27 April 2017
Abstract
In oncotherapy, ruthenium complexes are considered as potential alternatives for platinum compounds, and have been proved as promising anticancer drugs with high efficacy and lesser side effects. Platelet activation plays a major role in cancer metastasis and progression. Hence, this study explored the effect of a newly synthesized ruthenium complex, [Ru(η
6
-cymene)(L)Cl]BF
4
(TQ5), where L = 4-phenyl-2-pyridin-2-yl-quinazoline), on human platelet activation. TQ5 (3–5 µM) inhibited concentration-dependent collagen-induced platelet aggregation in washed human platelets. However, this compound only inhibited platelet aggregation at a maximum concentration of 500 and 100 µM against thrombin and 9,11-dideoxy-11α, 9α-epoxymethanoprostaglandin (U46619)-induced stimulation, respectively. TQ5 inhibited collagen-induced ATP release and calcium mobilization ([Ca
2+
]
i
), without inducing cell cytotoxicity. In addition, neither SQ22536, an adenylate cyclase inhibitor, nor 1H-[1,2,4] oxadiazolo [4,3-a]quinoxalin-1-one (ODQ), a guanylate cyclase inhibitor, significantly reversed the TQ5-mediated inhibition of platelet aggregation. TQ5 inhibited the collagen-induced phosphorylation of protein kinase B (Akt) and c-Jun N-terminal kinase (JNK), but did not effectively inhibit extracellular signal-regulated kinase 1/2 (ERK1/2) and p38-mitogen-activated protein kinase (p38-MAPK) in human platelets. Additionally, TQ5 significantly prolonged the closure time in whole blood and increased the occlusion time of thrombotic platelet plug formation in mice. This study demonstrates, for the first time, that a newly synthesized ruthenium complex, TQ5, exhibits potent antiplatelet activity by hindering ATP release and [Ca
2+
]
i
, and by decreasing the activation of Akt/JNK signals. Together, these results suggest that TQ5 could be developed as a therapeutic agent that helps prevent or treat thromboembolic disorders, since it is found to be potently more effective than a well-established antithrombotic aspirin.
View Full-Text
►

▼

Figures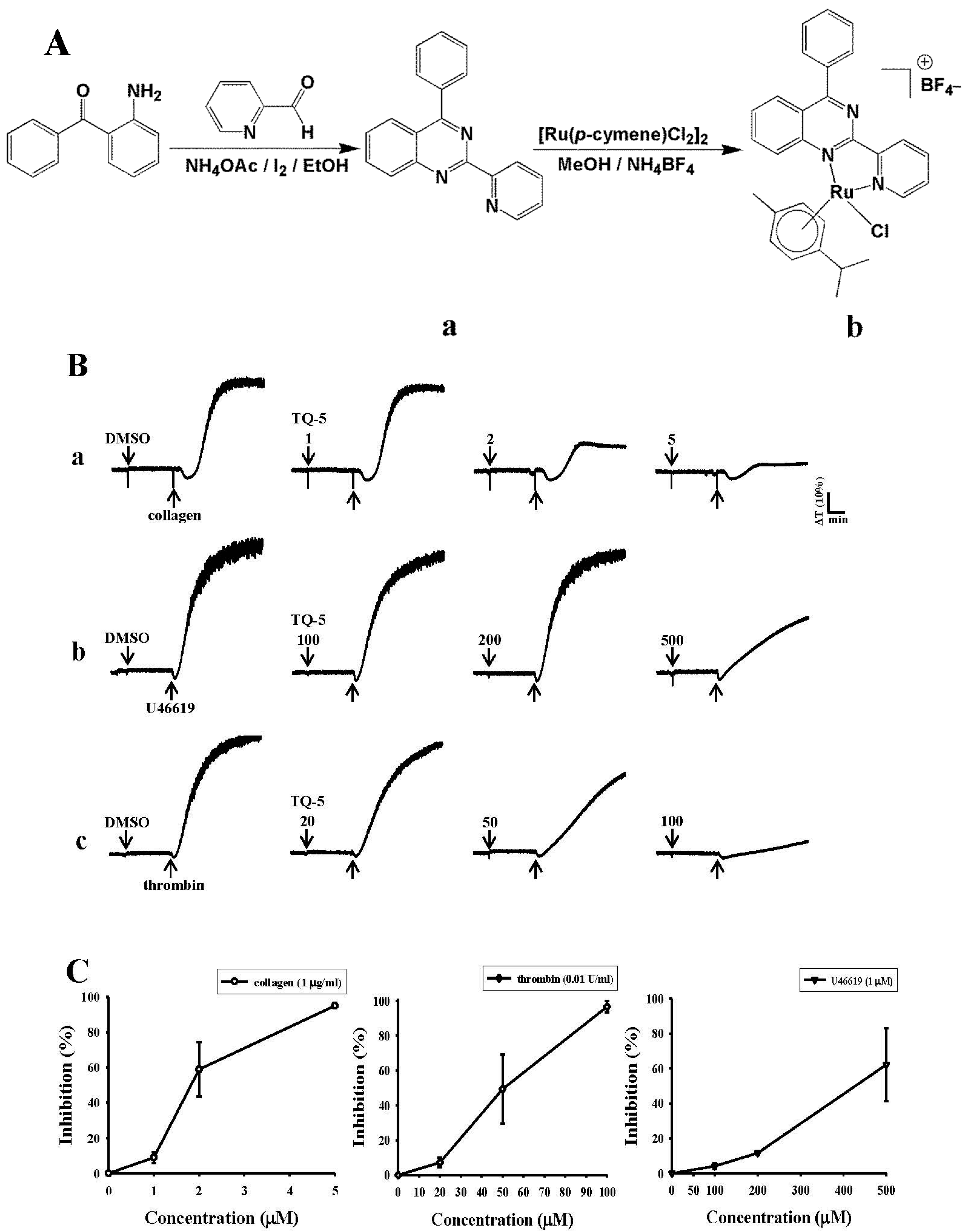 Figure 1
This is an open access article distributed under the
Creative Commons Attribution License
which permits unrestricted use, distribution, and reproduction in any medium, provided the original work is properly cited. (CC BY 4.0).
Share & Cite This Article
MDPI and ACS Style
Khamrang, T.; Hung, K.-C.; Hsia, C.-H.; Hsieh, C.-Y.; Velusamy, M.; Jayakumar, T.; Sheu, J.-R. Antiplatelet Activity of a Newly Synthesized Novel Ruthenium (II): A Potential Role for Akt/JNK Signaling. Int. J. Mol. Sci. 2017, 18, 916.
Note that from the first issue of 2016, MDPI journals use article numbers instead of page numbers. See further details here.
Related Articles
Comments
[Return to top]