Zebrafish as an Alternative Vertebrate Model for Investigating Developmental Toxicity—The Triadimefon Example
Laboratory of Toxicological Control of Pesticides, Department of Pesticides Control and Phytopharmacy, Benaki Phytopathological Institute, Attika 44561, Greece
*
Author to whom correspondence should be addressed.
Academic Editor: Juliette Legler
Received: 27 February 2017 / Revised: 27 March 2017 / Accepted: 4 April 2017 / Published: 12 April 2017
Abstract
Triadimefon is a widely used triazole fungicide known to cause severe developmental defects in several model organisms and in humans. The present study evaluated in detail the developmental effects seen in zebrafish embryos exposed to triadimefon, confirmed and expanded upon previous phenotypic findings and compared them to those observed in other traditional animal models. In order to do this, we exposed embryos to 2 and 4 µg/mL triadimefon and evaluated growth until 120 h post-fertilization (hpf) through gross morphology examination. Our analysis revealed significant developmental defects at the highest tested concentration including somite deformities, severe craniofacial defects, a cleft phenotype along the three primary neural divisions, a rigorously hypoplastic or even absent mandible and a hypoplastic morphology of the pharyngeal arches. Interestingly, massive pericardial edemas, abnormal shaped hearts, brachycardia and inhibited or absent blood circulation were also observed. Our results revealed that the presented zebrafish phenotypes are comparable to those seen in other organism models and those derived from human observations as a result of triadimefon exposure. We therefore demonstrated that zebrafish provide an excellent system for study of compounds with toxic significance and can be used as an alternative model for developmental toxicity studies to predict effects in mammals.
View Full-Text
►

▼

Figures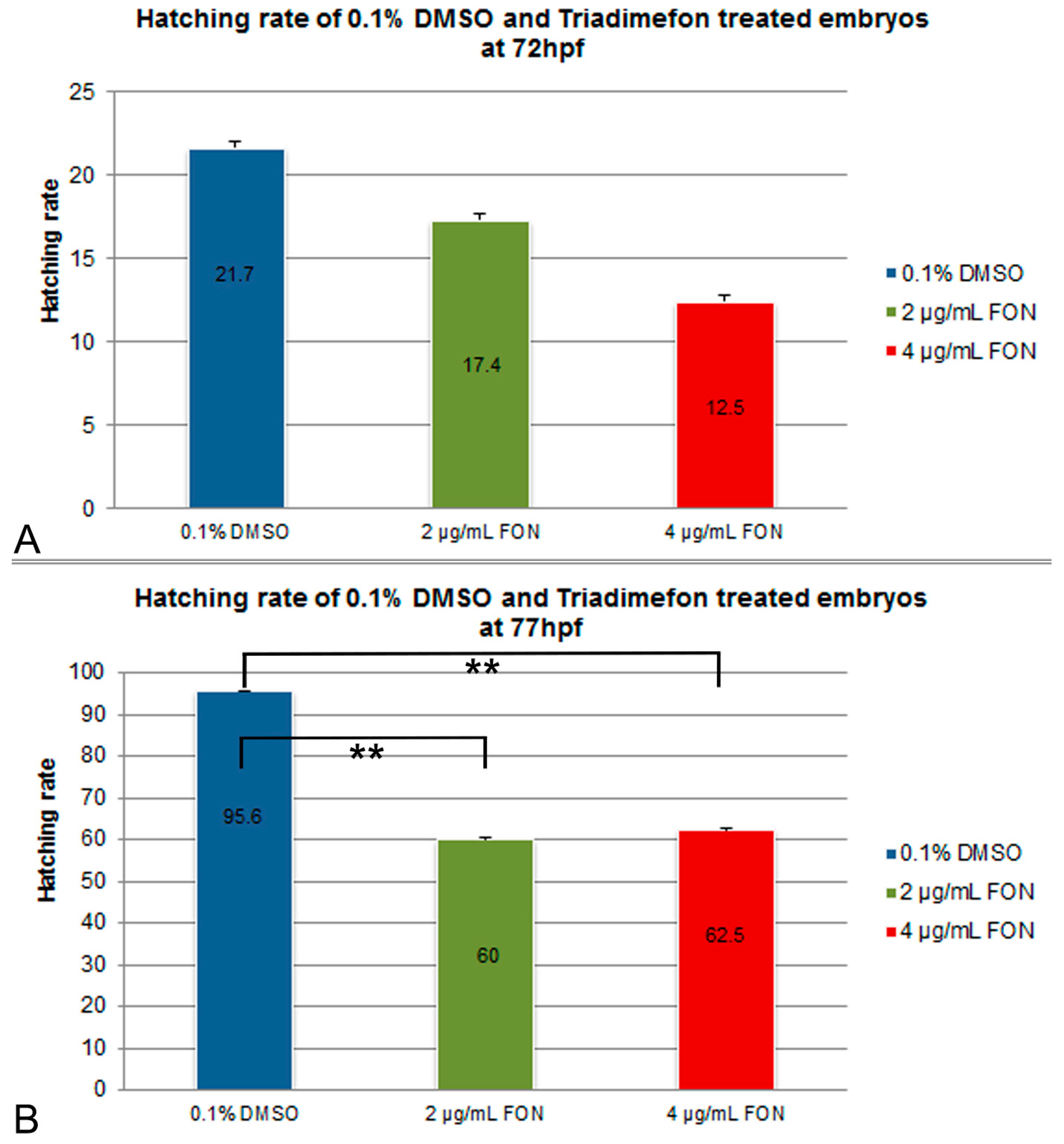 Figure 1
This is an open access article distributed under the
Creative Commons Attribution License
which permits unrestricted use, distribution, and reproduction in any medium, provided the original work is properly cited. (CC BY 4.0).
Supplementary materials
Supplementary File 1:

ZIP-Document (ZIP, 5767 KB)

Externally hosted supplementary file 1
Doi: no
Link: http://no
Description: Video S1. Severely altered somitic morphology and reduced blood circulation of 4 μg/ml FON exposed embryos at 120hpf. Video S2. Severely altered somitic morphology and absent blood circulation pattern of 4 μg/ml FON exposed embryos at 120hpf. Video S3. Typical somitic morphology and blood circulation pattern of 0.1% DMSO control embryos at 120hpf. Video S4. Reduced heartbeat of 2 μg/ml FON exposed embryos at 120hpf. Video S5. Typical heartbeat pattern of 0.1% DMSO control embryos at 120hpf. Video S6. Brachycardia of 4 μg/ml FON exposed embryos at 120hpf. Figure S7. Normal phenotype of embryos exposed to 0.1% DMSO (A, C, E) and embryo water (B, D, F) at 72-, 96- and 120hpf.
Share & Cite This Article
MDPI and ACS Style
Zoupa, M.; Machera, K. Zebrafish as an Alternative Vertebrate Model for Investigating Developmental Toxicity—The Triadimefon Example. Int. J. Mol. Sci. 2017, 18, 817.
Note that from the first issue of 2016, MDPI journals use article numbers instead of page numbers. See further details here.
Related Articles
Comments
[Return to top]