Comparison of the In Vivo Biotransformation of Two Emerging Estrogenic Contaminants, BP2 and BPS, in Zebrafish Embryos and Adults
1
Institut National de l'Environnement Industriel et des Risques (INERIS), Unité d'Écotoxicologie In Vitro et In Vivo, F-60550 Verneuil-en-Halatte, France
2
Toxalim (Research Centre in Food Toxicology), Université de Toulouse, INRA, ENVT, INP-Purpan, UPS, 31027 Toulouse, France
*
Authors to whom correspondence should be addressed.
Academic Editor: Juliette Legler
Received: 31 January 2017 / Revised: 20 March 2017 / Accepted: 22 March 2017 / Published: 25 March 2017
Abstract
Zebrafish embryo assays are increasingly used in the toxicological assessment of endocrine disruptors. Among other advantages, these models are 3R-compliant and are fit for screening purposes. Biotransformation processes are well-recognized as a critical factor influencing toxic response, but major gaps of knowledge exist regarding the characterization of functional metabolic capacities expressed in zebrafish. Comparative metabolic studies between embryos and adults are even scarcer. Using
3
H-labeled chemicals, we examined the fate of two estrogenic emerging contaminants, benzophenone-2 (BP2) and bisphenol S (BPS), in 4-day embryos and adult zebrafish. BPS and BP2 were exclusively metabolized through phase II pathways, with no major qualitative difference between larvae and adults except the occurrence of a BP2-di-glucuronide in adults. Quantitatively, the biotransformation of both molecules was more extensive in adults. For BPS, glucuronidation was the predominant pathway in adults and larvae. For BP2, glucuronidation was the major pathway in larvae, but sulfation predominated in adults, with ca. 40% conversion of parent BP2 and an extensive release of several conjugates into water. Further larvae/adults quantitative differences were demonstrated for both molecules, with higher residue concentrations measured in larvae. The study contributes novel data regarding the metabolism of BPS and BP2 in a fish model and shows that phase II conjugation pathways are already functional in 4-dpf-old zebrafish. Comparative analysis of BP2 and BPS metabolic profiles in zebrafish larvae and adults further supports the use of zebrafish embryo as a relevant model in which toxicity and estrogenic activity can be assessed, while taking into account the absorption and fate of tested substances.
View Full-Text
►

▼

Figures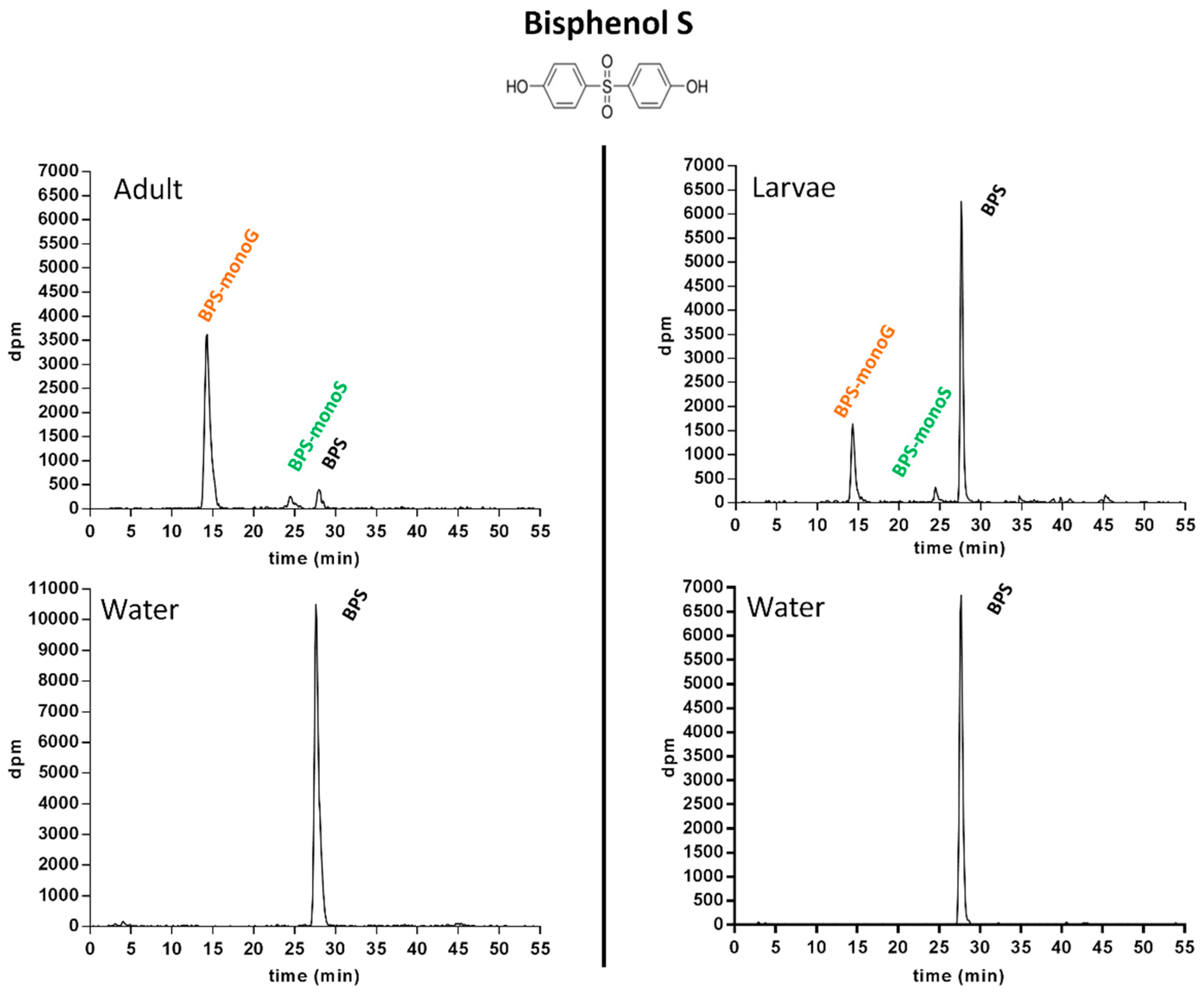 Figure 1
This is an open access article distributed under the
Creative Commons Attribution License
which permits unrestricted use, distribution, and reproduction in any medium, provided the original work is properly cited. (CC BY 4.0).
Share & Cite This Article
MDPI and ACS Style
Le Fol, V.; Brion, F.; Hillenweck, A.; Perdu, E.; Bruel, S.; Aït-Aïssa, S.; Cravedi, J.-P.; Zalko, D. Comparison of the In Vivo Biotransformation of Two Emerging Estrogenic Contaminants, BP2 and BPS, in Zebrafish Embryos and Adults. Int. J. Mol. Sci. 2017, 18, 704.
Note that from the first issue of 2016, MDPI journals use article numbers instead of page numbers. See further details here.
Related Articles
Comments
[Return to top]