Phosphodiesterase Inhibitors as a Therapeutic Approach to Neuroprotection and Repair
1
Herbert Wertheim College of Medicine, Florida International University, Miami, FL 33199, USA
2
The Miami Project to Cure Paralysis, The Miller School of Medicine at the University of Miami, Miami, FL 33136, USA
3
The Department of Neurological Surgery, The Miller School of Medicine at the University of Miami, Miami, FL 33136, USA
4
The Neuroscience Program, The Miller School of Medicine at the University of Miami, Miami, FL 33136, USA
5
The Interdisciplinary Stem Cell Institute, The Miller School of Medicine at the University of Miami, Miami, FL 33136, USA
6
Bruce Wayne Carter Department of Veterans Affairs Medical Center, Miami, FL 33136, USA
†
These authors contributed equally to this work.
*
Author to whom correspondence should be addressed.
Academic Editor: Katalin Prokai-Tatrai
Received: 17 February 2017 / Revised: 10 March 2017 / Accepted: 15 March 2017 / Published: 24 March 2017
Abstract
A wide diversity of perturbations of the central nervous system (CNS) result in structural damage to the neuroarchitecture and cellular defects, which in turn are accompanied by neurological dysfunction and abortive endogenous neurorepair. Altering intracellular signaling pathways involved in inflammation and immune regulation, neural cell death, axon plasticity and remyelination has shown therapeutic benefit in experimental models of neurological disease and trauma. The second messengers, cyclic adenosine monophosphate (cyclic AMP) and cyclic guanosine monophosphate (cyclic GMP), are two such intracellular signaling targets, the elevation of which has produced beneficial cellular effects within a range of CNS pathologies. The only known negative regulators of cyclic nucleotides are a family of enzymes called phosphodiesterases (PDEs) that hydrolyze cyclic nucleotides into adenosine monophosphate (AMP) or guanylate monophosphate (GMP). Herein, we discuss the structure and physiological function as well as the roles PDEs play in pathological processes of the diseased or injured CNS. Further we review the approaches that have been employed therapeutically in experimental paradigms to block PDE expression or activity and in turn elevate cyclic nucleotide levels to mediate neuroprotection or neurorepair as well as discuss both the translational pathway and current limitations in moving new PDE-targeted therapies to the clinic.
View Full-Text
►

▼

Figures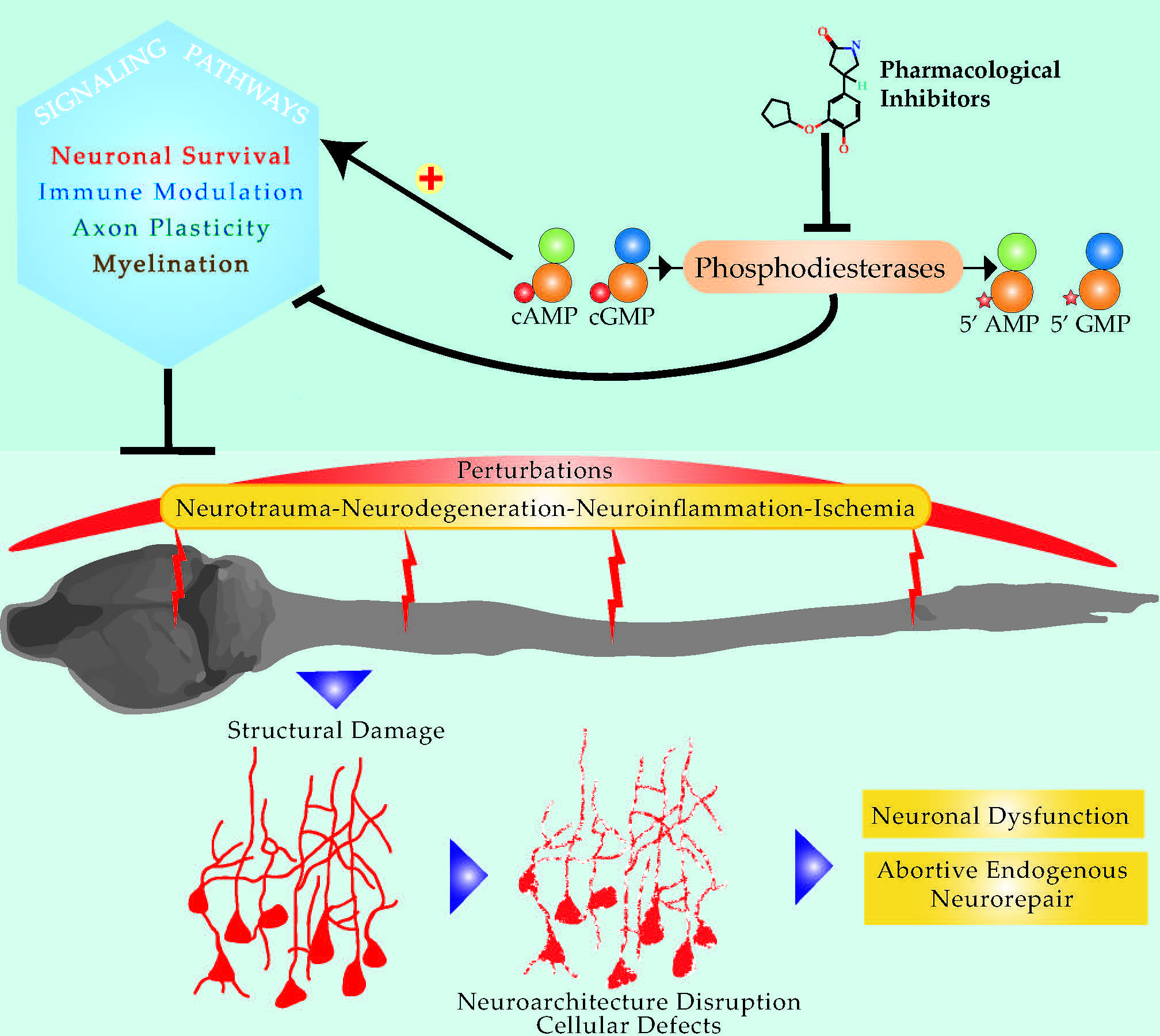 This is an open access article distributed under the
Creative Commons Attribution License
which permits unrestricted use, distribution, and reproduction in any medium, provided the original work is properly cited. (CC BY 4.0).
Share & Cite This Article
MDPI and ACS Style
Knott, E.P.; Assi, M.; Rao, S.N.R.; Ghosh, M.; Pearse, D.D. Phosphodiesterase Inhibitors as a Therapeutic Approach to Neuroprotection and Repair. Int. J. Mol. Sci. 2017, 18, 696.
Note that from the first issue of 2016, MDPI journals use article numbers instead of page numbers. See further details here.
Related Articles
Comments
[Return to top]