Passage through the Ocular Barriers and Beneficial Effects in Retinal Ischemia of Topical Application of PACAP1-38 in Rodents
1
Department of Anatomy, University of Pecs, Medical School, Pecs 7624, Hungary
2
Department of Ophthalmology, University of Pecs, Pecs 7624, Hungary
3
Geriatric Research, Education, and Clinical Center, Veterans Affairs Puget Sound Health Care System, Seattle, WA 98108, USA
4
Division of Gerontology and Geriatric Medicine, Department of Medicine, University of Washington School of Medicine, Seattle, WA 98122, USA
5
Department of Medical Chemistry, University of Szeged, Szeged 6720, Hungary
6
Department of Sportbiology, University of Pecs, Pecs 7624, Hungary
7
Janos Szentagothai Research Center, University of Pecs, Pecs 7624, Hungary
*
Author to whom correspondence should be addressed.
Academic Editor: Katalin Prokai-Tatrai
Received: 13 January 2017 / Revised: 8 March 2017 / Accepted: 12 March 2017 / Published: 21 March 2017
Abstract
The neuropeptide pituitary adenylate cyclase activating polypeptide (PACAP) has two active forms, PACAP1-27 and PACAP1-38. Among the well-established actions are PACAP's neurotrophic and neuroprotective effects, which have also been proven in models of different retinopathies. The route of delivery is usually intravitreal in studies proving PACAP's retinoprotective effects. Recently, we have shown that PACAP1-27 delivered as eye drops in benzalkonium-chloride was able to cross the ocular barriers and exert retinoprotection in ischemia. Since PACAP1-38 is the dominant form of the naturally occurring PACAP, our aim was to investigate whether the longer form is also able to cross the barriers and exert protective effects in permanent bilateral common carotid artery occlusion (BCCAO), a model of retinal hypoperfusion. Our results show that radioactive PACAP1-38 eye drops could effectively pass through the ocular barriers to reach the retina. Routine histological analysis and immunohistochemical evaluation of the Müller glial cells revealed that PACAP1-38 exerted retinoprotective effects. PACAP1-38 attenuated the damage caused by hypoperfusion, apparent in almost all retinal layers, and it decreased the glial cell overactivation. Overall, our results confirm that PACAP1-38 given in the form of eye drops is a novel protective therapeutic approach to treat retinal diseases.
View Full-Text
►

▼

Figures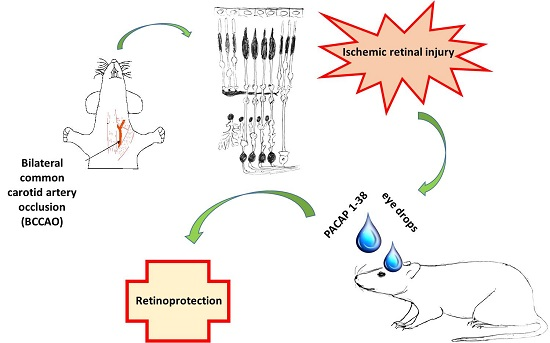 This is an open access article distributed under the
Creative Commons Attribution License
which permits unrestricted use, distribution, and reproduction in any medium, provided the original work is properly cited. (CC BY 4.0).
Share & Cite This Article
MDPI and ACS Style
Werling, D.; Banks, W.A.; Salameh, T.S.; Kvarik, T.; Kovacs, L.A.; Vaczy, A.; Szabo, E.; Mayer, F.; Varga, R.; Tamas, A.; Toth, G.; Biro, Z.; Atlasz, T.; Reglodi, D. Passage through the Ocular Barriers and Beneficial Effects in Retinal Ischemia of Topical Application of PACAP1-38 in Rodents. Int. J. Mol. Sci. 2017, 18, 675.
Note that from the first issue of 2016, MDPI journals use article numbers instead of page numbers. See further details here.
Related Articles
Comments
[Return to top]