Evaluation and Adaptation of a Laboratory-Based cDNA Library Preparation Protocol for Retrospective Sequencing of Archived MicroRNAs from up to 35-Year-Old Clinical FFPE Specimens
1
Department of Epidemiology and Population Health, Albert Einstein College of Medicine, Bronx, NY 10461, USA
2
Department of Pathology, Rhode Island Hospital, Providence, RI 02903, USA
3
Department of Pathology and Breast Oncology Program, Henry Ford Health System, Detroit, MI 48202, USA
4
Center for Clinical Epidemiology and Population Health, Marshfield Clinic Research Foundation, Marshfield, WI 54449, USA
5
Department of Pathology, Center for Health Research, Kaiser Permanente, 3288 Moanalua Road, Honolulu, HI 96819, USA
6
Center for Excellence in Cancer and Genomics, Kaiser Permanente Colorado, Denver, CO 80237, USA
7
Center for Health Research, Kaiser Permanente Northwest, Portland, OR 97227, USA
8
Health Sciences Research, Mayo Clinic, Rochester, NY 55902, USA
9
Montefiore Medical Center, Bronx, NY 10467, USA
10
Laboratory of Medical Transcriptomics, Hadassah-Hebrew University Medical Center, Jerusalem 91120, Israel
*
Author to whom correspondence should be addressed.
Academic Editor: Martin Pichler
Received: 17 February 2017 / Revised: 2 March 2017 / Accepted: 8 March 2017 / Published: 14 March 2017
Abstract
Formalin-fixed paraffin-embedded (FFPE) specimens, when used in conjunction with patient clinical data history, represent an invaluable resource for molecular studies of cancer. Even though nucleic acids extracted from archived FFPE tissues are degraded, their molecular analysis has become possible. In this study, we optimized a laboratory-based next-generation sequencing barcoded cDNA library preparation protocol for analysis of small RNAs recovered from archived FFPE tissues. Using matched fresh and FFPE specimens, we evaluated the robustness and reproducibility of our optimized approach, as well as its applicability to archived clinical specimens stored for up to 35 years. We then evaluated this cDNA library preparation protocol by performing a miRNA expression analysis of archived breast ductal carcinoma in situ (DCIS) specimens, selected for their relation to the risk of subsequent breast cancer development and obtained from six different institutions. Our analyses identified six miRNAs (miR-29a, miR-221, miR-375, miR-184, miR-363, miR-455-5p) differentially expressed between DCIS lesions from women who subsequently developed an invasive breast cancer (cases) and women who did not develop invasive breast cancer within the same time interval (control). Our thorough evaluation and application of this laboratory-based miRNA sequencing analysis indicates that the preparation of small RNA cDNA libraries can reliably be performed on older, archived, clinically-classified specimens.
View Full-Text
►

▼

Figures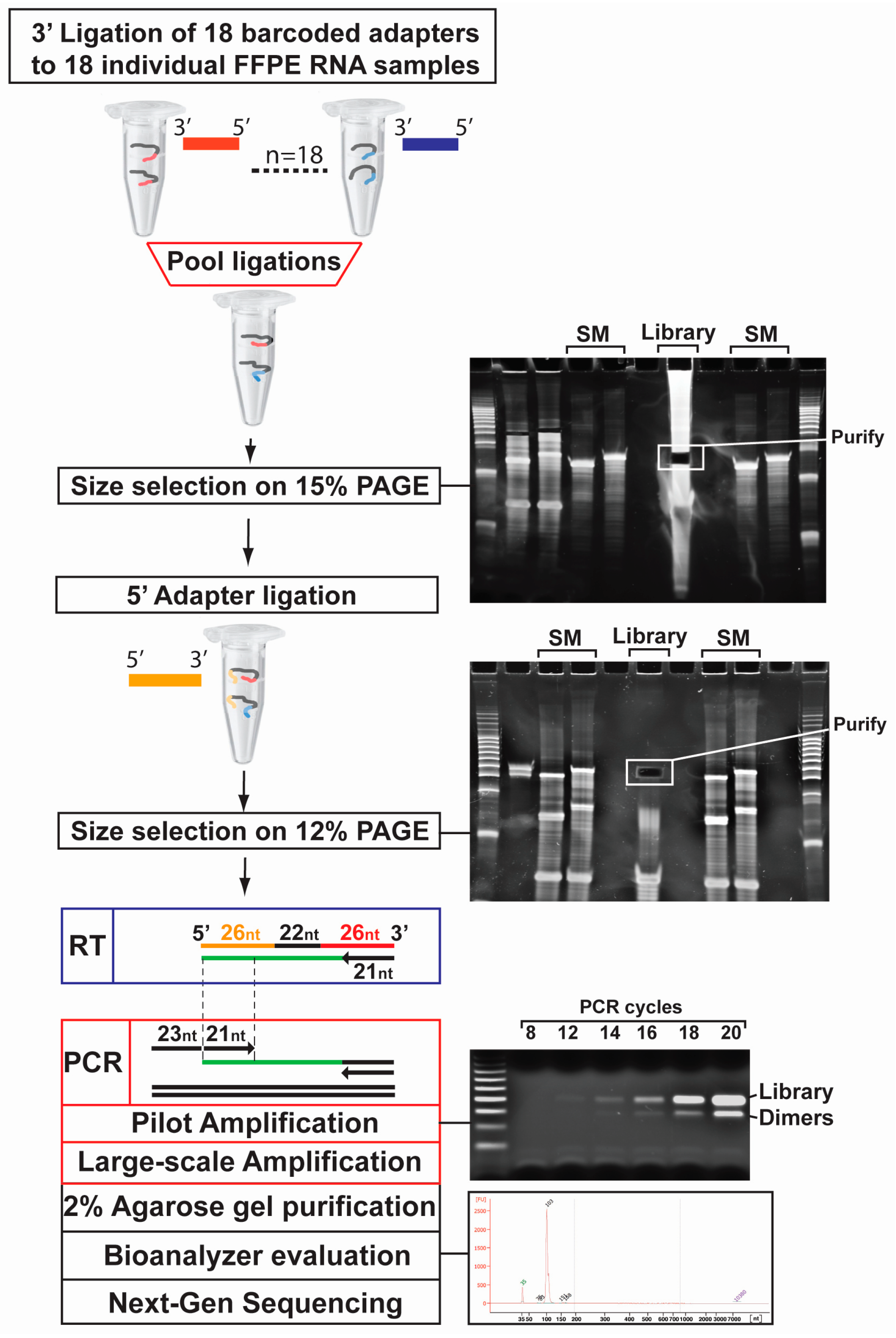 Figure 1
This is an open access article distributed under the
Creative Commons Attribution License
which permits unrestricted use, distribution, and reproduction in any medium, provided the original work is properly cited. (CC BY 4.0).
Share & Cite This Article
MDPI and ACS Style
Loudig, O.; Wang, T.; Ye, K.; Lin, J.; Wang, Y.; Ramnauth, A.; Liu, C.; Stark, A.; Chitale, D.; Greenlee, R.; Multerer, D.; Honda, S.; Daida, Y.; Spencer Feigelson, H.; Glass, A.; Couch, F.J.; Rohan, T.; Ben-Dov, I.Z. Evaluation and Adaptation of a Laboratory-Based cDNA Library Preparation Protocol for Retrospective Sequencing of Archived MicroRNAs from up to 35-Year-Old Clinical FFPE Specimens. Int. J. Mol. Sci. 2017, 18, 627.
Note that from the first issue of 2016, MDPI journals use article numbers instead of page numbers. See further details here.
Related Articles
Comments
[Return to top]