Targeting Angiogenesis in Biliary Tract Cancers: An Open Option
1
Operative Unit of Internal Medicine, Hospital "F.Ferrari", 73042 Casarano (Le), Italy
2
Medical Oncology Unit, Cancer Institute "Giovanni Paolo II", 70124 Bari, Italy
3
Department of Emergency and Organ Transplantation, Institute of General Surgery and Liver Transplantation, University of Bari, 70124 Bari, Italy
4
Department of Biomedical Sciences and Human Oncology, Unit of Endocrine, Digestive and Emergency Surgery, 70124 Bari, Italy
5
Department of Emergency and Organ Transplantation, Operating Unit of Pathological Anatomy, "Aldo Moro" University, 70124 Bari, Italy
6
Surgical Oncology Unit, Cancer Institute "Giovanni Paolo II", 70124 Bari, Italy
7
Medical Oncology Unit, Hospital of Taranto, 74010 Taranto, Italy
8
Phase I–Early Clinical Trials Unit, Oncology Department, Antwerp University Hospital & Center for Oncological Research, 2650 Edegem, Belgium
9
Oncology Department, Antwerp University Hospital, 2650 Edegem, Belgium
10
ARC-NET (Applied Research on Cancer-Network) Research Centre, University of Verona, 37134 Verona, Italy
11
Department of Diagnostics and Public Health, Section of Pathology, University of Verona, 37134 Verona, Italy
12
Preclinical and Clinical Pharmacology Unit, Cancer Institute "Giovanni Paolo II", 70124 Bari, Italy
13
Department of Surgical, Oncological and Oral Sciences, Section of Medical Oncology, University of Palermo, 90144 Palermo, Italy
14
Department of Basic Medical Sciences, Neurosciences and Sensory Organs, University of Bari Medical School, 70124 Bari, Italy
15
Cancer Institute "Giovanni Paolo II", 70124 Bari, Italy
*
Author to whom correspondence should be addressed.
Academic Editor: Li Yang
Received: 31 December 2016 / Revised: 8 February 2017 / Accepted: 10 February 2017 / Published: 15 February 2017
Abstract
Biliary tract cancers (BTCs) are characterized by a bad prognosis and the armamentarium of drugs for their treatment is very poor. Although the inflammatory status of biliary tract represents the first step in the cancerogenesis, the microenvironment also plays a key role in the pathogenesis of BTCs, promoting tumor angiogenesis, invasion and metastasis. Several molecules, such as vascular endothelial growth factor (VEGF) and fibroblast growth factor (FGF), are involved in the angiogenesis process and their expression on tumor samples has been explored as prognostic marker in both cholangiocarcinoma and gallbladder cancer. Recent studies evaluated the genomic landscape of BTCs and evidenced that aberrations in several genes enrolled in the pro-angiogenic signaling, such as FGF receptor-2 (FGFR-2), are characteristic of BTCs. New drugs targeting the signaling pathways involved in angiogenesis have been tested in preclinical studies both in vitro and in vivo with promising results. Moreover, several clinical studies tested monoclonal antibodies against VEGF and tyrosine kinase inhibitors targeting the VEGF and the MEK/ERK pathways. Herein, we evaluate both the pathogenic mechanisms of BTCs focused on angiogenesis and the preclinical and clinical data available regarding the use of new anti-angiogenic drugs in these malignancies.
View Full-Text
►

▼

Figures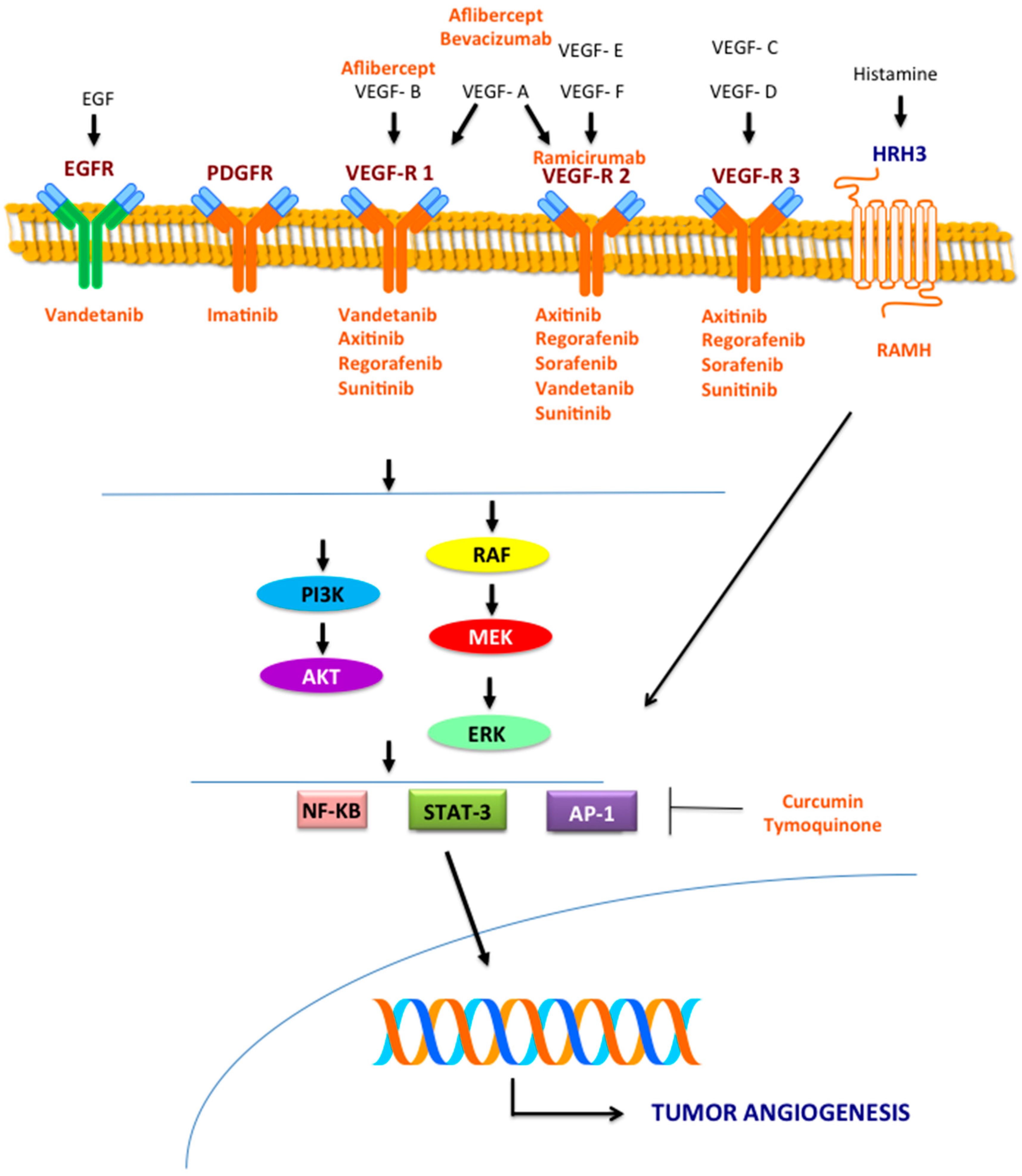 Figure 1
This is an open access article distributed under the
Creative Commons Attribution License
which permits unrestricted use, distribution, and reproduction in any medium, provided the original work is properly cited. (CC BY 4.0).
Share & Cite This Article
MDPI and ACS Style
Simone, V.; Brunetti, O.; Lupo, L.; Testini, M.; Maiorano, E.; Simone, M.; Longo, V.; Rolfo, C.; Peeters, M.; Scarpa, A.; Azzariti, A.; Russo, A.; Ribatti, D.; Silvestris, N. Targeting Angiogenesis in Biliary Tract Cancers: An Open Option. Int. J. Mol. Sci. 2017, 18, 418.
Note that from the first issue of 2016, MDPI journals use article numbers instead of page numbers. See further details here.
Related Articles
Comments
[Return to top]