Early Healing Events after Periodontal Surgery: Observations on Soft Tissue Healing, Microcirculation, and Wound Fluid Cytokine Levels
1
Department of Periodontology, Witten/Herdecke University, 58455 Witten, Germany
2
Multi-Disciplinary Treatment Center, Beijing Stomatological Hospital, Capital Medical University, Beijing 100050, China
3
Hochschule, University of applied sciences, 50670 Cologne, Germany
*
Author to whom correspondence should be addressed.
Received: 10 October 2016 / Accepted: 19 January 2017 / Published: 27 January 2017
Abstract
Early wound healing after periodontal surgery with or without enamel matrix derivative/biphasic calcium phosphate (EMD/BCP) was characterized in terms of soft tissue closure, changes of microcirculation, and expression of pro- and anti-inflammatory cytokines in gingival crevicular fluid/wound fluid (GCF/WF). Periodontal surgery was carried out in 30 patients (18 patients: application of EMD/BCP for regeneration of bony defects; 12 patients: surgical crown lengthening (SCL)). Healthy sites were observed as untreated controls. GCF/WF samples were collected during two post-surgical weeks. Flap microcirculation was measured using laser Doppler flowmetry (LDF). Soft tissue healing was evaluated after two weeks. GCF/WF levels of interleukin 1β (IL-1β), tumour necrosis factor (TNF-α), IL-6, and IL-10 were determined using a multiplex immunoassay. Surgery caused similar reductions of flap microcirculation followed by recovery within two weeks in both EMD/BCP and SCL groups. GCF/WF and pro-inflammatory cytokine levels were immediately increased after surgery, and returned only partially to baseline levels within the two-week observation period. Levels of IL-10 were temporarily reduced in all surgical sites. Flap dehiscence caused prolonged elevated levels of GCF/WF, IL-1β, and TNF-α. These findings show that periodontal surgery triggers an immediate inflammatory reaction corresponding to the early inflammatory phase of wound healing, and these inflammation measures are temporary in case of maintained closure of the flap. However, flap dehiscence causes prolonged inflammatory exudation from the periodontal wound. If the biological pre-conditions for periodontal wound healing are considered important for the clinical outcome, care should be taken to maintain primary closure of the flap.
View Full-Text
►

▼

Figures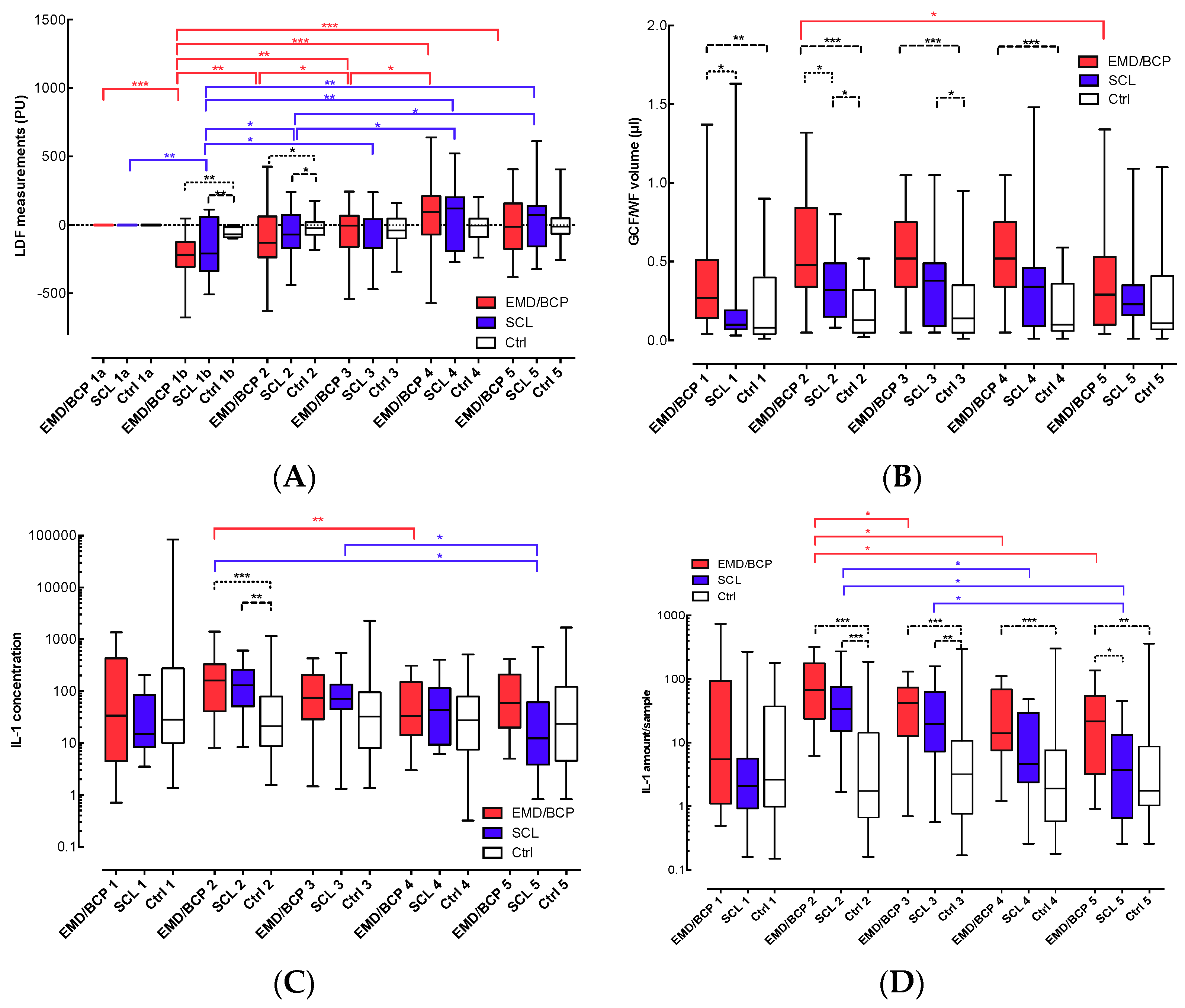 Figure 1
This is an open access article distributed under the
Creative Commons Attribution License
which permits unrestricted use, distribution, and reproduction in any medium, provided the original work is properly cited. (CC BY 4.0).
Share & Cite This Article
MDPI and ACS Style
Kaner, D.; Soudan, M.; Zhao, H.; Gaßmann, G.; Schönhauser, A.; Friedmann, A. Early Healing Events after Periodontal Surgery: Observations on Soft Tissue Healing, Microcirculation, and Wound Fluid Cytokine Levels. Int. J. Mol. Sci. 2017, 18, 283.
Note that from the first issue of 2016, MDPI journals use article numbers instead of page numbers. See further details here.
Related Articles
Comments
[Return to top]