Functions and Epigenetic Regulation of Wwox in Bone Metastasis from Breast Carcinoma: Comparison with Primary Tumors
1
Galeazzi Orthopaedic Institute, Scientific Institute for Research, Hospitalization and Health Care (IRCCS), 20161 Milano, Italy
2
Department of Biomedical Sciences for Health, Molecular Pathology Laboratory, Università degli Studi di Milano, 20133 Milano, Italy
*
Author to whom correspondence should be addressed.
Academic Editor: Nicoletta Sacchi
Received: 14 September 2016 / Revised: 26 October 2016 / Accepted: 24 November 2016 / Published: 1 January 2017
Abstract
Epigenetic mechanisms influence molecular patterns important for the bone-metastatic process, and here we highlight the role of WW-domain containing oxidoreductase (Wwox). The tumor-suppressor Wwox lacks in almost all cancer types; the variable expression in osteosarcomas is related to lung-metastasis formation, and exogenous Wwox destabilizes HIF-1α (subunit of Hypoxia inducible Factor-1, HIF-1) affecting aerobic glycolysis. Our recent studies show critical functions of Wwox present in 1833-osteotropic clone, in the corresponding xenograft model, and in human bone metastasis from breast carcinoma. In hypoxic-bone metastatic cells, Wwox enhances HIF-1α stabilization, phosphorylation, and nuclear translocation. Consistently, in bone-metastasis specimens Wwox localizes in cytosolic/perinuclear area, while TAZ (transcriptional co-activator with PDZ-binding motif) and HIF-1α co-localize in nuclei, playing specific regulatory mechanisms: TAZ is a co-factor of HIF-1, and Wwox regulates HIF-1 activity by controlling HIF-1α. In vitro, DNA methylation affects Wwox-protein synthesis; hypoxia decreases Wwox-protein level; hepatocyte growth factor (HGF) phosphorylates Wwox driving its nuclear shuttle, and counteracting a Twist program important for the epithelial phenotype and metastasis colonization. In agreement, in 1833-xenograft mice under DNA-methyltransferase blockade with decitabine, Wwox increases in nuclei/cytosol counteracting bone metastasis with prolongation of the survival. However, Wwox seems relevant for the autophagic process which sustains metastasis, enhancing more Beclin-1 than p62 protein levels, and p62 accumulates under decitabine consistent with adaptability of metastasis to therapy. In conclusion, Wwox methylation as a bone-metastasis therapeutic target would depend on autophagy conditions, and epigenetic mechanisms regulating Wwox may influence the phenotype of bone metastasis.
View Full-Text
►

▼

Figures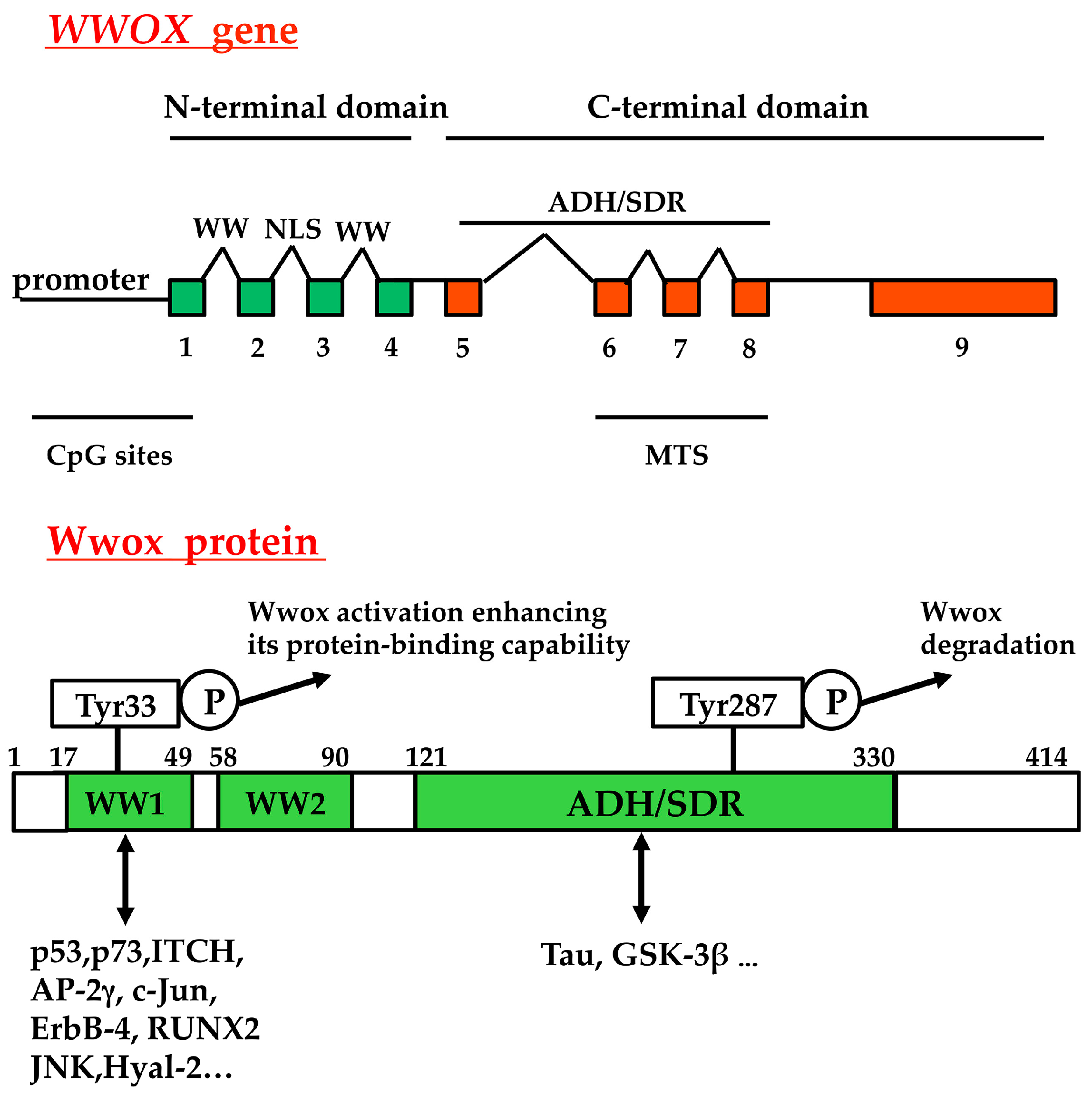 Figure 1
This is an open access article distributed under the
Creative Commons Attribution License
which permits unrestricted use, distribution, and reproduction in any medium, provided the original work is properly cited. (CC BY 4.0).
Share & Cite This Article
MDPI and ACS Style
Maroni, P.; Matteucci, E.; Bendinelli, P.; Desiderio, M.A. Functions and Epigenetic Regulation of Wwox in Bone Metastasis from Breast Carcinoma: Comparison with Primary Tumors. Int. J. Mol. Sci. 2017, 18, 75.
Note that from the first issue of 2016, MDPI journals use article numbers instead of page numbers. See further details here.
Related Articles
Comments
[Return to top]