Integrative Analysis of Metabolomic, Proteomic and Genomic Data to Reveal Functional Pathways and Candidate Genes for Drip Loss in Pigs
1
Institute of Animal Science, University of Bonn, Endenicher Allee 15, 53115 Bonn, Germany
2
Institute for Organic Agriculture Luxembourg, Association sans but lucratif (A.S.B.L.), 13 Rue Gabriel Lippmann, L-5365 Munsbach, Luxembourg
3
Department of Animal Science, Faculty of Agriculture, Erciyes University, Talas Bulvari No. 99, 38039 Kayseri, Turkey
*
Author to whom correspondence should be addressed.
Academic Editor: Klaus Wimmers
Received: 27 June 2016 / Revised: 12 August 2016 / Accepted: 22 August 2016 / Published: 30 August 2016
Abstract
The aim of this study was to integrate multi omics data to characterize underlying functional pathways and candidate genes for drip loss in pigs. The consideration of different omics levels allows elucidating the black box of phenotype expression. Metabolite and protein profiling was applied in
Musculus longissimus dorsi
samples of 97 Duroc × Pietrain pigs. In total, 126 and 35 annotated metabolites and proteins were quantified, respectively. In addition, all animals were genotyped with the porcine 60 k Illumina beadchip. An enrichment analysis resulted in 10 pathways, amongst others, sphingolipid metabolism and glycolysis/gluconeogenesis, with significant influence on drip loss. Drip loss and 22 metabolic components were analyzed as intermediate phenotypes within a genome-wide association study (GWAS). We detected significantly associated genetic markers and candidate genes for drip loss and for most of the metabolic components. On chromosome 18, a region with promising candidate genes was identified based on SNPs associated with drip loss, the protein "phosphoglycerate mutase 2" and the metabolite glycine. We hypothesize that association studies based on intermediate phenotypes are able to provide comprehensive insights in the genetic variation of genes directly involved in the metabolism of performance traits. In this way, the analyses contribute to identify reliable candidate genes.
View Full-Text
►

▼

Figures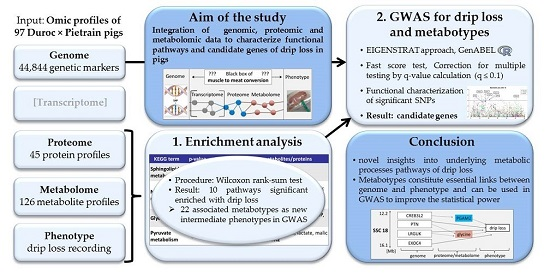 This is an open access article distributed under the
Creative Commons Attribution License
which permits unrestricted use, distribution, and reproduction in any medium, provided the original work is properly cited. (CC BY 4.0).
Share & Cite This Article
MDPI and ACS Style
Welzenbach, J.; Neuhoff, C.; Heidt, H.; Cinar, M.U.; Looft, C.; Schellander, K.; Tholen, E.; Große-Brinkhaus, C. Integrative Analysis of Metabolomic, Proteomic and Genomic Data to Reveal Functional Pathways and Candidate Genes for Drip Loss in Pigs. Int. J. Mol. Sci. 2016, 17, 1426.
Note that from the first issue of 2016, MDPI journals use article numbers instead of page numbers. See further details here.
Related Articles
Comments
[Return to top]