ADAM9 Expression Is Associate with Glioma Tumor Grade and Histological Type, and Acts as a Prognostic Factor in Lower-Grade Gliomas
1
Beijing Neurosurgical Institute, Capital Medical University, Beijing 100050, China
2
Department of Neurosurgery, Qinhuangdao First Hospital, Qinhuangdao 066000, China
3
Department of Ophthalmology, Qinhuangdao First Hospital, Qinhuangdao 066000, China
4
Department of Radiotherapy, Qinhuangdao First Hospital, Qinhuangdao 066000, China
5
Department of Neurosurgery, Beijing Tiantan Hospital, Capital Medical University, Beijing100050, China
*
Authors to whom correspondence should be addressed.
Academic Editor: William Cho
Received: 31 May 2016 / Revised: 23 July 2016 / Accepted: 25 July 2016 / Published: 26 August 2016
Abstract
The A disintegrin and metalloproteinase 9 (ADAM9) protein has been suggested to promote carcinoma invasion and appears to be overexpressed in various human cancers. However, its role has rarely been investigated in gliomas and, thus, in the current study we have evaluated ADAM9 expression in gliomas and examined the relevance of its expression in the prognosis of glioma patients. Clinical characteristics, RNA sequence data, and the case follow-ups were reviewed for 303 patients who had histological, confirmed gliomas. The ADAM9 expression between lower-grade glioma (LGG) and glioblastoma (GBM) patients was compared and its association with progression-free survival (PFS) and overall survival (OS) was assessed to evaluate its prognostic value. Our data suggested that GBM patients had significantly higher expression of ADAM9 in comparison to LGG patients (
p
< 0.001,
t
-test). In addition, among the LGG patients, aggressive astrocytic tumors displayed significantly higher ADAM9 expression than oligodendroglial tumors (
p
< 0.001,
t
-test). Moreover, high ADAM9 expression also correlated with poor clinical outcome (
p
< 0.001 and
p
< 0.001, log-rank test, for PFS and OS, respectively) in LGG patients. Further, multivariate analysis suggested ADAM9 expression to be an independent marker of poor survival (
p
= 0.002 and
p
= 0.003, for PFS and OS, respectively). These results suggest that ADAM9 mRNA expression is associated with tumor grade and histological type in gliomas and can serve as an independent prognostic factor, specifically in LGG patients.
View Full-Text
►

▼

Figures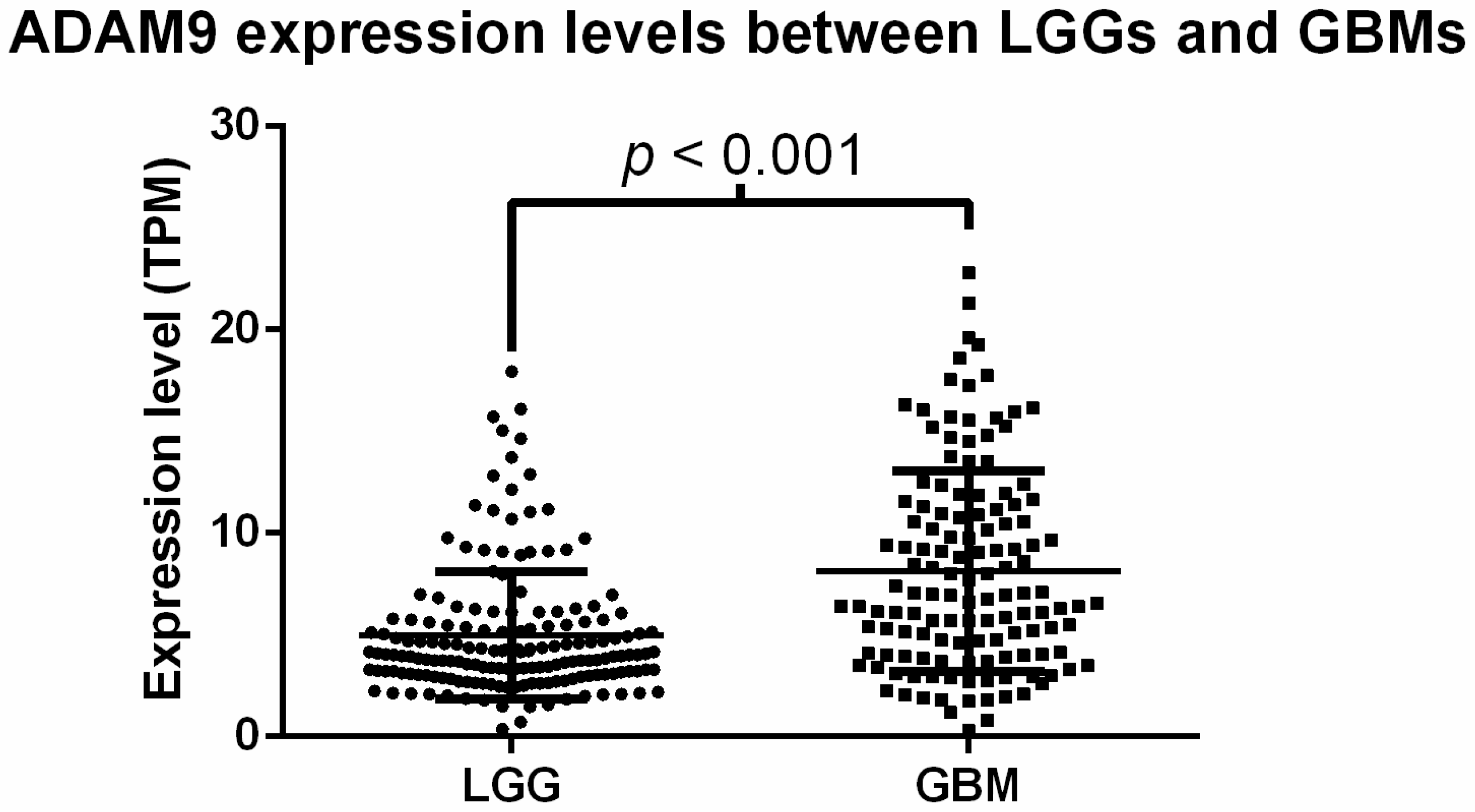 Figure 1
This is an open access article distributed under the
Creative Commons Attribution License
which permits unrestricted use, distribution, and reproduction in any medium, provided the original work is properly cited. (CC BY 4.0).
Share & Cite This Article
MDPI and ACS Style
Fan, X.; Wang, Y.; Zhang, C.; Liu, L.; Yang, S.; Wang, Y.; Liu, X.; Qian, Z.; Fang, S.; Qiao, H.; Jiang, T. ADAM9 Expression Is Associate with Glioma Tumor Grade and Histological Type, and Acts as a Prognostic Factor in Lower-Grade Gliomas. Int. J. Mol. Sci. 2016, 17, 1276.
Note that from the first issue of 2016, MDPI journals use article numbers instead of page numbers. See further details here.
Related Articles
Comments
[Return to top]