Synthesis, Crystal Study, and Anti-Proliferative Activity of Some 2-Benzimidazolylthioacetophenones towards Triple-Negative Breast Cancer MDA-MB-468 Cells as Apoptosis-Inducing Agents
1
Department of Applied Organic Chemistry, National Research Center, Dokki, Giza 12622, Egypt
2
Department of Pharmaceutical Chemistry, Faculty of Pharmacy, Egyptian Russian University, Badr City, Cairo 11829, Egypt
3
Department of Pharmaceutical Chemistry, College of Pharmacy, King Saud University, P.O. Box 2457, Riyadh 11451, Saudi Arabia
4
Department of Medicinal Chemistry, Faculty of Pharmacy, Mansoura University, Mansoura 35516, Egypt
5
Department of Pharmaceutical Chemistry, Faculty of Pharmacy, Ain Shams University, Abbassia, Cairo 11566, Egypt
6
Department of Biopharmaceutics and Clinical Pharmacy, Faculty of Pharmacy, The University of Jordan, Amman 11942, Jordan
7
Stem Cell & Tissue Re-Engineering Program, Research Center, King Faisal Specialized Hospital & Research Center, MBC-03, P.O. Box 3354, Riyadh 11211, Saudi Arabia
*
Author to whom correspondence should be addressed.
Academic Editors: Ge Zhang and Charles J. Malemud
Received: 20 April 2016 / Revised: 17 May 2016 / Accepted: 11 July 2016 / Published: 29 July 2016
Abstract
On account of its poor prognosis and deficiency of therapeutic stratifications, triple negative breast cancer continues to form the causative platform of an incommensurate number of breast cancer deaths. Aiming at the development of potent anticancer agents as a continuum of our previous efforts, a novel series of 2-((benzimidazol-2-yl)thio)-1-arylethan-1-ones
5a
–
w
was synthesized and evaluated for its anti-proliferative activity towards triple negative breast cancer (TNBC) MDA-MB-468 cells. Compound
5k
was the most active analog against MDA-MB-468 (IC
50
= 19.90 ± 1.37 µM), with 2.1-fold increased activity compared to 5-fluorouracil (IC
50
= 41.26 ± 3.77 µM). Compound
5k
was able to induce apoptosis in MDA-MB-468, as evidenced by the marked boosting in the percentage of florecsein isothiocyanate annexin V (Annexin V–FITC)-positive apoptotic cells (upper right (UR) + lower right (LR)) by 2.8-fold in comparison to control accompanied by significant increase in the proportion of cells at pre-G1 (the first gap phase) by 8.13-fold in the cell-cycle analysis. Moreover, a quantitative structure activity relationship (QSAR) model was established to investigate the structural requirements orchestrating the anti-proliferative activity. Finally, we established a theoretical kinetic study.
View Full-Text
►

▼

Figures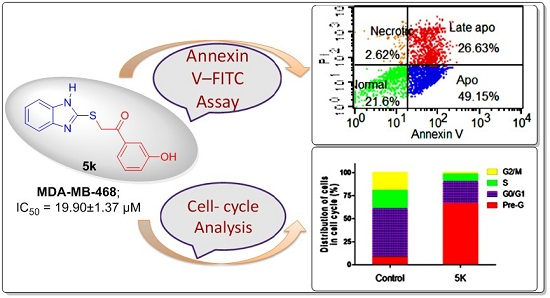 This is an open access article distributed under the
Creative Commons Attribution License
which permits unrestricted use, distribution, and reproduction in any medium, provided the original work is properly cited. (CC BY 4.0).
Share & Cite This Article
MDPI and ACS Style
Abdel-Aziz, H.A.; Eldehna, W.M.; Ghabbour, H.; Al-Ansary, G.H.; Assaf, A.M.; Al-Dhfyan, A. Synthesis, Crystal Study, and Anti-Proliferative Activity of Some 2-Benzimidazolylthioacetophenones towards Triple-Negative Breast Cancer MDA-MB-468 Cells as Apoptosis-Inducing Agents. Int. J. Mol. Sci. 2016, 17, 1221.
Note that from the first issue of 2016, MDPI journals use article numbers instead of page numbers. See further details here.
Related Articles
Comments
[Return to top]