Expression and Distribution Pattern of Aquaporin 4, 5 and 11 in Retinas of 15 Different Species
1
Institute for Animal Physiology, Department of Veterinary Sciences, Ludwig-Maximilians-University, Veterinärstraße 13, D-80539 Munich, Germany
2
Clinic for Ophthalmology, University Clinic Gießen und Marburg GmbH, Marburg, Baldingerstrasse, D-35033 Marburg, Germany
3
Institute of Molecular Immunology, Helmholtz Zentrum München, German Research Center for Environmental Health (GmbH), Marchioninistraße 25, D-81377 München, Germany
4
Research Unit Protein Science, Helmholtz Zentrum München, German Research Center for Environmental Health GmbH, Heidemannstr. 1, D-80939 München, Germany
5
Experimental Ophthalmology, Philipps University of Marburg, Baldingerstrasse, D-35033 Marburg, Germany
*
Author to whom correspondence should be addressed.
Academic Editor: Kenichi Ishibashi
Received: 12 April 2016 / Revised: 25 April 2016 / Accepted: 12 July 2016 / Published: 16 July 2016
(This article belongs to the Special Issue
Aquaporin
)
Abstract
Aquaporins (AQPs) are small integral membrane proteins with 13 members in mammals and are essential for water transport across membranes. They are found in many different tissues and cells. Currently, there are conflicting results regarding retinal aquaporin expression and subcellular localization between genome and protein analyses and among various species. AQP4, 7, 9 and 11 were described in the retina of men; whereas AQP6, 8 and 10 were earlier identified in rat retinas and AQP4, 5 and 11 in horses. Since there is a lack of knowledge regarding AQP expression on protein level in retinas of different animal models, we decided to analyze retinal cellular expression of AQP4, 5 and 11 in situ with immunohistochemistry. AQP4 was detected in all 15 explored species, AQP5 and AQP11 in 14 out of 15. Interestingly, AQP4 was unambiguously expressed in Muller glial cells, whereas AQP5 was differentially allocated among the species analyzed. AQP11 expression was Muller glial cell-specific in 50% of the animals, whereas in the others, AQP11 was detected in ganglion cell layer and at photoreceptor outer segments. Our data indicate a disparity in aquaporin distribution in retinas of various animals, especially for AQP5 and 11.
View Full-Text
►

▼

Figures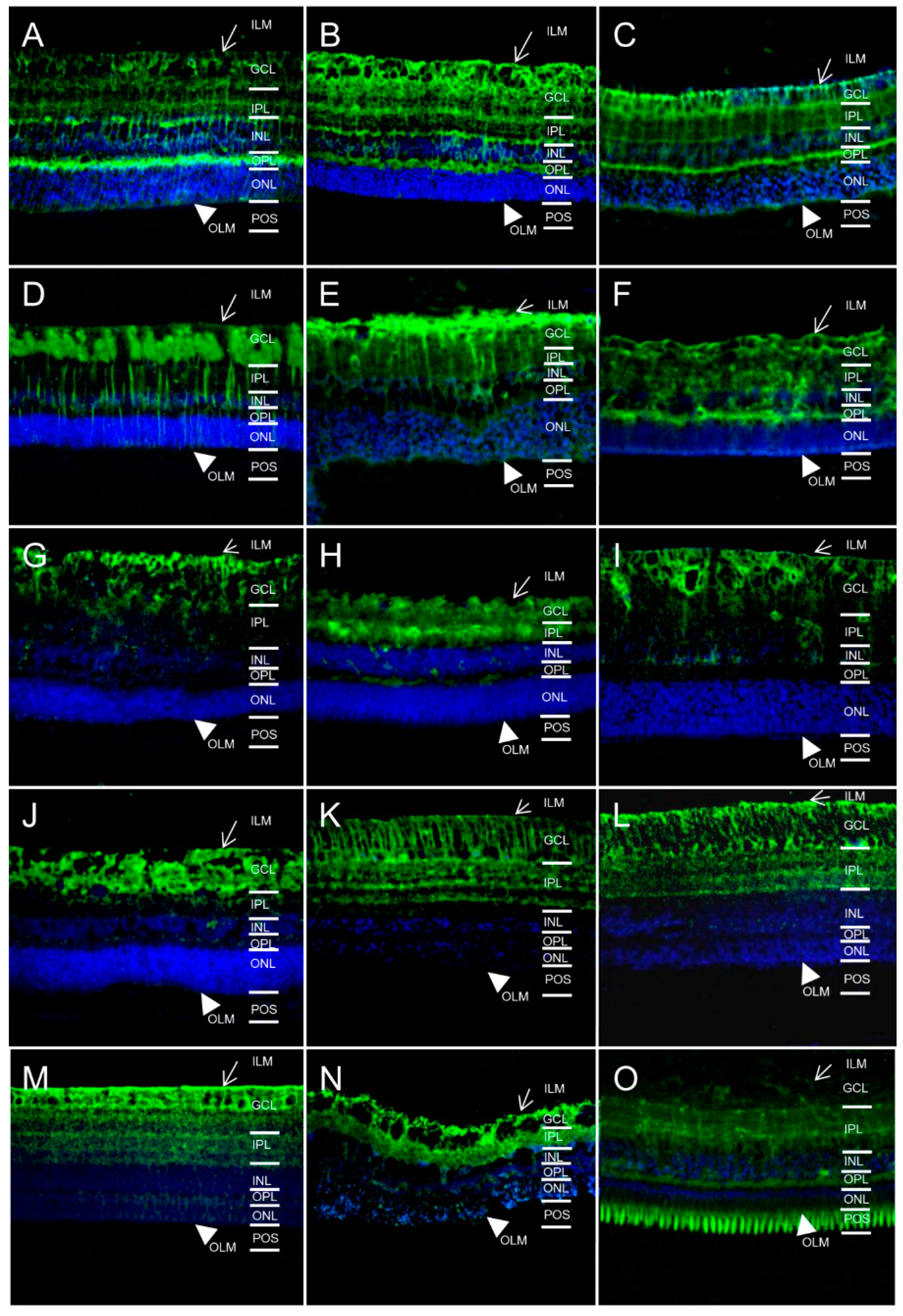 Figure 1
This is an open access article distributed under the
Creative Commons Attribution License
which permits unrestricted use, distribution, and reproduction in any medium, provided the original work is properly cited. (CC BY 4.0).
Share & Cite This Article
MDPI and ACS Style
Amann, B.; Kleinwort, K.J.H.; Hirmer, S.; Sekundo, W.; Kremmer, E.; Hauck, S.M.; Deeg, C.A. Expression and Distribution Pattern of Aquaporin 4, 5 and 11 in Retinas of 15 Different Species. Int. J. Mol. Sci. 2016, 17, 1145.
Note that from the first issue of 2016, MDPI journals use article numbers instead of page numbers. See further details here.
Related Articles
Comments
[Return to top]