BML-111 Protected LPS/D-GalN-Induced Acute Liver Injury in Rats
1
Department of Pharmacology, Medical College of Nanchang University, Nanchang 330006, China
2
Department of Pharmacy, Jiangxi Province Cancer Hospital, Nanchang 330006, China
3
Department of Pathophysiology, Medical College of Nanchang University, Nanchang 330006, China
4
Department of Science and Education, Jiangxi Province Cancer Hospital, Nanchang 330006, China
5
Jiangxi Province Key Laboratory of Tumor Etiology and Molecular Pathology, Nanchang 330006, China
6
Department of Human Parasitology, Medical College of Nanchang University, Nanchang 330006, China
7
Department of Pathology, Second Affiliated Hospital of Nanchang University, Nanchang 330006, China
†
These authors contributed equally to this work.
*
Author to whom correspondence should be addressed.
Academic Editor: Johannes Haybaeck
Received: 7 April 2016 / Revised: 30 June 2016 / Accepted: 1 July 2016 / Published: 13 July 2016
Abstract
Lipoxins (LXs) display unique pro-resolving and anti-inflammatory functions in a variety of inflammatory conditions. The present study was undertaken to investigate the effects of BML-111 (5(
S
),6(
R
),7-trihydroxyheptanoic acid methyl ester), the agonist of lipoxin A
4
receptor, in a model of Lipopolysaccharides (LPS) and
d
-Galactosamine (
d
-GalN) induced acute liver injury, and to explore the mechanisms. Histopathological analyses were carried out to quantify liver injury degree. The activities of myeloperoxidase (MPO) were examined to evaluate the levels of neutrophil infiltration. The activities of aspartate aminotransferase (AST) and alanine aminotransferase (ALT) in serum were detected to evaluate the functions of the liver. The amounts of tumor necrosis factor-α (TNF-α), interleukin-10 (IL-10), and interleukin-1β (IL-1β) were measured using enzyme-linked immunosorbent assay (ELISA), and the expression levels of transforming growth factor-β1(TGF-β1) and cyclooxygenase-2 (COX-2) were examined using Western blotting. The antioxidant capacity, the activities of inducible nitric oxide synthase (iNOS), the contents of malondialdehyde (MDA) and nitric oxide (NO) were analyzed with the kits via biochemical analysis. We established the model of acute liver injury with lipopolysaccharide and
d
-Galactosamine (LPS/
d
-GalN): (1) histopathological results and MPO activities, with the activities of AST and ALT in serum, consistently demonstrated LPS and
d
-GalN challenge could cause severe liver damage, but BML-111 could prevent pathological changes, inhibit neutrophil infiltration, and improve the hepatic function; (2) LPS/
d
-GalN increased TNF-α, IL-1β, COX-2, and IL-10, while decreasing TGF-β1. However, BML-111 could repress LPS/
d
-GalN -induced TNF-α, IL-1β and COX-2, meanwhile increasing the expression levels of TGF-β1 and IL-10; (3) LPS/
d
-GalN inhibited the activities of superoxide dismutase (SOD), catalase (CAT), total antioxidant capacity (T-AOC), and hydroxyl radical-scavenging ability, simultaneously increasing the levels of MDA and NO, so also the activity of iNOS. Otherwise, BML-111 could reverse all the phenomena. In a word, BML-111 played a protective role in acute liver injury induced by LPS and
d
-GalN in rats, through improving antioxidant capacity and regulating the balance of inflammatory cytokines.
View Full-Text
►

▼

Figures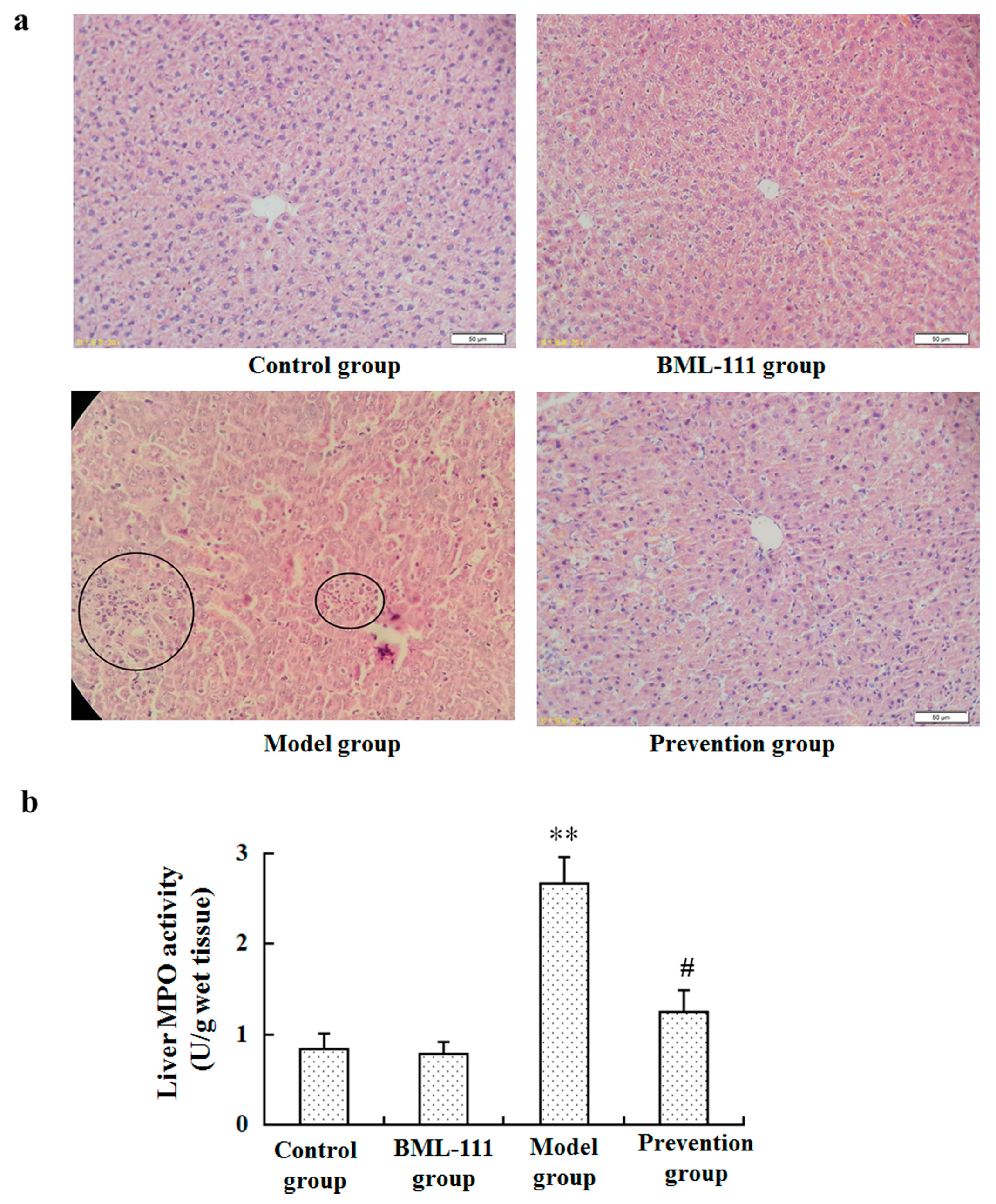 Figure 1
This is an open access article distributed under the
Creative Commons Attribution License
which permits unrestricted use, distribution, and reproduction in any medium, provided the original work is properly cited. (CC BY 4.0).
Share & Cite This Article
MDPI and ACS Style
Yan, D.; Liu, H.-L.; Yu, Z.-J.; Huang, Y.-H.; Gao, D.; Hao, H.; Liao, S.-S.; Xu, F.-Y.; Zhou, X.-Y. BML-111 Protected LPS/D-GalN-Induced Acute Liver Injury in Rats. Int. J. Mol. Sci. 2016, 17, 1114.
Note that from the first issue of 2016, MDPI journals use article numbers instead of page numbers. See further details here.
Related Articles
Comments
[Return to top]