Neuroprotective Effect of Puerarin on Glutamate-Induced Cytotoxicity in Differentiated Y-79 Cells via Inhibition of ROS Generation and Ca2+ Influx
1
Key Laboratory of Nuclear Medicine, Ministry of Health, Jiangsu Key Laboratory of Molecular Nuclear Medicine, Jiangsu Institute of Nuclear Medicine, Wuxi 214063, China
2
Department of Ophthalmology, Wuxi No.2 People's Hospital, Nanjing Medical University, Wuxi 214002, China
3
Faculty of Pharmacy, University of Sydney, Sydney, NSW 2006, Australia
4
Save Sight Institute, University of Sydney, Sydney, NSW 2000, Australia
*
Authors to whom correspondence should be addressed.
Academic Editor: Katalin Prokai-Tatrai
Received: 11 May 2016 / Revised: 29 June 2016 / Accepted: 7 July 2016 / Published: 11 July 2016
Abstract
Glutamate toxicity is estimated to be the key cause of photoreceptor degeneration in the pathogenesis of retinal degenerative diseases. Oxidative stress and Ca
2+
influx induced by glutamate are responsible for the apoptosis process of photoreceptor degeneration. Puerarin, a primary component of Kudzu root, has been widely used in the clinical treatment of retinal degenerative diseases in China for decades; however, the detailed molecular mechanism underlying this effect remains unclear. In this study, the neuroprotective effect of puerarin against glutamate-induced cytotoxicity in the differentiated Y-79 cells was first investigated through cytotoxicity assay. Then the molecular mechanism of this effect regarding anti-oxidative stress and Ca
2+
hemostasis was further explored with indirect immunofluorescence, flow cytometric analysis and western blot analysis. Our study showed that glutamate induced cell viability loss, excessive reactive oxygen species (ROS) generation, calcium overload and up-regulated cell apoptosis in differentiated Y-79 cells, which effect was significantly attenuated with the pre-treatment of puerarin in a dose-dependent manner. Furthermore, our data indicated that the neuroprotective effect of puerarin was potentially mediated through the inhibition of glutamate-induced activation of mitochondrial-dependent signaling pathway and calmodulin-dependent protein kinase II (CaMKII)-dependent apoptosis signal-regulating kinase 1(ASK-1)/c-Jun N-terminal kinase (JNK)/p38 signaling pathway. The present study supports the notion that puerarin may be a promising neuroprotective agent in the prevention of retinal degenerative diseases.
View Full-Text
►

▼

Figures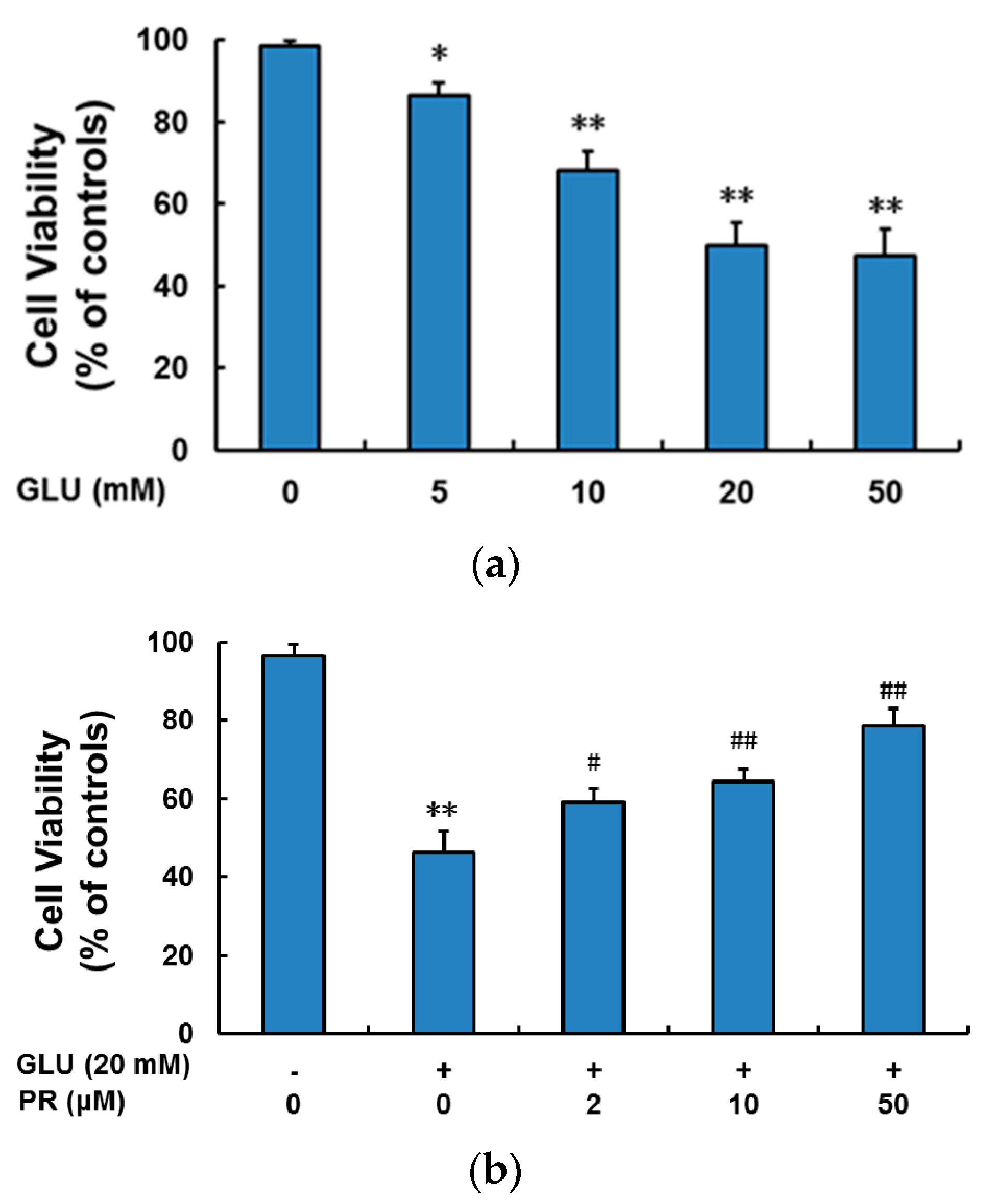 Figure 1
This is an open access article distributed under the
Creative Commons Attribution License
which permits unrestricted use, distribution, and reproduction in any medium, provided the original work is properly cited. (CC BY 4.0).
Share & Cite This Article
MDPI and ACS Style
Wang, K.; Zhu, X.; Zhang, K.; Wu, Z.; Sun, S.; Zhou, F.; Zhu, L. Neuroprotective Effect of Puerarin on Glutamate-Induced Cytotoxicity in Differentiated Y-79 Cells via Inhibition of ROS Generation and Ca2+ Influx. Int. J. Mol. Sci. 2016, 17, 1109.
Note that from the first issue of 2016, MDPI journals use article numbers instead of page numbers. See further details here.
Related Articles
Comments
[Return to top]