Novel Omega-3 Fatty Acid Epoxygenase Metabolite Reduces Kidney Fibrosis
1
Department of Pharmacology & Toxicology, Medical College of Wisconsin, 8701 Watertown Plank Road, Milwaukee, WI 53226, USA
2
Cardiovascular Center, Medical College of Wisconsin, Milwaukee, WI 53226, USA
3
Department of Entomology & Cancer Center, University of California, Davis, CA 95616, USA
†
These authors contributed equally to this work.
*
Author to whom correspondence should be addressed.
Academic Editor: Alan Parrish
Received: 12 April 2016 / Revised: 5 May 2016 / Accepted: 9 May 2016 / Published: 18 May 2016
Abstract
Cytochrome P450 (CYP) monooxygenases epoxidize the omega-3 polyunsaturated fatty acid (PUFA) docosahexaenoic acid into novel epoxydocosapentaenoic acids (EDPs) that have multiple biological actions. The present study determined the ability of the most abundant EDP regioisomer, 19,20-EDP to reduce kidney injury in an experimental unilateral ureteral obstruction (UUO) renal fibrosis mouse model. Mice with UUO developed kidney tubular injury and interstitial fibrosis. UUO mice had elevated kidney hydroxyproline content and five-times greater collagen positive fibrotic area than sham control mice. 19,20-EDP treatment to UUO mice for 10 days reduced renal fibrosis with a 40%–50% reduction in collagen positive area and hydroxyproline content. There was a six-fold increase in kidney α-smooth muscle actin (α-SMA) positive area in UUO mice compared to sham control mice, and 19,20-EDP treatment to UUO mice decreased α-SMA immunopositive area by 60%. UUO mice demonstrated renal epithelial-to-mesenchymal transition (EMT) with reduced expression of the epithelial marker E-cadherin and elevated expression of multiple mesenchymal markers (FSP-1, α-SMA, and desmin). Interestingly, 19,20-EDP treatment reduced renal EMT in UUO by decreasing mesenchymal and increasing epithelial marker expression. Overall, we demonstrate that a novel omega-3 fatty acid metabolite 19,20-EDP, prevents UUO-induced renal fibrosis in mice by reducing renal EMT.
View Full-Text
►

▼

Figures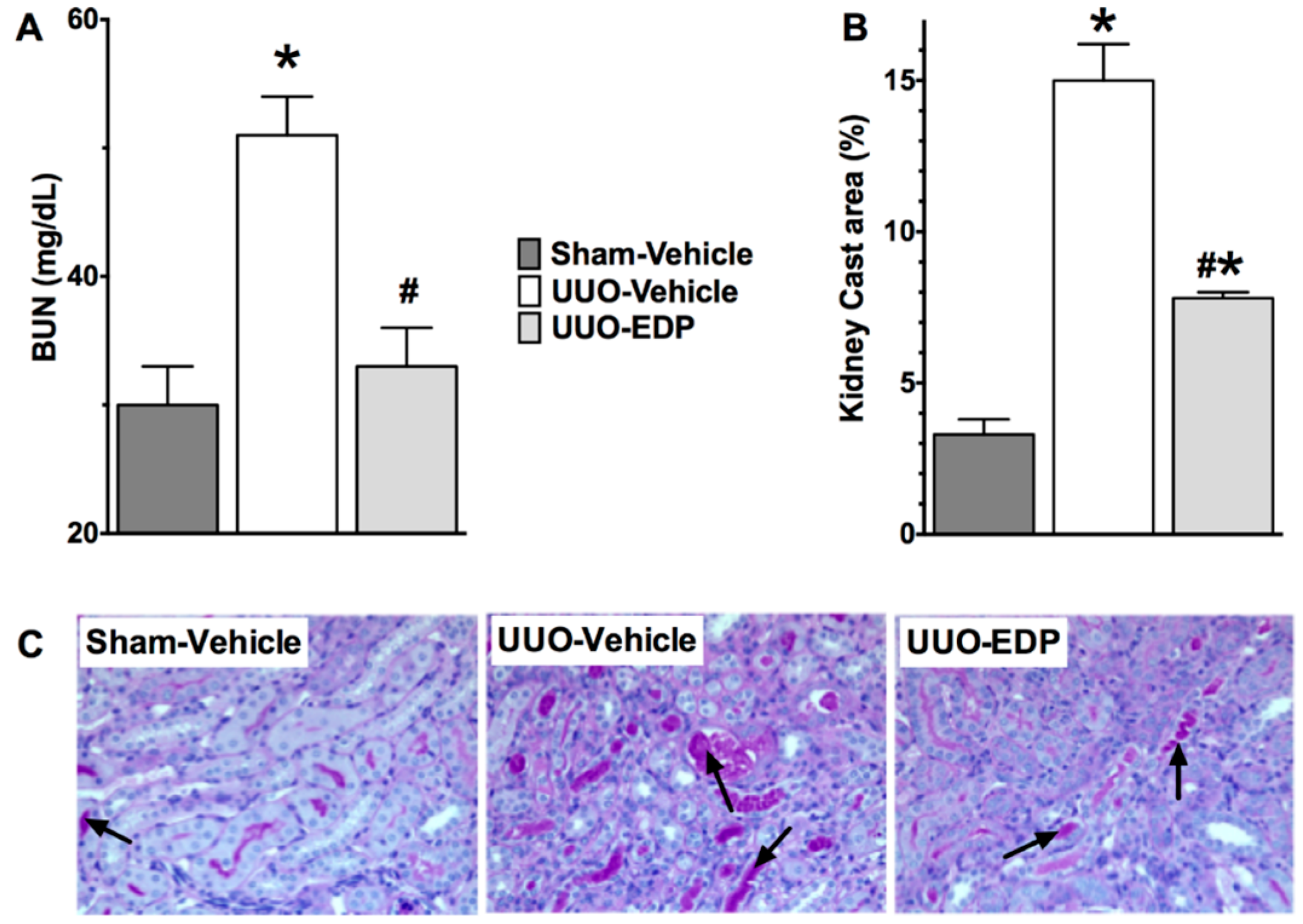 Figure 1
This is an open access article distributed under the
Creative Commons Attribution License
which permits unrestricted use, distribution, and reproduction in any medium, provided the original work is properly cited. (CC BY 4.0).
Share & Cite This Article
MDPI and ACS Style
Sharma, A.; Khan, M.A.H.; Levick, S.P.; Lee, K.S.S.; Hammock, B.D.; Imig, J.D. Novel Omega-3 Fatty Acid Epoxygenase Metabolite Reduces Kidney Fibrosis. Int. J. Mol. Sci. 2016, 17, 751.
Note that from the first issue of 2016, MDPI journals use article numbers instead of page numbers. See further details here.
Related Articles
Comments
[Return to top]