Design of Acceptors with Suitable Frontier Molecular Orbitals to Match Donors via Substitutions on Perylene Diimide for Organic Solar Cells
1
College of Resource and Environmental Science, Jilin Agricultural University, Changchun 130118, China
2
College of Chemistry and Chemical Engineering, Chifeng University, Chifeng 024000, China
*
Authors to whom correspondence should be addressed.
Academic Editor: Marie-Christine Bacchus
Received: 19 April 2016 / Revised: 3 May 2016 / Accepted: 5 May 2016 / Published: 13 May 2016
Abstract
A series of perylene diimide (PDI) derivatives have been investigated at the CAM-B3LYP/6-31G(d) and the TD-B3LYP/6-31+G(d,p) levels to design solar cell acceptors with high performance in areas such as suitable frontier molecular orbital (FMO) energies to match oligo(thienylenevinylene) derivatives and improved charge transfer properties. The calculated results reveal that the substituents slightly affect the distribution patterns of FMOs for PDI-BI. The electron withdrawing group substituents decrease the FMO energies of PDI-BI, and the electron donating group substituents slightly affect the FMO energies of PDI-BI. The di-electron withdrawing group substituents can tune the FMOs of PDI-BI to be more suitable for the oligo(thienylenevinylene) derivatives. The electron withdrawing group substituents result in red shifts of absorption spectra and electron donating group substituents result in blue shifts for PDI-BI. The –CN substituent can improve the electron transport properties of PDI-BI. The –CH
3
group in different positions slightly affects the electron transport properties of PDI-BI.
View Full-Text
►

▼

Figures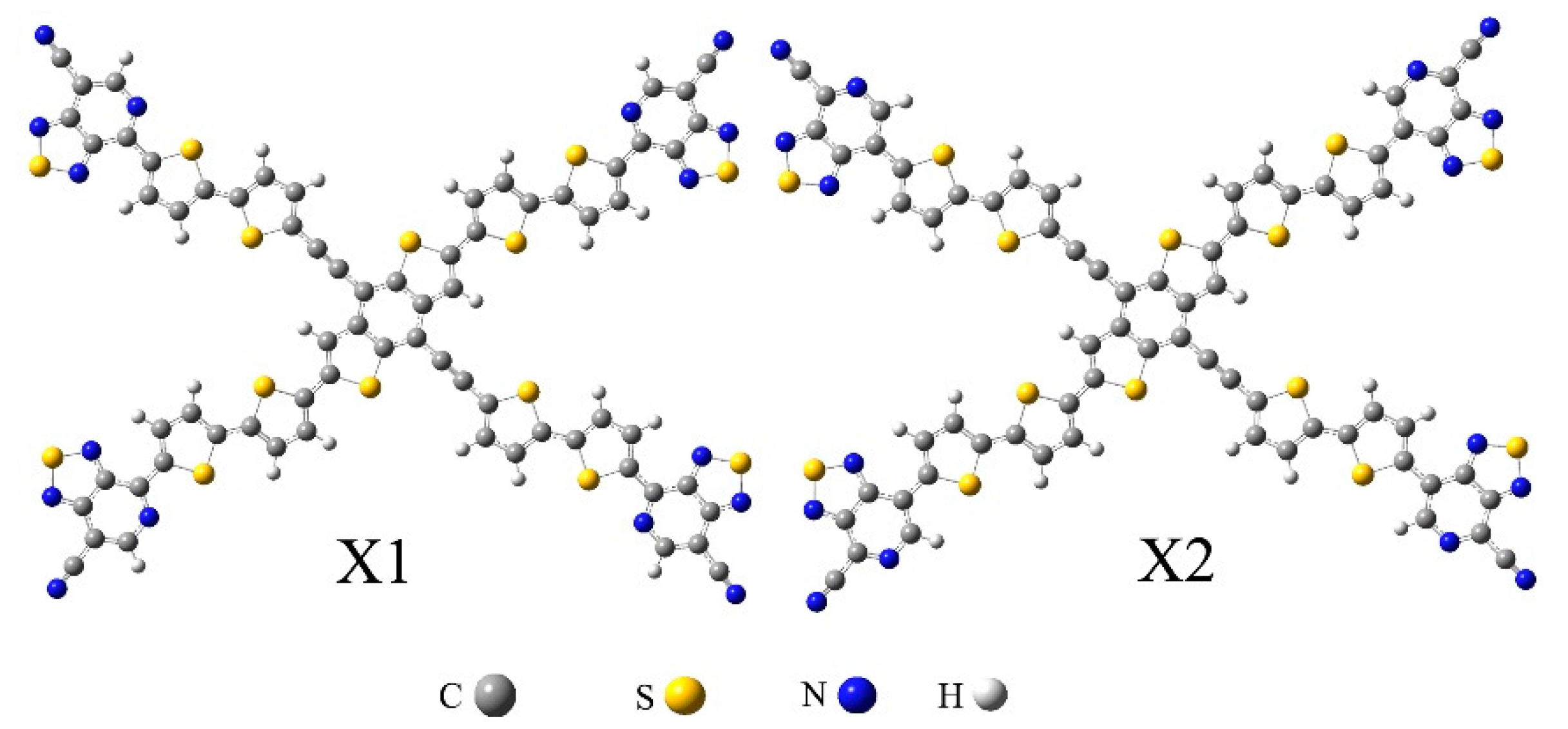 Figure 1
This is an open access article distributed under the
Creative Commons Attribution License
which permits unrestricted use, distribution, and reproduction in any medium, provided the original work is properly cited. (CC BY 4.0).
Share & Cite This Article
MDPI and ACS Style
Lv, X.; Li, Z.; Li, S.; Luan, G.; Liang, D.; Tang, S.; Jin, R. Design of Acceptors with Suitable Frontier Molecular Orbitals to Match Donors via Substitutions on Perylene Diimide for Organic Solar Cells. Int. J. Mol. Sci. 2016, 17, 721.
Note that from the first issue of 2016, MDPI journals use article numbers instead of page numbers. See further details here.
Related Articles
Comments
[Return to top]