12-Lipoxygenase Inhibition on Microalbuminuria in Type-1 and Type-2 Diabetes Is Associated with Changes of Glomerular Angiotensin II Type 1 Receptor Related to Insulin Resistance
Department of Nephrology, the First Hospital of Jilin University, Changchun 130021, China
*
Author to whom correspondence should be addressed.
Academic Editor: Lu Cai
Received: 29 March 2016 / Revised: 18 April 2016 / Accepted: 27 April 2016 / Published: 6 May 2016
Abstract
(1) Background: 12-lipoxygenase (12-LO) is involved in the development of diabetic nephropathy (DN). In the present study, we investigated whether 12-LO inhibition may ameliorate type-2 DN (T2DN) by interfering with insulin resistance (IR); (2) Methods: Rat glomerular mesangial cells, glomeruli and skeletal muscles were isolated and used in this study. Kidney histological changes were confirmed by periodic-acid Schiff staining; mRNA expression was detected by competitive reverse transcription polymerase chain reaction; and the protein level was determined by Western blot and the enzyme-linked immunosorbent assay, respectively; (3) Results: The inhibition of 12-LO attenuated microalbuminuria (MAU) increases in type-2 diabetic rats, but not in type-1 diabetic rats. Infusion of 12(S)-hydroxyeicosatetraenoic acid (12(S)-HETE) significantly increased the expression of angiotensin II (Ang II) and Ang II type 1 receptor (AT1R), but decreased the expression of AT1R-associated protein (ATRAP) in rat glomeruli, compared to the control. An
in vitro
study revealed that both 12(S)-HETE and insulin upregulated AT1R expression in rat mesangial cells. In the presence of p38 mitogen-activated protein kinase (MAPK) inhibitor, SB202190, the 12(S)-HETE-induced ATRAP reduction was significantly abolished. Interestingly, 12-LO inhibition did not influence AT1R expression in type-1 diabetic rats, but significantly abolished the increased AT1R and Ang II expression in glomeruli of type-2 diabetic rats. Furthermore, the inhibition of 12-LO significantly corrected impaired insulin sensitivity and fast serum insulin level, as well as the p-AMP-activated protein kinase (AMPK) reduction in skeletal muscle of type-2 diabetic rats; (4) Conclusion: The inhibition of 12-LO potentially ameliorated MAU by preventing IR through the downregulation of glomerular AT1R expression in T2DN.
View Full-Text
►

▼

Figures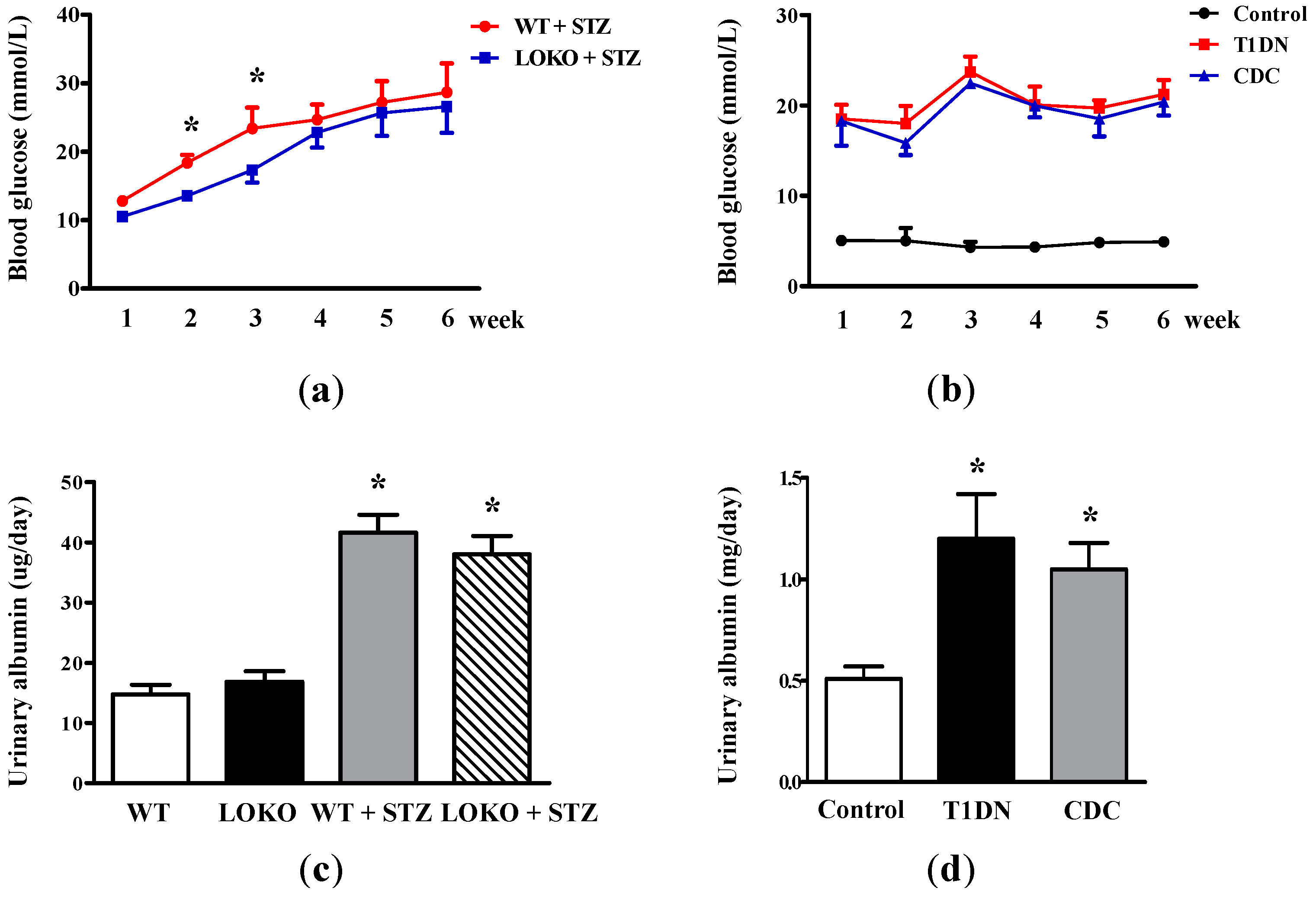 Figure 1
This is an open access article distributed under the
Creative Commons Attribution License
which permits unrestricted use, distribution, and reproduction in any medium, provided the original work is properly cited. (CC BY 4.0).
Share & Cite This Article
MDPI and ACS Style
Xu, H.-Z.; Cheng, Y.-L.; Wang, W.-N.; Wu, H.; Zhang, Y.-Y.; Zang, C.-S.; Xu, Z.-G. 12-Lipoxygenase Inhibition on Microalbuminuria in Type-1 and Type-2 Diabetes Is Associated with Changes of Glomerular Angiotensin II Type 1 Receptor Related to Insulin Resistance. Int. J. Mol. Sci. 2016, 17, 684.
Note that from the first issue of 2016, MDPI journals use article numbers instead of page numbers. See further details here.
Related Articles
Comments
[Return to top]