Synthesis, Bioevaluation and Molecular Dynamic Simulation Studies of Dexibuprofen–Antioxidant Mutual Prodrugs
1
Department of Chemistry, Allama Iqbal Open University, Islamabad 44000, Pakistan
2
Department of Pharmacology, Faculty of Pharmacy University of Sargodha, Sargodha 40100, Pakistan
3
Department of Biology, College of Natural Sciences, Kongju National University, Gongju 314701, Korea
4
Faculty of Pharmacy, BahauddinZakria University, Multan 60800, Pakistan
5
Department of Orthopaedic Surgery & Biomedical Engineering, University of Tennessee Health Science Center-Campbell Clinic, Memphis, TN 38104, USA
6
Research 151, Veterans Affairs Medical Center, Memphis, TN 38104, USA
*
Author to whom correspondence should be addressed.
Academic Editors: Ge Zhang and Aiping Lu
Received: 1 November 2016 / Revised: 14 December 2016 / Accepted: 14 December 2016 / Published: 21 December 2016
Abstract
Dexibuprofen–antioxidant conjugates were synthesized with the aim to reduce its gastrointestinal effects. The esters analogs of dexibuprofen
5a
–
c
were obtained by reacting its –COOH group with chloroacetyl derivatives
3a
–
c
. The in vitro hydrolysis data confirmed that synthesized prodrugs
5a
–
c
were stable in stomach while undergo significant hydrolysis in 80% human plasma and thus release free dexibuprofen. The minimum reversion was observed at pH 1.2 suggesting that prodrugs are less irritating to stomach than dexibuprofen. The anti-inflammatory activity of
5c
(
p
< 0.001) is more significant than the parent dexibuprofen. The prodrug
5c
produced maximum inhibition (42.06%) of paw-edema against egg-albumin induced inflammation in mice. Anti-pyretic effects in mice indicated that prodrugs
5a
and
5b
showed significant inhibition of pyrexia (
p
< 0.001). The analgesic activity of
5a
is more pronounced compared to other synthesized prodrugs. The mean percent inhibition indicated that the prodrug
5a
was more active in decreasing the number of writhes induced by acetic acid than standard dexibuprofen. The ulcerogenic activity results assured that synthesized prodrugs produce less gastrointestinal adverse effects than dexibuprofen. The ex vivo antiplatelet aggregation activity results also confirmed that synthesized prodrugs are less irritant to gastrointestinal mucosa than the parent dexibuprofen. Molecular docking analysis showed that the prodrugs
5a
–
c
interacts with the residues present in active binding sites of target protein. The stability of drug–target complexes is verified by molecular dynamic simulation study. It exhibited that synthesized prodrugs formed stable complexes with the COX-2 protein thus support our wet lab results. It is therefore concluded that the synthesized prodrugs have promising pharmacological activities with reduced gastrointestinal adverse effects than the parent drug.
View Full-Text
►

▼

Figures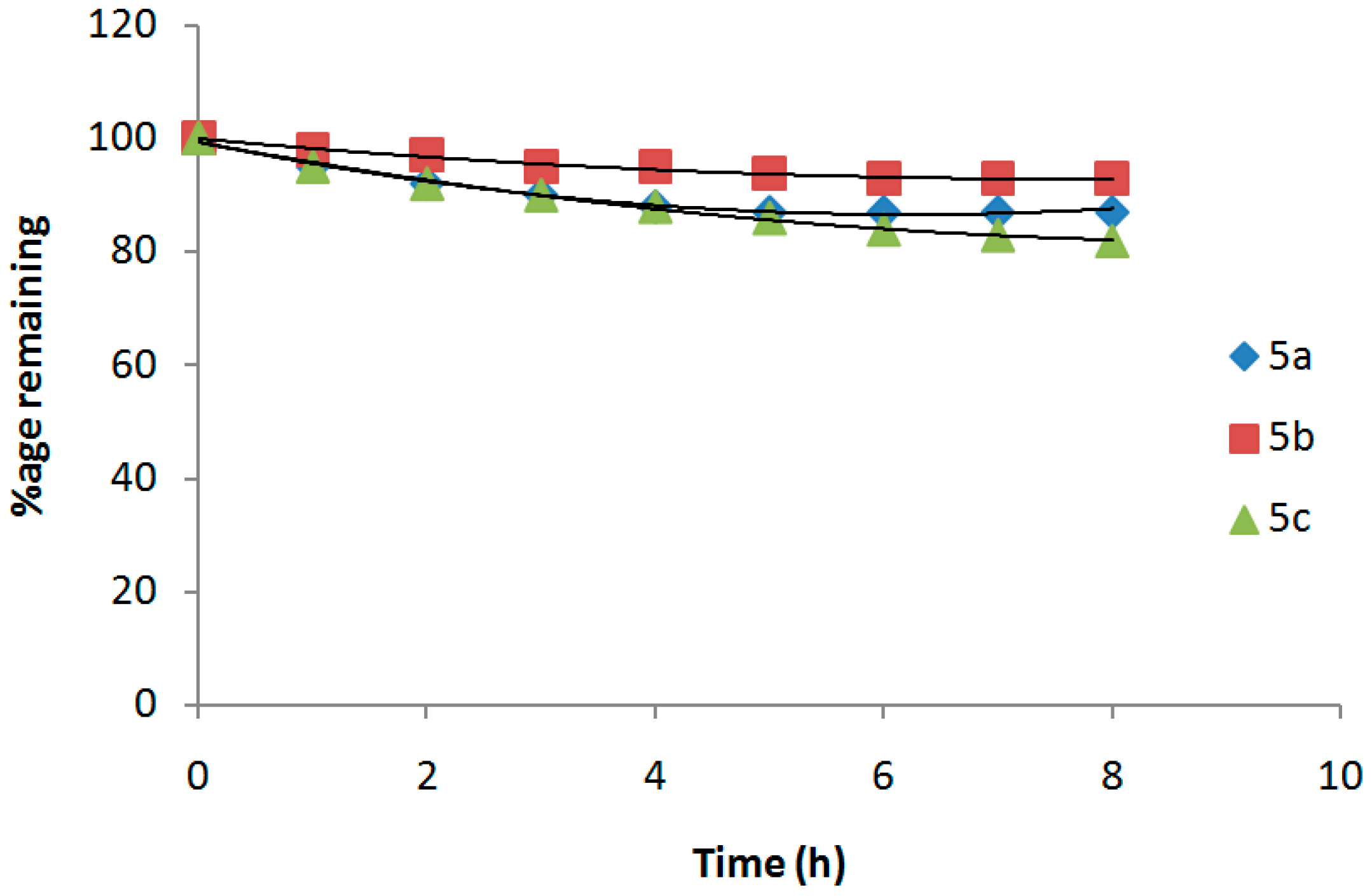 Figure 1
This is an open access article distributed under the
Creative Commons Attribution License
which permits unrestricted use, distribution, and reproduction in any medium, provided the original work is properly cited. (CC BY 4.0).
Share & Cite This Article
MDPI and ACS Style
Ashraf, Z.; Alamgeer; Rasool, R.; Hassan, M.; Ahsan, H.; Afzal, S.; Afzal, K.; Cho, H.; Kim, S.J. Synthesis, Bioevaluation and Molecular Dynamic Simulation Studies of Dexibuprofen–Antioxidant Mutual Prodrugs. Int. J. Mol. Sci. 2016, 17, 2151.
Note that from the first issue of 2016, MDPI journals use article numbers instead of page numbers. See further details here.
Related Articles
Comments
[Return to top]