Neurotoxicity of a Biopesticide Analog on Zebrafish Larvae at Nanomolar Concentrations
1
U1198 MMDN (Molecular Mechanisms of Neurodegenerative Diseases), Inserm (National Institute for Health and Medical Research), 34095 Montpellier, France
2
BioCampus, University of Montpellier, 34095 Montpellier, France
3
EPHE (Ecole Pratique des Hautes Etudes), 75007 Paris, France
4
Laboratory of Environment Biomonitoring, Faculty of Sciences of Bizerta, University of Carthage, 7021 Zarzouna, Tunisia
5
IBC (Computational Biology Institute), CNRS (National Center for Scientific Research), University of Montpellier, 860 rue Saint Priest, 34095 Montpellier, France
6
CRBM (Research Center for Cell Biology in Montpellier), UMR 5237, CNRS, 1919 route de Mende, 34293 Montpellier, France
7
MGX (Montpellier GenomiX), BioCampus, University of Montpellier, 34095 Montpellier, France
8
CPBS (Center for Study of Pathogens and Biotechnologies for Health), FRE 3689, CNRS, University of Montpellier, 1919 route de Mende, 34293 Montpellier, France
*
Author to whom correspondence should be addressed.
Academic Editor: Juliette Legler
Received: 6 October 2016 / Revised: 7 December 2016 / Accepted: 10 December 2016 / Published: 19 December 2016
Abstract
Despite the ever-increasing role of pesticides in modern agriculture, their deleterious effects are still underexplored. Here we examine the effect of A6, a pesticide derived from the naturally-occurring α-terthienyl, and structurally related to the endocrine disrupting pesticides anilinopyrimidines, on living zebrafish larvae. We show that both A6 and an anilinopyrimidine, cyprodinyl, decrease larval survival and affect central neurons at micromolar concentrations. Focusing on a superficial and easily observable sensory system, the lateral line system, we found that defects in axonal and sensory cell regeneration can be observed at much lower doses, in the nanomolar range. We also show that A6 accumulates preferentially in lateral line neurons and hair cells. We examined whether A6 affects the expression of putative target genes, and found that genes involved in apoptosis/cell proliferation are down-regulated, as well as genes reflecting estrogen receptor activation, consistent with previous reports that anilinopyrimidines act as endocrine disruptors. On the other hand, canonical targets of endocrine signaling are not affected, suggesting that the neurotoxic effect of A6 may be due to the binding of this compound to a recently identified, neuron-specific estrogen receptor.
View Full-Text
►

▼

Figures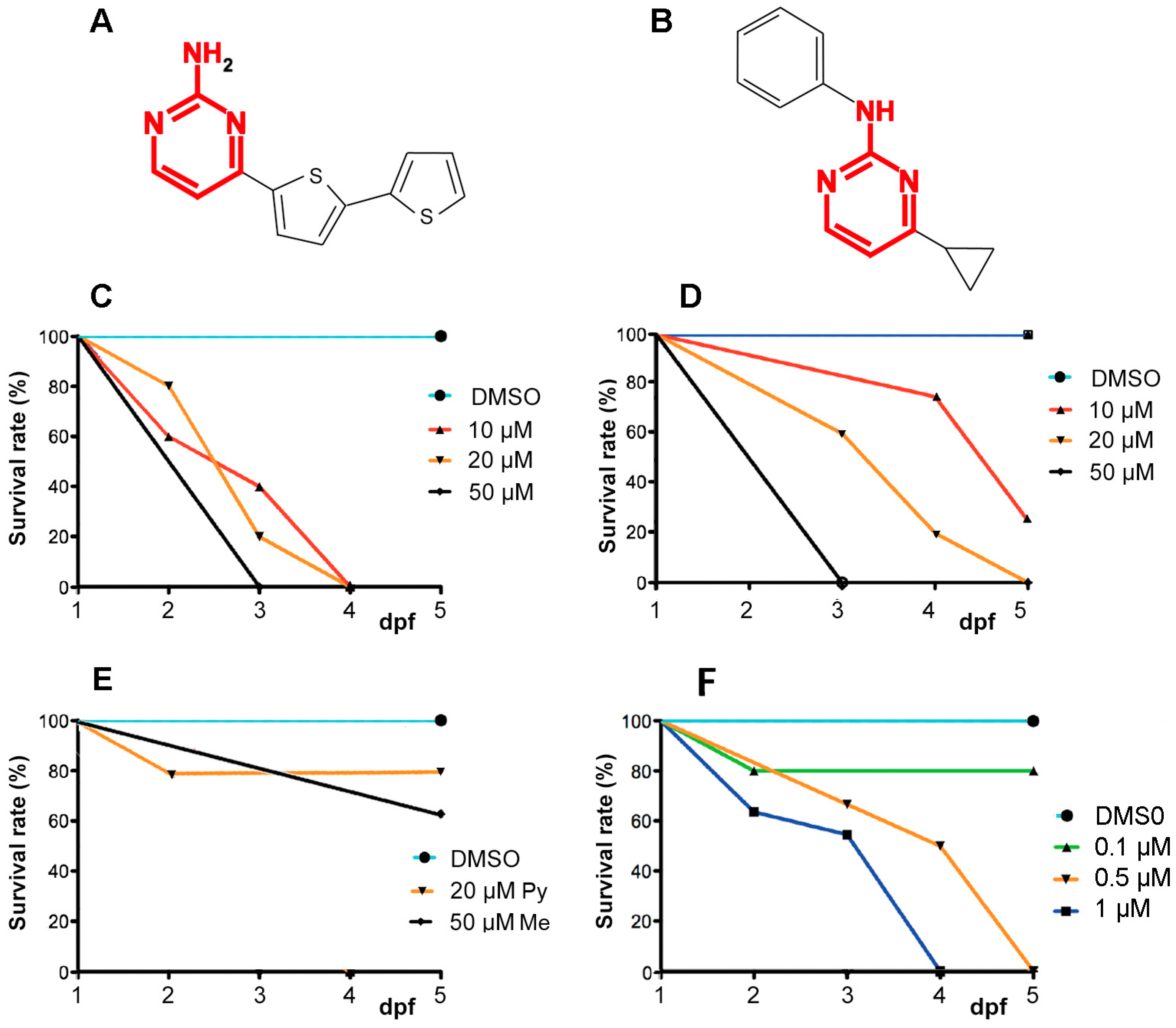 Figure 1
This is an open access article distributed under the
Creative Commons Attribution License
which permits unrestricted use, distribution, and reproduction in any medium, provided the original work is properly cited. (CC BY 4.0).
Share & Cite This Article
MDPI and ACS Style
Nasri, A.; Valverde, A.J.; Roche, D.B.; Desrumaux, C.; Clair, P.; Beyrem, H.; Chaloin, L.; Ghysen, A.; Perrier, V. Neurotoxicity of a Biopesticide Analog on Zebrafish Larvae at Nanomolar Concentrations. Int. J. Mol. Sci. 2016, 17, 2137.
Note that from the first issue of 2016, MDPI journals use article numbers instead of page numbers. See further details here.
Related Articles
Comments
[Return to top]