Regulation of Intrinsic and Extrinsic Apoptotic Pathways in Osteosarcoma Cells Following Oleandrin Treatment
1
Department of Orthopedics, Peking University Third Hospital, No. 49, North Garden Street, Haidian District, Beijing 100191, China
2
The Center for Pain Medicine, Peking University Third Hospital, No. 49, North Garden Street, Haidian District, Beijing 100191, China
3
Department of Anesthesiology, Peking University Third Hospital, No. 49, North Garden Street, Haidian District, Beijing 100191, China
†
These authors contributed equally to this work.
*
Author to whom correspondence should be addressed.
Academic Editor: Maurizio Battino
Received: 21 August 2016 / Revised: 11 November 2016 / Accepted: 16 November 2016 / Published: 23 November 2016
Abstract
Our previous study has reported the anti-tumor effect of oleandrin on osteosarcoma (OS) cells. In the current study, we mainly explored its potential regulation on intrinsic and extrinsic apoptotic pathway in OS cells. Cells apoptosis, reactive oxygen species (ROS) and mitochondrial membrane potential (MMP) were detected using fluorescence staining and flow cytometry. Caspase-3 activity was detected using a commercial kit. The levels of cytoplasmic cytochrome c, mitochondrial cytochrome c, bcl-2, bax, caspase-9, Fas, FasL, caspase-8 and caspase-3 were detected by Western blotting. z-VAD-fmk was applied to block both intrinsic and extrinsic apoptosis pathways, and cells apoptosis was also tested. Furthermore, we used z-LEHD-fmk and Fas blocking antibody to inhibit intrinsic and extrinsic pathways, separately, and the selectivity of oleandrin on these pathways was explored. Results showed that oleandrin induced the apoptosis of OS cells, which was accompanied by an increase in ROS and a decrease in MMP. Furthermore, cytochrome c level was reduced in mitochondria but elevated in the cytoplasm. Caspase-3 activity was enhanced by oleandrin in a concentration- and time-dependent manner. Oleandrin also down-regulated the expression of bcl-2, but up-regulated bax, caspase-9, Fas, FasL, caspase-8 and caspase-3. In addition, the suppression of both apoptotic pathways by z-VAD-fmk greatly reverted the oleandrin-induced apoptosis. Moreover, the suppression of one pathway by a corresponding inhibitor did not affect the regulation of oleandrin on another pathway. Taken together, we concluded that oleandrin induced apoptosis of OS cells via activating both intrinsic and extrinsic apoptotic pathways.
View Full-Text
►

▼

Figures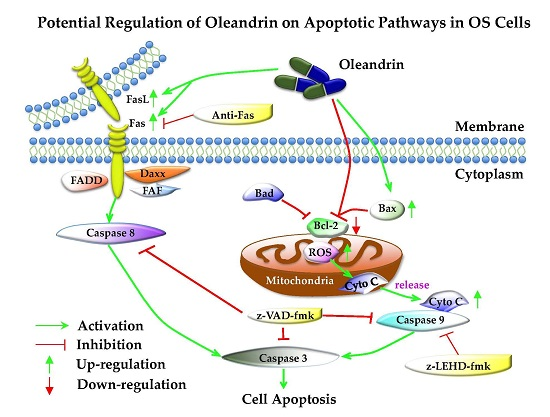 This is an open access article distributed under the
Creative Commons Attribution License
which permits unrestricted use, distribution, and reproduction in any medium, provided the original work is properly cited. (CC BY 4.0).
Share & Cite This Article
MDPI and ACS Style
Ma, Y.; Zhu, B.; Yong, L.; Song, C.; Liu, X.; Yu, H.; Wang, P.; Liu, Z.; Liu, X. Regulation of Intrinsic and Extrinsic Apoptotic Pathways in Osteosarcoma Cells Following Oleandrin Treatment. Int. J. Mol. Sci. 2016, 17, 1950.
Note that from the first issue of 2016, MDPI journals use article numbers instead of page numbers. See further details here.
Related Articles
Comments
[Return to top]