Conjugation with RGD Peptides and Incorporation of Vascular Endothelial Growth Factor Are Equally Efficient for Biofunctionalization of Tissue-Engineered Vascular Grafts
1
Research Institute for Complex Issues of Cardiovascular Diseases, Sosnovy Boulevard 6, Kemerovo 650002, Russia
2
Centre for Nanotechnology and Regenerative Medicine, UCL Division of Surgery and Interventional Science, University College London, UCL Medical School Building, 21 University Street, London WC1E 6AU, UK
3
NanoRegMed Ltd., 20-22 Wenlock Road, London N1 7GU, UK
4
Kemerovo Cardiology Dispensary, Sosnovy Boulevard 6, Kemerovo 650002, Russia
*
Author to whom correspondence should be addressed.
Academic Editor: Shaker A. Mousa
Received: 21 August 2016 / Revised: 21 October 2016 / Accepted: 31 October 2016 / Published: 16 November 2016
Abstract
The blend of poly(3-hydroxybutyrate-
co
-3-hydroxyvalerate) (PHBV) and poly(ε-caprolactone) (PCL) has recently been considered promising for vascular tissue engineering. However, it was shown that PHBV/PCL grafts require biofunctionalization to achieve high primary patency rate. Here we compared immobilization of arginine–glycine–aspartic acid (RGD)-containing peptides and the incorporation of vascular endothelial growth factor (VEGF) as two widely established biofunctionalization approaches. Electrospun PHBV/PCL small-diameter grafts with either RGD peptides or VEGF, as well as unmodified grafts were implanted into rat abdominal aortas for 1, 3, 6, and 12 months following histological and immunofluorescence assessment. We detected CD31
+
/CD34
+
/vWF
+
cells 1 and 3 months postimplantation at the luminal surface of PHBV/PCL/RGD and PHBV/PCL/VEGF, but not in unmodified grafts, with the further observation of CD31
+
CD34
−
vWF
+
phenotype. These cells were considered as endothelial and produced a collagen-positive layer resembling a basement membrane. Detection of CD31
+
/CD34
+
cells at the early stages with subsequent loss of CD34 indicated cell adhesion from the bloodstream. Therefore, either conjugation with RGD peptides or the incorporation of VEGF promoted the formation of a functional endothelial cell layer. Furthermore, both modifications increased primary patency rate three-fold. In conclusion, both of these biofunctionalization approaches can be considered as equally efficient for the modification of tissue-engineered vascular grafts.
View Full-Text
►

▼

Figures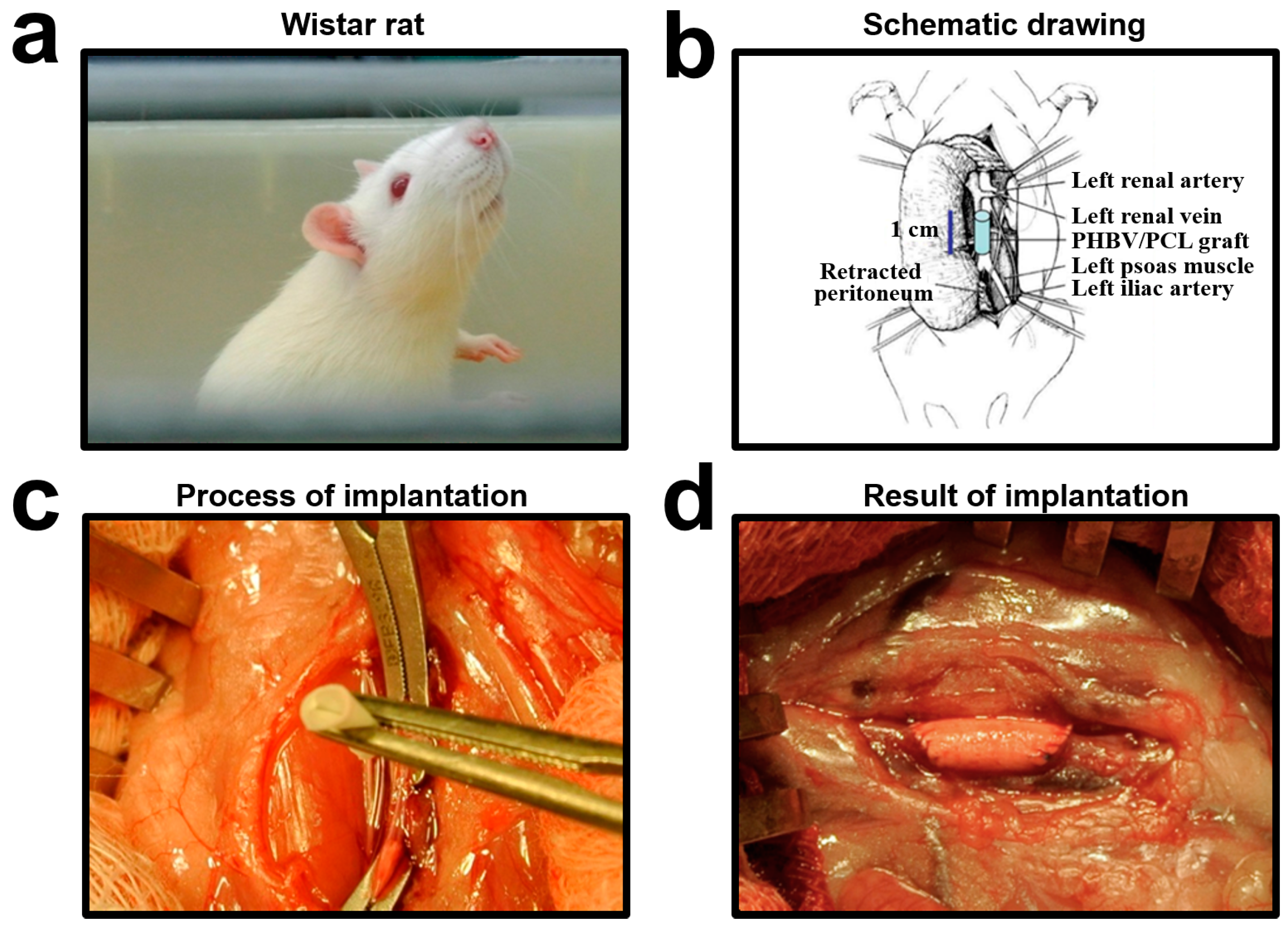 Figure 1
This is an open access article distributed under the
Creative Commons Attribution License
which permits unrestricted use, distribution, and reproduction in any medium, provided the original work is properly cited. (CC BY 4.0).
Share & Cite This Article
MDPI and ACS Style
Antonova, L.V.; Seifalian, A.M.; Kutikhin, A.G.; Sevostyanova, V.V.; Matveeva, V.G.; Velikanova, E.A.; Mironov, A.V.; Shabaev, A.R.; Glushkova, T.V.; Senokosova, E.A.; Vasyukov, G.Y.; Krivkina, E.O.; Burago, A.Y.; Kudryavtseva, Y.A.; Barbarash, O.L.; Barbarash, L.S. Conjugation with RGD Peptides and Incorporation of Vascular Endothelial Growth Factor Are Equally Efficient for Biofunctionalization of Tissue-Engineered Vascular Grafts. Int. J. Mol. Sci. 2016, 17, 1920.
Note that from the first issue of 2016, MDPI journals use article numbers instead of page numbers. See further details here.
Related Articles
Comments
[Return to top]