Association between Interleukin-6 Promoter Polymorphism (-174 G/C), Serum Interleukin-6 Levels and Mortality in Severe Septic Patients
1
Intensive Care Unit, Hospital Universitario de Canarias, Ofra, s/n, La Laguna, 38320 Santa Cruz de Tenerife, Spain
2
Intensive Care Unit, Hospital Universitario Nuestra Señora Candelaria, Crta Rosario s/n, 38010 Santa Cruz de Tenerife, Spain
3
Laboratory Deparment, Hospital Universitario de Canarias, Ofra, s/n, La Laguna, 38320 Santa Cruz de Tenerife, Spain
4
Research Unit, Hospital Universitario de Canarias, Ofra, s/n, La Laguna, 38320 Santa Cruz de Tenerife, Spain
5
Intensive Care Unit, Hospital Universitario Dr. Negrín, Barranco de la Ballena s/n, 35010 Las Palmas de Gran Canaria, Spain
6
Intensive Care Unit, Hospital Clínico Universitario de Valencia, Avda, Blasco Ibáñez nº17, 46004 Valencia, Spain
7
Intensive Care Unit, Hospital San Jorge de Huesca, Avenida Martínez de Velasco nº36, 22004 Huesca, Spain
8
Intensive Care Unit, Hospital Insular, Plaza Dr. Pasteur s/n, 35016 Las Palmas de Gran Canaria, Spain
9
Research Unit, Hospital Universitario de Canarias, Ofra, s/n, La Laguna-38320, 38320 Santa Cruz de Tenerife, Spain
*
Author to whom correspondence should be addressed.
Academic Editor: Terrence Piva
Received: 24 August 2016 / Revised: 1 November 2016 / Accepted: 4 November 2016 / Published: 8 November 2016
Abstract
The association between interleukin (IL)-6 promoter polymorphism (-174 G/C), circulating IL-6 levels and mortality in septic patients has scarcely been addressed, and then only in studies of small sample size, and a direct association among them has not been previously reported. Therefore, the purpose of our study was to determine whether this association exists. An observational, prospective and multicenter study including severe septic patients was undertaken and serum IL-6 levels at severe sepsis diagnosis and IL-6 promoter polymorphism (-174 G/C) were determined. The end-point of the study was 30-day mortality. The study included 263 patients with the following genotypes of IL-6 promoter polymorphism (-174 G/C): 123 (46.8%) GG, 110 (41.8%) GC and 30 (11.4%) CC. CC homozygous patients showed lower sepsis-related organ failure assessment (SOFA) score, serum IL-6 levels and mortality at 30 days compared to those with other genotypes (GC or GG). On regression analysis, CC homozygous patients showed lower 30-day mortality than those with genotype GG (odds ratio = 0.21; 95% CI = 0.053−0.838;
p
= 0.03) or GC (hazard ratio = 0.28; 95% CI = 0.074−1.037;
p
= 0.06). The most important results of our study were that CC might be a favorable genotype in septic patients showing lower serum IL-6 levels and lower risk of death within 30 days.
View Full-Text
►

▼

Figures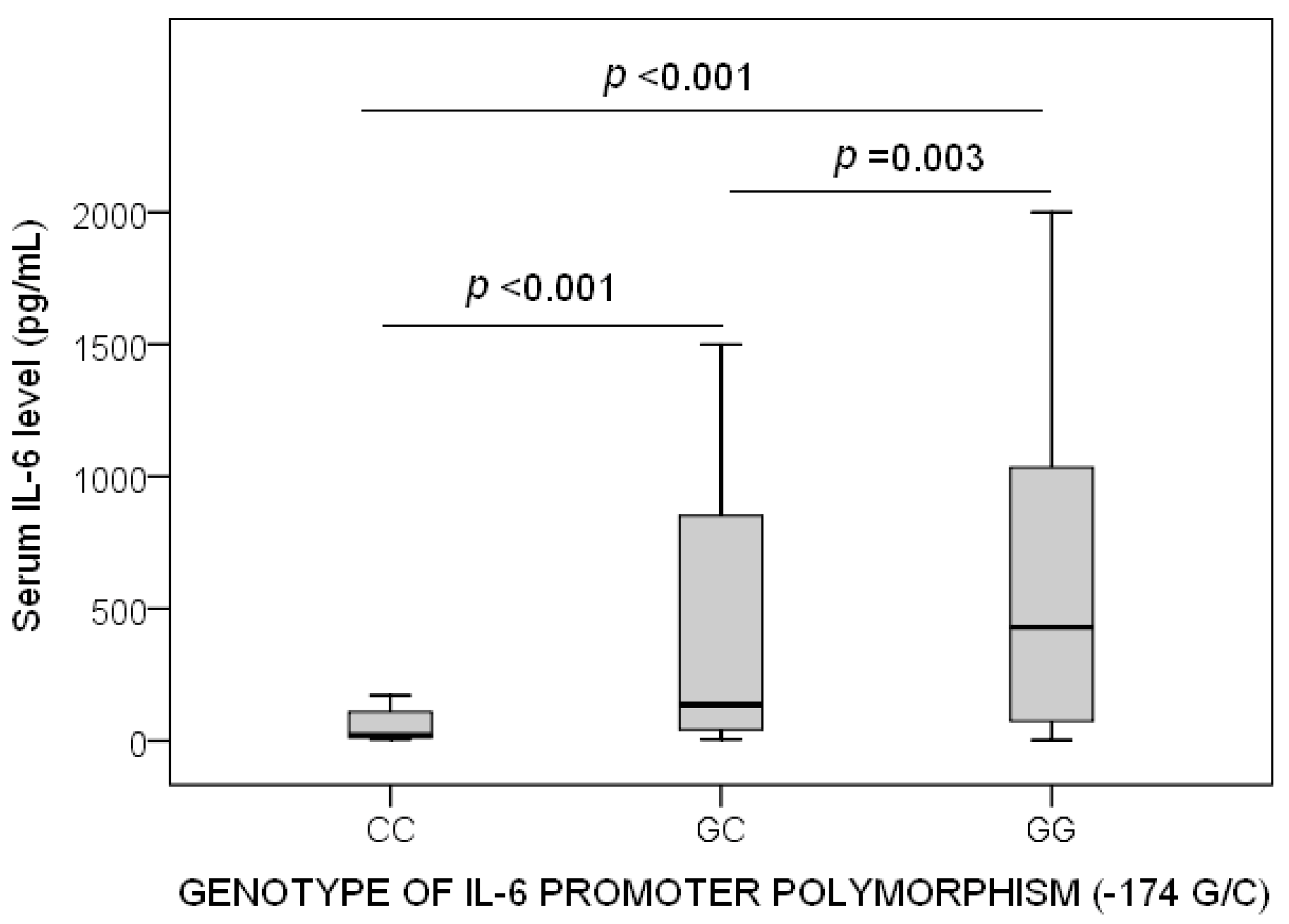 Figure 1
This is an open access article distributed under the
Creative Commons Attribution License
which permits unrestricted use, distribution, and reproduction in any medium, provided the original work is properly cited. (CC BY 4.0).
Share & Cite This Article
MDPI and ACS Style
Lorente, L.; Martín, M.M.; Pérez-Cejas, A.; Barrios, Y.; Solé-Violán, J.; Ferreres, J.; Labarta, L.; Díaz, C.; Jiménez, A. Association between Interleukin-6 Promoter Polymorphism (-174 G/C), Serum Interleukin-6 Levels and Mortality in Severe Septic Patients. Int. J. Mol. Sci. 2016, 17, 1861.
Note that from the first issue of 2016, MDPI journals use article numbers instead of page numbers. See further details here.
Related Articles
Comments
[Return to top]