Non-SMC Element 2 (NSMCE2) of the SMC5/6 Complex Helps to Resolve Topological Stress
1
Center for Reproductive Medicine, Amsterdam Research Institute Reproduction and Development, Academic Medical Center, University of Amsterdam, 1105 AZ Amsterdam, The Netherlands
2
Department of Medical Biochemistry, Academic Medical Center, University of Amsterdam, 1105 AZ Amsterdam, The Netherlands
3
Department of Cell Biology and Histology, Academic Medical Center, University of Amsterdam, 1105 AZ Amsterdam, The Netherlands
4
Mass Spectrometry of Biomacromolecules, Swammerdam Institute for Life Sciences, University of Amsterdam, 1090 GE Amsterdam, The Netherlands
†
These authors contributed equally to this work.
*
Author to whom correspondence should be addressed.
Academic Editor: Guillermo T. Sáez
Received: 8 July 2016 / Revised: 14 September 2016 / Accepted: 20 October 2016 / Published: 26 October 2016
Abstract
The structural maintenance of chromosomes (SMC) protein complexes shape and regulate the structure and dynamics of chromatin, thereby controlling many chromosome-based processes such as cell cycle progression, differentiation, gene transcription and DNA repair. The SMC5/6 complex is previously described to promote DNA double-strand breaks (DSBs) repair by sister chromatid recombination, and found to be essential for resolving recombination intermediates during meiotic recombination. Moreover, in budding yeast, SMC5/6 provides structural organization and topological stress relief during replication in mitotically dividing cells. Despite the essential nature of the SMC5/6 complex, the versatile mechanisms by which SMC5/6 functions and its molecular regulation in mammalian cells remain poorly understood. By using a human osteosarcoma cell line (U2OS), we show that after the CRISPR-Cas9-mediated removal of the SMC5/6 subunit NSMCE2, treatment with the topoisomerase II inhibitor etoposide triggered an increased sensitivity in cells lacking NSMCE2. In contrast, NSMCE2 appeared not essential for a proper DNA damage response or cell survival after DSB induction by ionizing irradiation (IR). Interestingly, by way of immunoprecipitations (IPs) and mass spectrometry, we found that the SMC5/6 complex physically interacts with the DNA topoisomerase II α (TOP2A). We therefore propose that the SMC5/6 complex functions in resolving TOP2A-mediated DSB-repair intermediates generated during replication.
View Full-Text
►

▼

Figures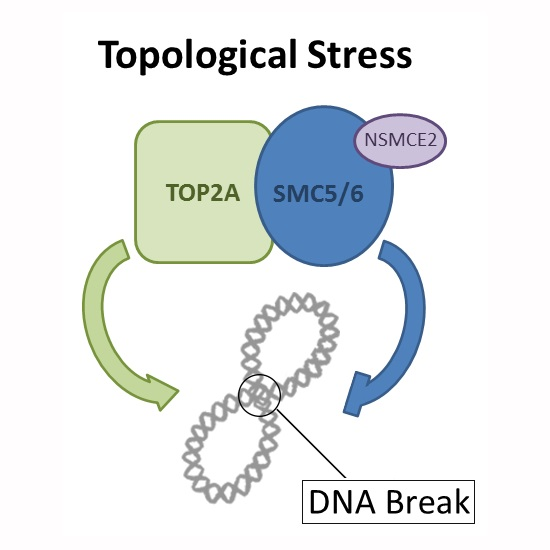 This is an open access article distributed under the
Creative Commons Attribution License
which permits unrestricted use, distribution, and reproduction in any medium, provided the original work is properly cited. (CC BY 4.0).
Share & Cite This Article
MDPI and ACS Style
Verver, D.E.; Zheng, Y.; Speijer, D.; Hoebe, R.; Dekker, H.L.; Repping, S.; Stap, J.; Hamer, G. Non-SMC Element 2 (NSMCE2) of the SMC5/6 Complex Helps to Resolve Topological Stress. Int. J. Mol. Sci. 2016, 17, 1782.
Note that from the first issue of 2016, MDPI journals use article numbers instead of page numbers. See further details here.
Related Articles
Comments
[Return to top]