Role of Intracellular Lipid Logistics in the Preferential Usage of Very Long Chain-Ceramides in Glucosylceramide
1
Department of Biochemistry and Cell Biology, National Institute of Infectious Diseases, 1-23-1 Toyama, Shinjuku-ku, Tokyo 162-8640, Japan
2
Department of Materials and Applied Chemistry, College of Science and Technology, Nihon University, Chiyoda-ku, Tokyo 101-8308, Japan
*
Author to whom correspondence should be addressed.
Academic Editor: Cheorl-Ho Kim
Received: 12 July 2016 / Revised: 11 October 2016 / Accepted: 14 October 2016 / Published: 21 October 2016
Abstract
Ceramide is a common precursor of sphingomyelin (SM) and glycosphingolipids (GSLs) in mammalian cells. Ceramide synthase 2 (CERS2), one of the six ceramide synthase isoforms, is responsible for the synthesis of very long chain fatty acid (C20–26 fatty acids) (VLC)-containing ceramides (VLC-Cer). It is known that the proportion of VLC species in GSLs is higher than that in SM. To address the mechanism of the VLC-preference of GSLs, we used genome editing to establish three HeLa cell mutants that expressed different amounts of CERS2 and compared the acyl chain lengths of SM and GSLs by metabolic labeling experiments. VLC-sphingolipid expression was increased along with that of CERS2, and the proportion of VLC species in glucosylceramide (GlcCer) was higher than that in SM for all expression levels of CERS2. This higher proportion was still maintained even when the proportion of C16-Cer to the total ceramides was increased by disrupting the ceramide transport protein (CERT)-dependent C16-Cer delivery pathway for SM synthesis. On the other hand, merging the Golgi apparatus and the endoplasmic reticulum (ER) by Brefeldin A decreased the proportion of VLC species in GlcCer probably due to higher accessibility of UDP-glucose ceramide glucosyltransferase (UGCG) to C16-rich ceramides. These results suggest the existence of a yet-to-be-identified mechanism rendering VLC-Cer more accessible than C16-Cer to UGCG, which is independent of CERT.
View Full-Text
►

▼

Figures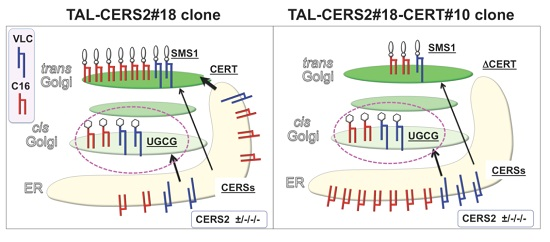 This is an open access article distributed under the
Creative Commons Attribution License
which permits unrestricted use, distribution, and reproduction in any medium, provided the original work is properly cited. (CC BY 4.0).
Share & Cite This Article
MDPI and ACS Style
Yamaji, T.; Horie, A.; Tachida, Y.; Sakuma, C.; Suzuki, Y.; Kushi, Y.; Hanada, K. Role of Intracellular Lipid Logistics in the Preferential Usage of Very Long Chain-Ceramides in Glucosylceramide. Int. J. Mol. Sci. 2016, 17, 1761.
Note that from the first issue of 2016, MDPI journals use article numbers instead of page numbers. See further details here.
Related Articles
Comments
[Return to top]