Cinnamide Derivatives as Mammalian Arginase Inhibitors: Synthesis, Biological Evaluation and Molecular Docking
1
PEPITE EA4267, University Bourgogne Franche-Comté, F-25000 Besançon, France
2
University Lille, EA 7394-ICV-Institut Charles Viollette, F-59000 Lille, France
3
Department of Medicinal Chemistry, Faculty of Pharmacy, University of Medicine and Pharmacy at Ho Chi Minh City, 41 Dinh Tien Hoang, Dist 1, Ho Chi Minh City 700000, Vietnam
*
Author to whom correspondence should be addressed.
Academic Editor: Alejandro Cifuentes
Received: 22 July 2016 / Revised: 22 September 2016 / Accepted: 23 September 2016 / Published: 29 September 2016
Abstract
Arginases are enzymes that are involved in many human diseases and have been targeted for new treatments. Here a series of cinnamides was designed, synthesized and evaluated in vitro and in silico for their inhibitory activity against mammalian arginase. Using a microassay on purified liver bovine arginase (b-ARG I), (
E
)-
N
-(2-phenylethyl)-3,4-dihydroxycinnamide, also named caffeic acid phenylamide (CAPA), was shown to be slightly more active than our natural reference inhibitor, chlorogenic acid (IC
50
= 6.9 ± 1.3 and 10.6 ± 1.6 µM, respectively) but it remained less active that the synthetic reference inhibitor
N
ω
-hydroxy-nor-
l
-arginine nor-NOHA (IC
50
= 1.7 ± 0.2 µM). Enzyme kinetic studies showed that CAPA was a competitive inhibitor of arginase with Ki = 5.5 ± 1 µM. Whereas the activity of nor-NOHA was retained (IC
50
= 5.7 ± 0.6 µM) using a human recombinant arginase I (h-ARG I), CAPA showed poorer activity (IC
50
= 60.3 ± 7.8 µM). However, our study revealed that the cinnamoyl moiety and catechol function were important for inhibitory activity. Docking results on h-ARG I demonstrated that the caffeoyl moiety could penetrate into the active-site pocket of the enzyme, and the catechol function might interact with the cofactor Mn
2+
and several crucial amino acid residues involved in the hydrolysis mechanism of arginase. The results of this study suggest that 3,4-dihydroxycinnamides are worth being considered as potential mammalian arginase inhibitors, and could be useful for further research on the development of new arginase inhibitors.
View Full-Text
►

▼

Figures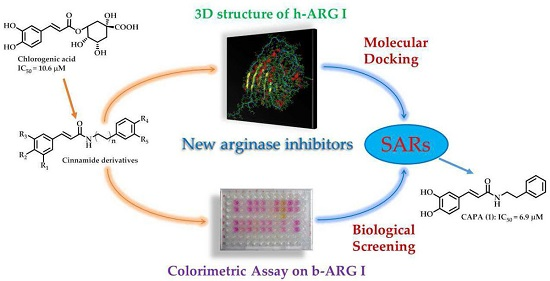 This is an open access article distributed under the
Creative Commons Attribution License
which permits unrestricted use, distribution, and reproduction in any medium, provided the original work is properly cited. (CC BY 4.0).
Share & Cite This Article
MDPI and ACS Style
Pham, T.-N.; Bordage, S.; Pudlo, M.; Demougeot, C.; Thai, K.-M.; Girard-Thernier, C. Cinnamide Derivatives as Mammalian Arginase Inhibitors: Synthesis, Biological Evaluation and Molecular Docking. Int. J. Mol. Sci. 2016, 17, 1656.
Note that from the first issue of 2016, MDPI journals use article numbers instead of page numbers. See further details here.
Related Articles
Comments
[Return to top]