Duplex High-Resolution Melting Assay for the Simultaneous Genotyping of IL28B rs12979860 and PNPLA3 rs738409 Polymorphisms in Chronic Hepatitis C Patients
1
University of Medicine and Pharmacy Tirgu Mures, 38 Gh. Marinescu st., Tirgu Mures 540142, Romania
2
Emergency County Clinical Hospital, 50 Gh. Marinescu st., Tirgu Mures 540136, Romania
3
Université de Lyon, Université Lyon 1, Lyon F-69008, France
4
Inserm U1111, 21 Avenue Tony Garnier, Lyon F-69007, France
5
CIRI, Centre International de Recherche en Infectiologie, Université de Lyon, 21 Avenue Tony Garnier, 69365 Lyon Cedex 07, France
6
Ecole Normale Supérieure de Lyon, 15 parvis René Descartes, BP 7000 69342 Lyon Cedex 07, France
7
CNRS, UMR5308, 21 avenue Tony Garnier, 69365 Lyon Cedex 07, France
8
Hospices Civils de Lyon, Hôpital de la Croix Rousse, Laboratoire de Virologie, Lyon F-69004, France
*
Author to whom correspondence should be addressed.
Academic Editor: Emil Alexov
Received: 10 July 2015 / Revised: 2 September 2015 / Accepted: 8 September 2015 / Published: 14 September 2015
Abstract
Chronic hepatitis C (CHC) is a major burden for public health worldwide. Although newer direct-acting antivirals show good efficacy, their cost precludes their wide adoption in resource-limited regions. Thus, strategies are being developed to help identify patients with high susceptibility to response to classic PEG-interferon + ribavirin therapy.
IL28B
polymorphism rs12979860 C/T is an important predictor for an efficient response to interferon-based therapy. A genetic variant in adiponutrin (
PNPLA3
) gene, rs738409 C/G, is associated with steatosis, severity, and progression of liver fibrosis in CHC patients, and predicts treatment outcome in difficult-to-cure HCV-infected patients with advanced fibrosis. We developed a rapid and inexpensive assay based on duplex high-resolution melting (HRM) for the simultaneous genotyping of these two polymorphisms. The assay validation was performed on synthetic DNA templates and 132 clinical samples from CHC patients. When compared with allele-specific PCR and sequencing, our assay showed 100% (95% CI: 0.9724–1) accuracy, with 100% sensitivity and specificity. Our assay was robust against concentration and quality of DNA samples, melting curve normalization intervals, HRM analysis algorithm, and sequence variations near the targeted SNPs (single nucleotide polymorphism). This duplex assay should provide useful information for patient-oriented management and clinical decision-making in CHC.
View Full-Text
►

▼

Figures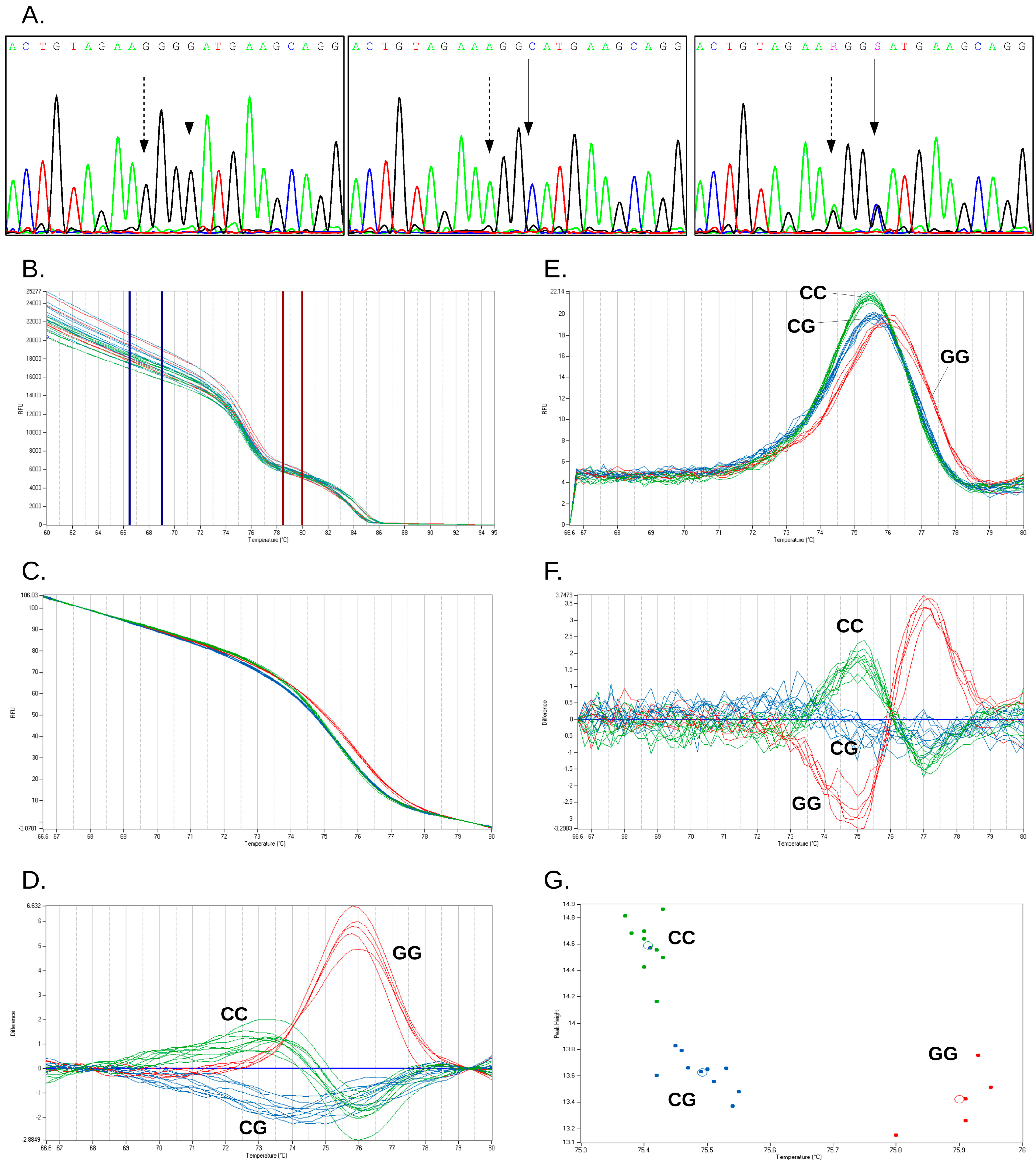 Figure 1
This is an open access article distributed under the
Creative Commons Attribution License
which permits unrestricted use, distribution, and reproduction in any medium, provided the original work is properly cited. (CC BY 4.0).
Share & Cite This Article
MDPI and ACS Style
Enache, E.L.; Sin, A.; Bancu, L.; Ramière, C.; Diaz, O.; André, P.; Enache, L.S. Duplex High-Resolution Melting Assay for the Simultaneous Genotyping of IL28B rs12979860 and PNPLA3 rs738409 Polymorphisms in Chronic Hepatitis C Patients. Int. J. Mol. Sci. 2015, 16, 22223-22242.
Related Articles
Comments
[Return to top]