Effect of Hepatitis C Virus Genotype 1b Core and NS5A Mutations on Response to Peginterferon Plus Ribavirin Combination Therapy
Department of Gastroenterology and Nephrology, Graduate School of Medicine, Chiba University, Chiba 260-8677, Japan
*
Author to whom correspondence should be addressed.
Academic Editor: Johannes Haybaeck
Received: 16 July 2015 / Revised: 21 August 2015 / Accepted: 21 August 2015 / Published: 7 September 2015
Abstract
We examined whether hepatitis C virus (HCV) genotype 1b core- and NS5A-region mutations are associated with response to peginterferon α-2b plus ribavirin combination therapy. A total of 103 patients with high HCV genotype 1b viral loads (≥100 KIU/mL) were treated with the combination therapy. Pretreatment mutations in the core region and interferon sensitivity determining region (ISDR) in the NS5A region were analyzed. In univariate analysis, arginine and leucine at positions 70 and 91 in the core region, defined as double wild (DW)-type, were associated with early virologic response (
p
= 0.002), sustained virologic response (SVR) (
p
= 0.004), and non-response (
p
= 0.005). Non-threonine at position 110 was associated with SVR (
p
= 0.004). Multivariate analysis showed the following pretreatment predictors of SVR: hemoglobin level ≥ 14 g/dL (odds ratio (OR) 6.2,
p
= 0.04); platelet count ≥ 14 × 10
4
/mm
3
(OR 5.2,
p
= 0.04); aspartate aminotransferase (AST)/alanine aminotransferase (ALT) ratio < 0.9 (OR 6.17,
p
= 0.009); DW-type (OR 6.8,
p
= 0.02); non-threonine at position 110 (OR 14.5,
p
= 0.03); and ≥2 mutations in the ISDR (OR 12.3,
p
= 0.02). Patients with non-DW-type, non-threonine at position 110, and <2 ISDR mutations showed significantly lower SVR rates than others (11/45 (24.4%)
vs.
27/37 (73.0%), respectively;
p
< 0.001). SVR can be predicted through core and NS5A region mutations and host factors like hemoglobin, platelet count, and AST/ALT ratio in HCV genotype 1b-infected patients treated with peginterferon and ribavirin combination therapy.
View Full-Text
►

▼

Figures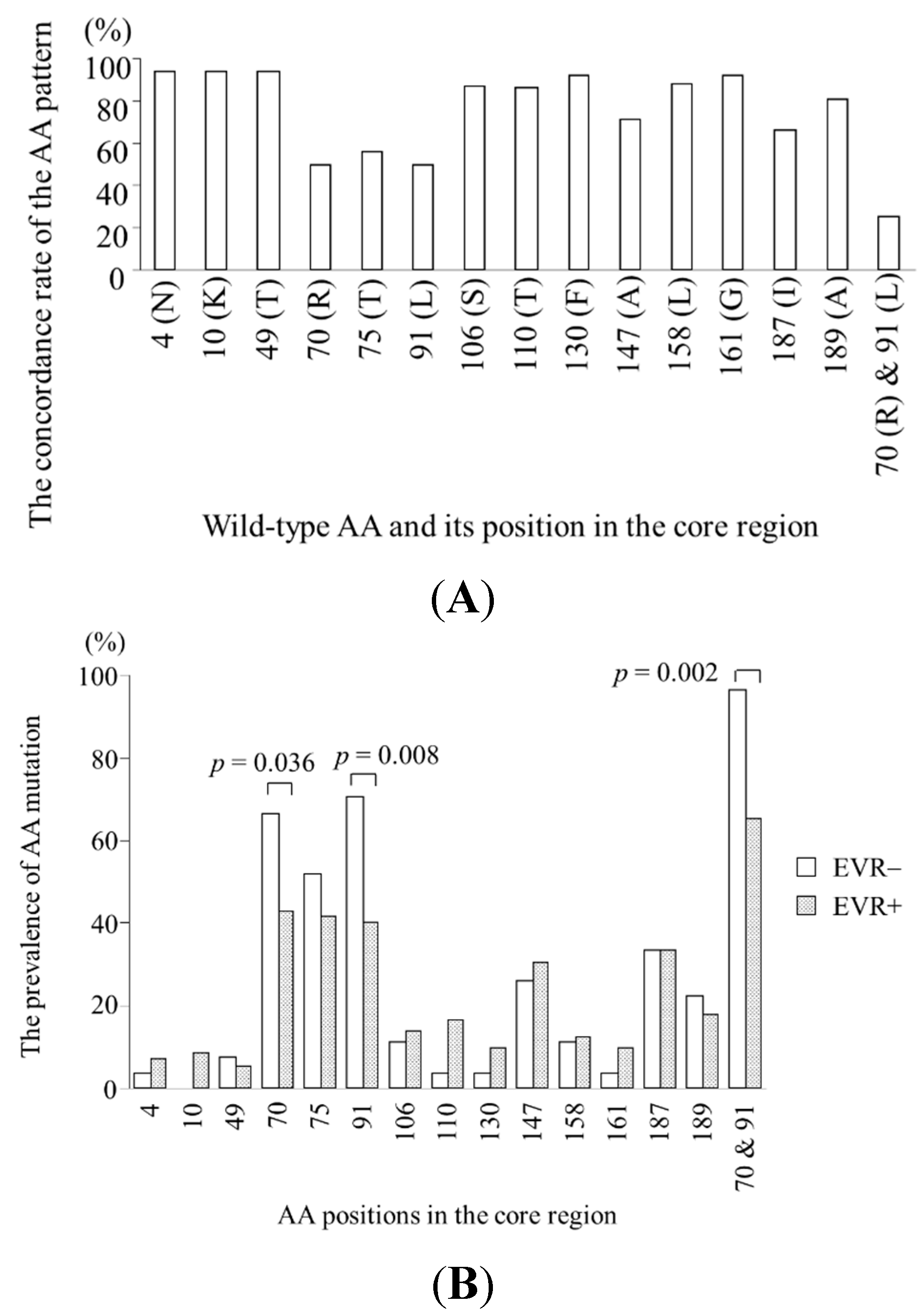 Figure 1a
This is an open access article distributed under the
Creative Commons Attribution License
which permits unrestricted use, distribution, and reproduction in any medium, provided the original work is properly cited. (CC BY 4.0).
Share & Cite This Article
MDPI and ACS Style
Nakamoto, S.; Imazeki, F.; Arai, M.; Yasui, S.; Nakamura, M.; Haga, Y.; Sasaki, R.; Kanda, T.; Shirasawa, H.; Yokosuka, O. Effect of Hepatitis C Virus Genotype 1b Core and NS5A Mutations on Response to Peginterferon Plus Ribavirin Combination Therapy. Int. J. Mol. Sci. 2015, 16, 21177-21190.
Related Articles
Comments
[Return to top]