Characterization of a Bioflocculant (MBF-UFH) Produced by Bacillus sp. AEMREG7
1
South Africa-Medical Research Council (SA-MRC), Microbial Water Quality Monitoring Centre, University of Fort Hare, 5700 Alice, South Africa
2
Applied and Environmental Microbiology Research Group, Department of Biochemistry and Microbiology, University of Fort Hare, 5700 Alice, South Africa
3
GenØK-Centre for Biosafety, Forskningsparken i Breivika, Postboks 6418, 9294 Tromsø, Norway
*
Author to whom correspondence should be addressed.
Academic Editor: Vladimír Křen
Received: 29 January 2015 / Revised: 10 May 2015 / Accepted: 11 May 2015 / Published: 8 June 2015
Abstract
A bioflocculant named MBF-UFH produced by a
Bacillus
species isolated from sediment samples of Algoa Bay of the Eastern Cape Province of South Africa was characterized. The bacterial identification was through 16S rDNA sequencing; nucleotide sequences were deposited in GenBank as
Bacillus
sp. AEMREG7 with Accession Number KP659187. The production of the bioflocculant was observed to be closely associated with cell growth. The bioflocculant had the highest flocculating activity of 83.2% after 72 h of cultivation, and approximately 1.6 g of purified MBF-UFH was recovered from 1 L of fermentation broth. Its chemical analyses indicated that it is a glycoprotein composed of polysaccharide (76%) and protein (14%). Fourier transform infrared spectroscopy (FTIR) revealed that it consisted of hydroxyl, amide, carboxyl and methoxyl as the functional moieties. Scanning electron microscopy (SEM) revealed the amorphous structure of MBF-UFH and flocculated kaolin clay particles. The maximum flocculating activity of 92.6% against kaolin clay suspension was achieved at 0.3 mg/mL over pH ranges of 3–11 with the peak flocculating rate at pH 8 in the presence of MgCl
2
. The bioflocculant retained high flocculating activity of 90% after heating at 100 °C for 1 h. MBF-UFH appears to have immense potential as an alternative to conventional chemical flocculants.
View Full-Text
►

▼

Figures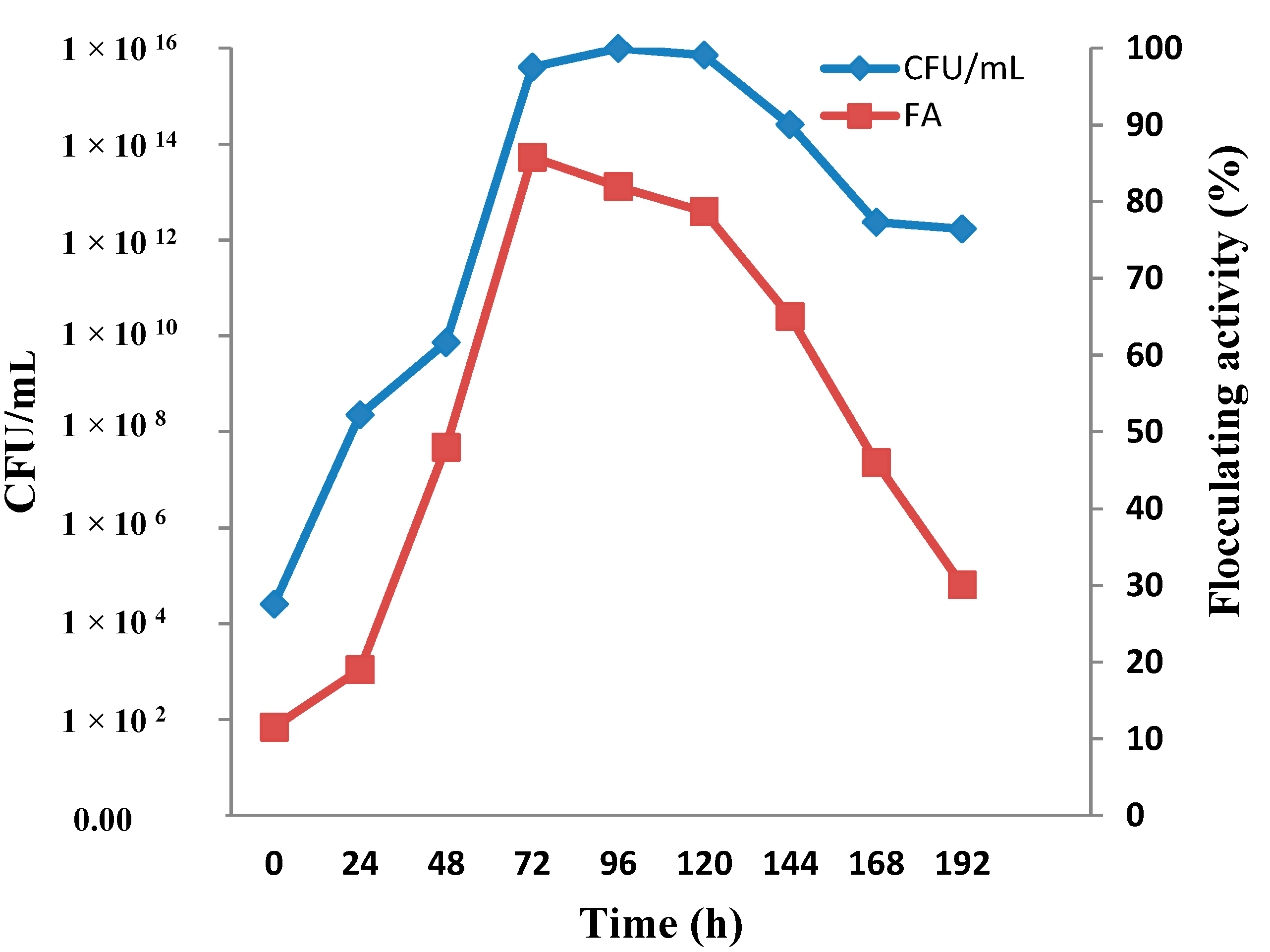 Figure 1
This is an open access article distributed under the
Creative Commons Attribution License
which permits unrestricted use, distribution, and reproduction in any medium, provided the original work is properly cited. (CC BY 4.0).
Share & Cite This Article
MDPI and ACS Style
Okaiyeto, K.; Nwodo, U.U.; Mabinya, L.V.; Okoli, A.S.; Okoh, A.I. Characterization of a Bioflocculant (MBF-UFH) Produced by Bacillus sp. AEMREG7. Int. J. Mol. Sci. 2015, 16, 12986-13003.
Related Articles
Comments
[Return to top]