In Ovo Administration of Silver Nanoparticles and/or Amino Acids Influence Metabolism and Immune Gene Expression in Chicken Embryos
1
Central Avian Research Institute, Indian Council of Agricultural Research, Izatnagar UP-243122, India
2
Department of Veterinary Clinical and Animal Sciences, University of Copenhagen, Frederiksberg 1870, Denmark
3
Department of Animal Nutrition and Biotechnology, Warsaw University of Life Sciences, Warsaw 02-786, Poland
*
Author to whom correspondence should be addressed.
Academic Editor: Bing Yan
Received: 15 March 2015 / Revised: 17 April 2015 / Accepted: 21 April 2015 / Published: 27 April 2015
Abstract
Due to their physicochemical and biological properties, silver nanoparticles (NanoAg) have a wide range of applications. In the present study, their roles as a carrier of nutrients and an immunomodulator were tested in chicken embryos. Cysteine (Cys)+NanoAg injected embryos had smaller livers but heavier breasts on the 19th day of embryogenesis. Cys injected embryos had lower oxygen consumption compared to threonine (Thr) or NanoAg injected embryos. The energy expenditure in Thr+NanoAg, or NanoAg injected embryos was higher than Cys or Cys+NanoAg but was not different from uninjected control embryos. Relative expression of the hepatic insulin-like growth factor-I (
IGF-
I) gene was higher in Cys or NanoAg injected embryos after lipopolysaccharide (LPS) induction. The gene expression of hepatic tumour necrosis factor-alpha (
TNF-α
) and interleukin-6 (
IL-6
) did not differ among amino acids, NanoAg and uninjected controls in the non-LPS groups, but increased by many folds in the LPS treated NanoAg, Cys and Cys+NanoAg groups. In LPS treated spleens,
TNF-α
expression was also up-regulated by NanoAg, amino acids and their combinations, but interleukin-10 (
IL-10
) expression was down-regulated in Thr, Cys or Thr+NanoAg injected embryos. Toll like receptor-2 (
TLR2
) expression did not differ in NanoAg or amino acids injected embryos; however, toll like receptor-4 (
TLR4
) expression was higher in all treated embryos, except for Cys+NanoAg, than in uninjected control embryos. We concluded that NanoAg either alone or in combination with amino acids did not affect embryonic growth but improved immunocompetence, indicating that NanoAg and amino acid complexes can act as potential agents for the enhancement of innate and adaptive immunity in chicken.
View Full-Text
►

▼

Figures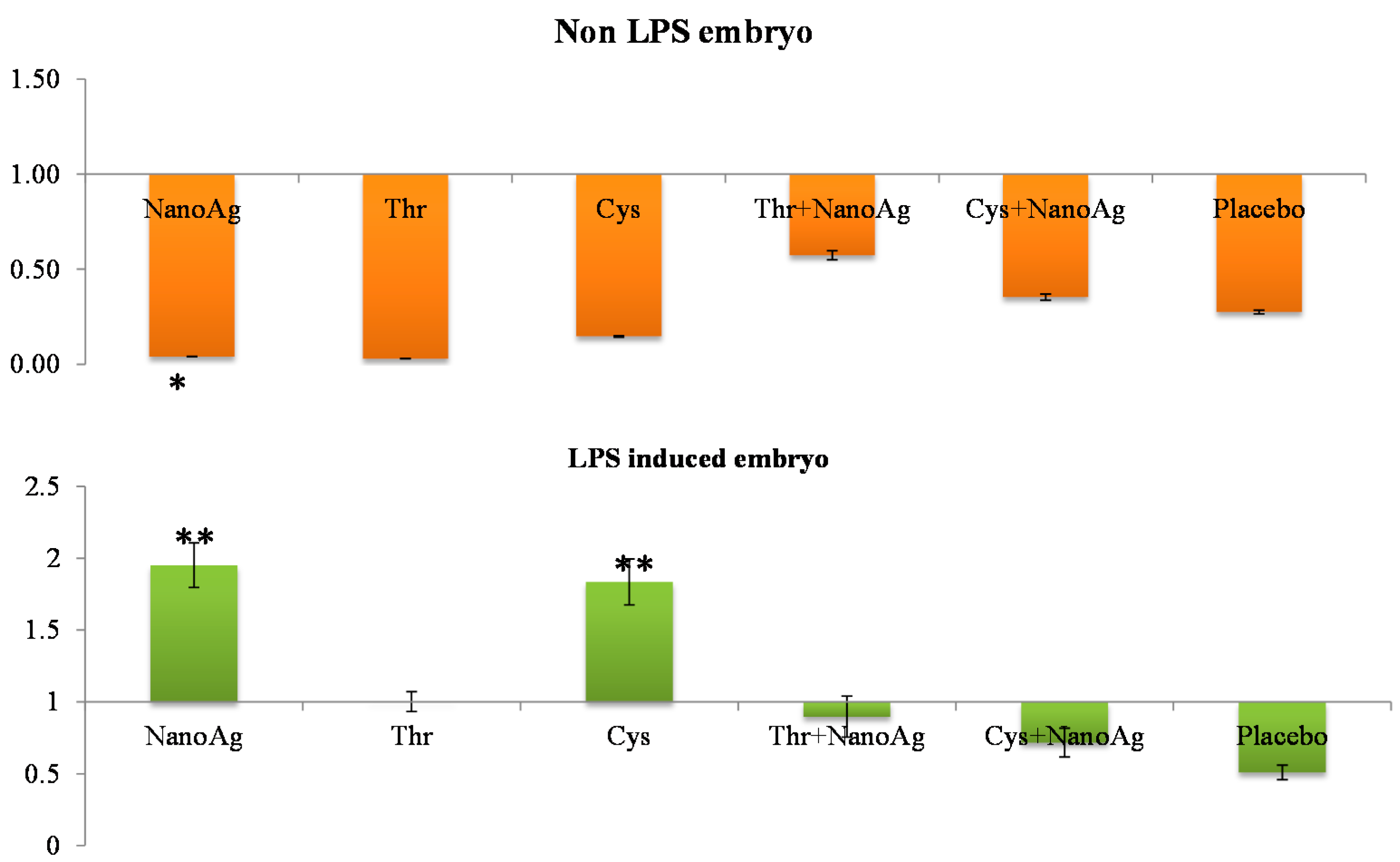 Figure 1
This is an open access article distributed under the
Creative Commons Attribution License
which permits unrestricted use, distribution, and reproduction in any medium, provided the original work is properly cited. (CC BY 4.0).
Share & Cite This Article
MDPI and ACS Style
Bhanja, S.K.; Hotowy, A.; Mehra, M.; Sawosz, E.; Pineda, L.; Vadalasetty, K.P.; Kurantowicz, N.; Chwalibog, A. In Ovo Administration of Silver Nanoparticles and/or Amino Acids Influence Metabolism and Immune Gene Expression in Chicken Embryos. Int. J. Mol. Sci. 2015, 16, 9484-9503.
Related Articles
Comments
[Return to top]