Dihydroaustrasulfone Alcohol (WA-25) Impedes Macrophage Foam Cell Formation by Regulating the Transforming Growth Factor-β1 Pathway
1
Department of Marine Biotechnology and Resources, National Sun Yat-sen University, Kaohsiung 80424, Taiwan
2
Division of Cardiology, Department of Internal Medicine, Kaohsiung Armed Forces General Hospital, Kaohsiung 80284, Taiwan
3
Doctoral Degree Program in Marine Biotechnology, National Sun Yat-sen University and Academia Sinica, Kaohsiung 80424, Taiwan
4
Center for Neuroscience, National Sun Yat-sen University, Kaohsiung 80424, Taiwan
5
Department of Biomedical Engineering, National Defense Medical Center, Taipei 11490, Taiwan
6
School of Medicine, College of Medicine and Department of Pediatrics, E-DA Hospital, I-Shou University, Kaohsiung 84001, Taiwan
7
National Museum of Marine Biology and Aquarium, Pingtung 94450, Taiwan
8
Graduate Institute of Natural Products, Kaohsiung Medical University, Kaohsiung 80708, Taiwan
9
Department of Medical Research, China Medical University Hospital, China Medical University, Taichung 40402, Taiwan
10
Marine Biomedical Laboratory & Center for Translational Biopharmaceuticals, Department of Marine Biotechnology and Resources, National Sun Yat-sen University, Kaohsiung 80424, Taiwan
†
These authors contributed equally to this work.
*
Authors to whom correspondence should be addressed.
Academic Editor: Vassilios Roussis
Received: 17 March 2015 / Revised: 22 April 2015 / Accepted: 29 April 2015 / Published: 7 May 2015
Abstract
Atherosclerosis is considered an inflammatory disease. However, clinically used anti-atherosclerotic drugs, such as simvastatin, have many side effects. Recently, several unique marine compounds have been isolated that possess a variety of bioactivities. In a previous study, we found a synthetic precursor of the marine compound (austrasulfone), which is dihydroaustrasulfone alcohol (WA-25), has anti-atherosclerotic effects
in vivo
. However, the detailed mechanisms remain unclear. Therefore, to clarify the mechanisms through which WA-25 exerts anti-atherosclerotic activity, we used RAW 264.7 macrophages as an
in vitro
model to evaluate the effects of WA-25. In lipopolysaccharide (LPS)-stimulated RAW 264.7 cells, WA-25 significantly inhibited expression of the pro-inflammatory proteins, inducible nitric oxide synthase (iNOS) and cyclooxygenase-2 (COX-2). In contrast, simvastatin increased the COX-2 expression compared to WA-25. In addition, WA-25 impedes foam cell formation and up-regulated the lysosomal and cyclic adenosine monophosphate (cAMP) signaling pathway. We also observed that transforming growth factor β1 (TGF-β1) was up-regulated by WA-25 and simvastatin in LPS-induced RAW 264.7 cells, and the promising anti-atherosclerosis effects of WA-25 were disrupted by blockade of TGF-β1 signaling. Besides, WA-25 might act through increasing lipolysis than through alteration of lipid export. Taken together, these data demonstrate that WA-25 may have potential as an anti-atherosclerotic drug with anti-inflammatory effects.
View Full-Text
►

▼

Figures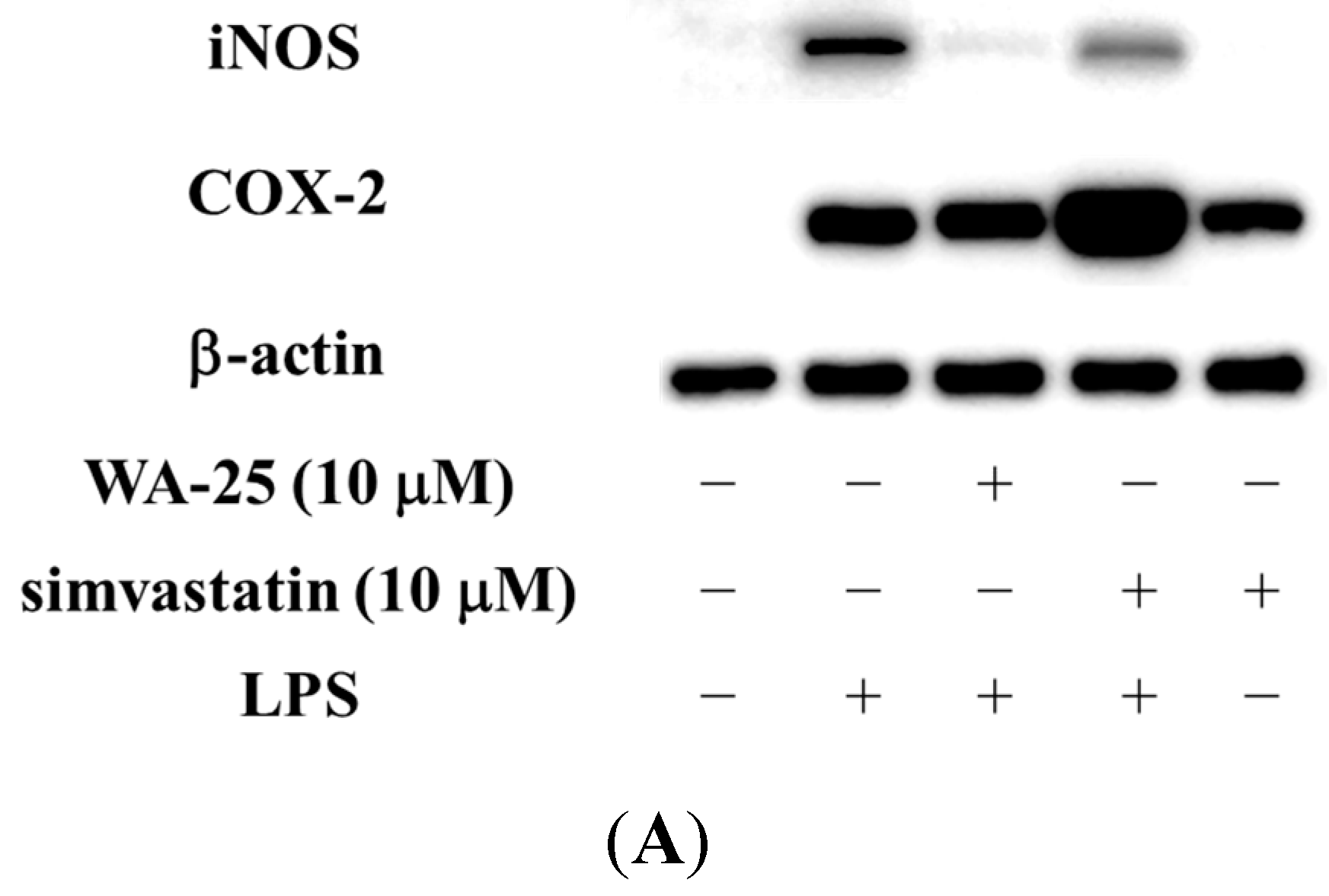 Figure 1a
This is an open access article distributed under the
Creative Commons Attribution License
which permits unrestricted use, distribution, and reproduction in any medium, provided the original work is properly cited. (CC BY 4.0).
Share & Cite This Article
MDPI and ACS Style
Wang, Y.-C.; Hung, H.-C.; Feng, C.-W.; Huang, S.-Y.; Chen, C.-H.; Lin, Y.-Y.; Chen, Y.-C.; Yang, S.-N.; Su, J.-H.; Sheu, J.-H.; Wen, Z.-H. Dihydroaustrasulfone Alcohol (WA-25) Impedes Macrophage Foam Cell Formation by Regulating the Transforming Growth Factor-β1 Pathway. Int. J. Mol. Sci. 2015, 16, 10507-10525.
Related Articles
Comments
[Return to top]