Reduction of Oxidative Stress Attenuates Lipoapoptosis Exacerbated by Hypoxia in Human Hepatocytes
1
Department of Internal Medicine and Gastrointestinal Cancer Center, Dongnam Institute of Radiological & Medical Sciences, Busan KS012, Korea
2
Department of Internal Medicine and Liver Research Institute, Seoul National University College of Medicine, Seoul KS013, Korea
3
Department of Internal Medicine, Seoul Metropolitan Government-Seoul National University Boramae Medical Center, Seoul KS013, Korea
*
Author to whom correspondence should be addressed.
Academic Editor: Guido R. M. M. Haenen
Received: 11 December 2014 / Revised: 26 January 2015 / Accepted: 27 January 2015 / Published: 3 February 2015
Abstract
Chronic intermittent hypoxia, a characteristic of obstructive sleep apnea (OSA), is associated with the progression of simple hepatic steatosis to necroinflammatory hepatitis. We determined whether inhibition of a hypoxia-induced signaling pathway could attenuate hypoxia-exacerbated lipoapoptosis in human hepatocytes.
The human hepatocellular carcinoma cell line (HepG2) was used in this study. Palmitic acid (PA)-treated groups were used for two environmental conditions: Hypoxia (1% O
2
) and normoxia (20% O
2
). Following the treatment, the cell viability was determined by the 3,4-(5-dimethylthiazol-2-yl)-5-(3-carboxymethoxyphenyl)-2-(4-sulfophenyl)-2H-tetrazolium salt (MTS) assay, and the mechanism of lipoapoptosis was evaluated by Western blotting. Hypoxia exacerbated the suppression of hepatocyte growth induced by palmitic acid via activation of mitochondrial apoptotic pathways as a result of endoplasmic reticulum (ER) and oxidative stresses. Ammonium pyrrolidine dithiocarbamate, a scavenger of reactive oxygen species, attenuated the hypoxia-exacerbated lipoapoptosis in hepatocytes, whereas glycerol, which reduces ER stress, did not. This may have been because inhibition of oxidative stress decreases the expression of pro-apoptotic proteins, such as caspase 9 and cytochrome c. These results suggested that modulation of apoptotic signaling pathways activated by oxidative stress can aid in identifying novel therapeutic strategies for the treatment of nonalcoholic steatohepatitis (NASH) with OSA. Further
in vivo
studies are necessary to understand the pathophysiologic mechanism of NASH with OSA and to prove the therapeutic effect of the modulation of the signaling pathways.
View Full-Text
►

▼

Figures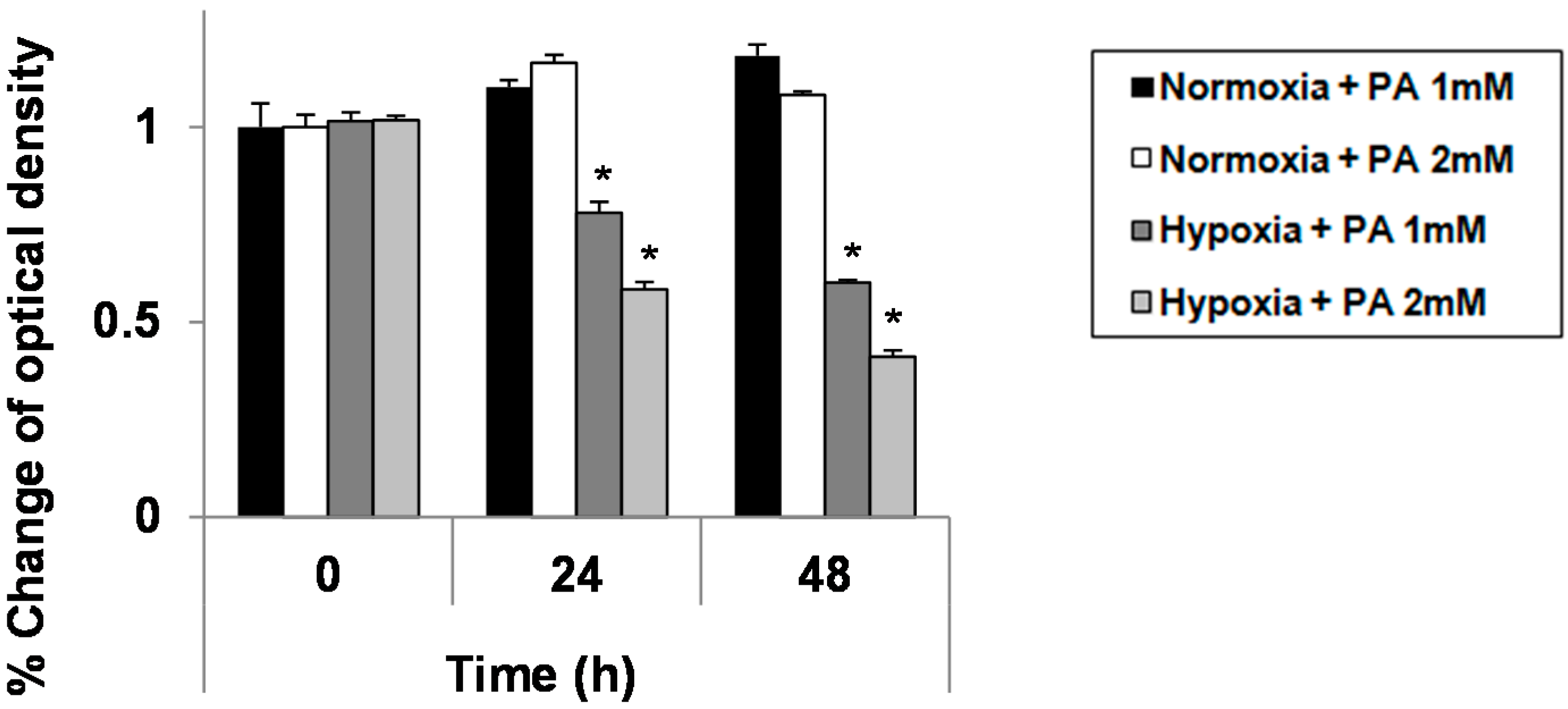 Figure 1
This is an open access article distributed under the
Creative Commons Attribution License
which permits unrestricted use, distribution, and reproduction in any medium, provided the original work is properly cited. (CC BY 4.0).
Share & Cite This Article
MDPI and ACS Style
Hwang, S.Y.; Yu, S.J.; Lee, J.-H.; Kim, H.Y.; Kim, Y.J. Reduction of Oxidative Stress Attenuates Lipoapoptosis Exacerbated by Hypoxia in Human Hepatocytes. Int. J. Mol. Sci. 2015, 16, 3323-3334.
Related Articles
Comments
[Return to top]