Reduced Dendritic Cells Expressing CD200R1 in Children with Inflammatory Bowel Disease: Correlation with Th17 and Regulatory T Cells
1
Biochemistry Department, Faculty of Sciences, King Abdulaziz University, Jeddah 21589, Saudi Arabia
2
Inflammatory Bowel Disease Research Group, King Abdulaziz University, Jeddah 21589, Saudi Arabia
3
Molecular Biology Department, Genetic Engineering and Biotechnology Research Institute, Sadat City University, Sadat City 32897, Egypt
4
Biological Sciences Department, Faculty of Sciences, King Abdulaziz University, Jeddah 21589, Saudi Arabia
5
Immunology Unit, King Fahd Medical Research Center, King Abdulaziz University, Jeddah 21589, Saudi Arabia
6
Department of Pediatrics, Faculty of Medicine, King Abdulaziz University, Jeddah 21589, Saudi Arabia
7
Flow Cytometry Core Facility, National Heart, Lung, and Blood Institute, National Institutes of Health, Bethesda, MD 20892, USA
*
Author to whom correspondence should be addressed.
Academic Editor: Kamal D. Moudgil
Received: 12 October 2015 / Revised: 13 November 2015 / Accepted: 26 November 2015 / Published: 4 December 2015
Abstract
Loss of tolerance of the adaptive immune system towards indigenous flora contributes to the development of inflammatory bowel diseases (IBD). Defects in dendritic cell (DC)-mediated innate and adoptive immune responses are conceivable. The aim of this study was to investigate the expression of the inhibitory molecules CD200R1 and their ligand CD200 on DCs, to clarify the role of the DCs in the pathogenesis of IBD. Thirty-seven pediatric IBD patients (23 with Crohn's disease (CD) and 14 with ulcerative colitis (UC)) with mean age 13.25 ± 2.9 years were included. Fourteen age-matched healthy pediatric volunteers (five males and nine females) served as a control group (HC). The percentage of CD11c
+
myeloid dendritic cells (mDCs) and CD123
+
plasmacytoid DCs (pDCs) expressing CD200R1 and CD200 were evaluated in peripheral blood using flow cytometry and were correlated with routine biochemical, serological markers, serum levels of cytokines and with the percentages of circulating regulatory T cells (Treg) and CD4
+
producing IL-17 (Th17). IBD patients showed a significant decrease in the percentage of pDCs and mDCs expressing CD200R1 compared to that of HC. Patients with UC showed increased expressions of the CD200 molecule on pDCs as compared to HC. DCs expressing CD200R1 were found to be correlated positively with Treg and negatively with TH17 and erythrocyte sedimentation rate (ESR). Our findings suggest that IBD is associated with dysregulation in the CD200R1/CD200 axis and that the decrease in DCs expressing CD200R1 may contribute to the imbalance of Th17 and Treg cells and in the pathogenesis of IBD.
View Full-Text
►

▼

Figures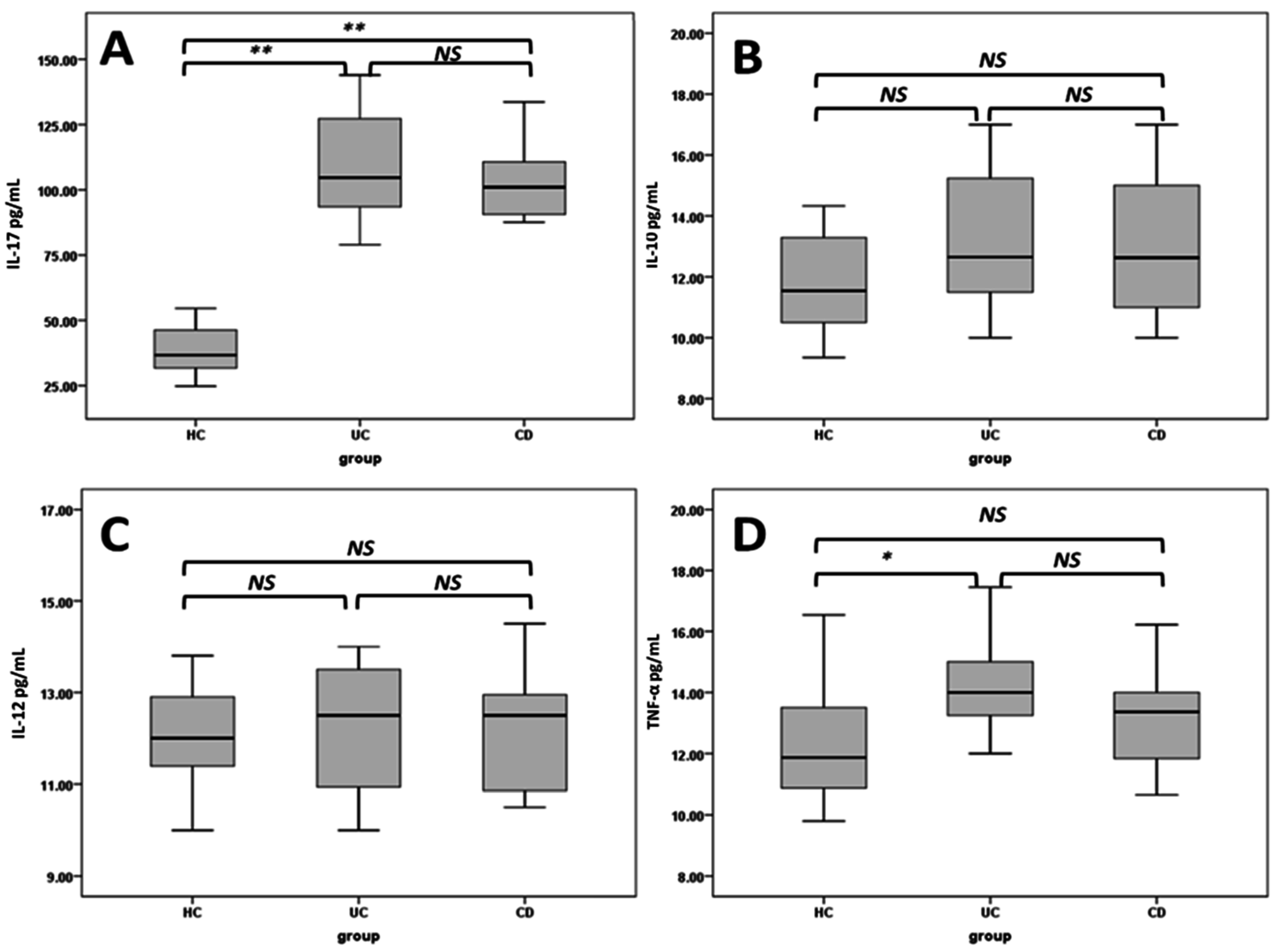 Figure 1
This is an open access article distributed under the
Creative Commons Attribution License
which permits unrestricted use, distribution, and reproduction in any medium, provided the original work is properly cited. (CC BY 4.0).
Share & Cite This Article
MDPI and ACS Style
Elshal, M.F.; Aldahlawi, A.M.; Saadah, O.I.; McCoy, J.P. Reduced Dendritic Cells Expressing CD200R1 in Children with Inflammatory Bowel Disease: Correlation with Th17 and Regulatory T Cells. Int. J. Mol. Sci. 2015, 16, 28998-29010.
Related Articles
Comments
[Return to top]