Evodiamine Induces Apoptosis and Inhibits Migration of HCT-116 Human Colorectal Cancer Cells
1
Laboratory of Stem Cell and Tissue Engineering, Department of Histology and Embryology, Chongqing Medical University, Chongqing 400016, China
2
Drug Engineering Research Center of Chongqing Medical University, Chongqing 400016, China
3
Department of Respiration, Cheng Du Tumor Hospital, Chengdu 610041, China
*
Author to whom correspondence should be addressed.
Academic Editor: Chang Won Choi
Received: 7 July 2015 / Revised: 8 October 2015 / Accepted: 8 October 2015 / Published: 16 November 2015
Abstract
Evodiamine (EVO) exhibits strong anti-cancer effects. However, the effect of EVO on the human colorectal cancer cell line HCT-116 has not been explored in detail, and its underlying molecular mechanisms remain unknown. In the present study, cell viability was assessed by Cell Counting Kit-8 (CCK-8). Cell cycle and apoptosis were measured by flow cytometry, and morphological changes in the nucleus were examined by fluorescence microscopy and Hoechst staining. Cell motility was detected by Transwell assay. ELISA was used to assess the protein levels of autocrine motility factor (AMF) in the cell supernatant, and protein expression was determined by Western blotting. Our results showed that EVO inhibited the proliferation of HCT-116 cells, caused accumulation of cells in S and G2/M phases, and reduced the levels of the secreted form of AMF. The protein levels of tumor suppressor protein (p53), Bcl-2 Associated X protein (Bax), B cell CLL/lymphoma-2 (Bcl-2), phosphoglucose isomerase (PGI), phosphorylated signal transducers and activators of transcription 3 (p-STAT3) and matrix metalloproteinase 3 (MMP3) were altered in cells treated with EVO. Taken together, our results suggest that EVO modulates the activity of the p53 signaling pathway to induce apoptosis and downregulate MMP3 expression by inactivating the JAK2/STAT3 pathway through the downregulation of PGI to inhibit migration of HCT-116 human colorectal cancer cells.
View Full-Text
►

▼

Figures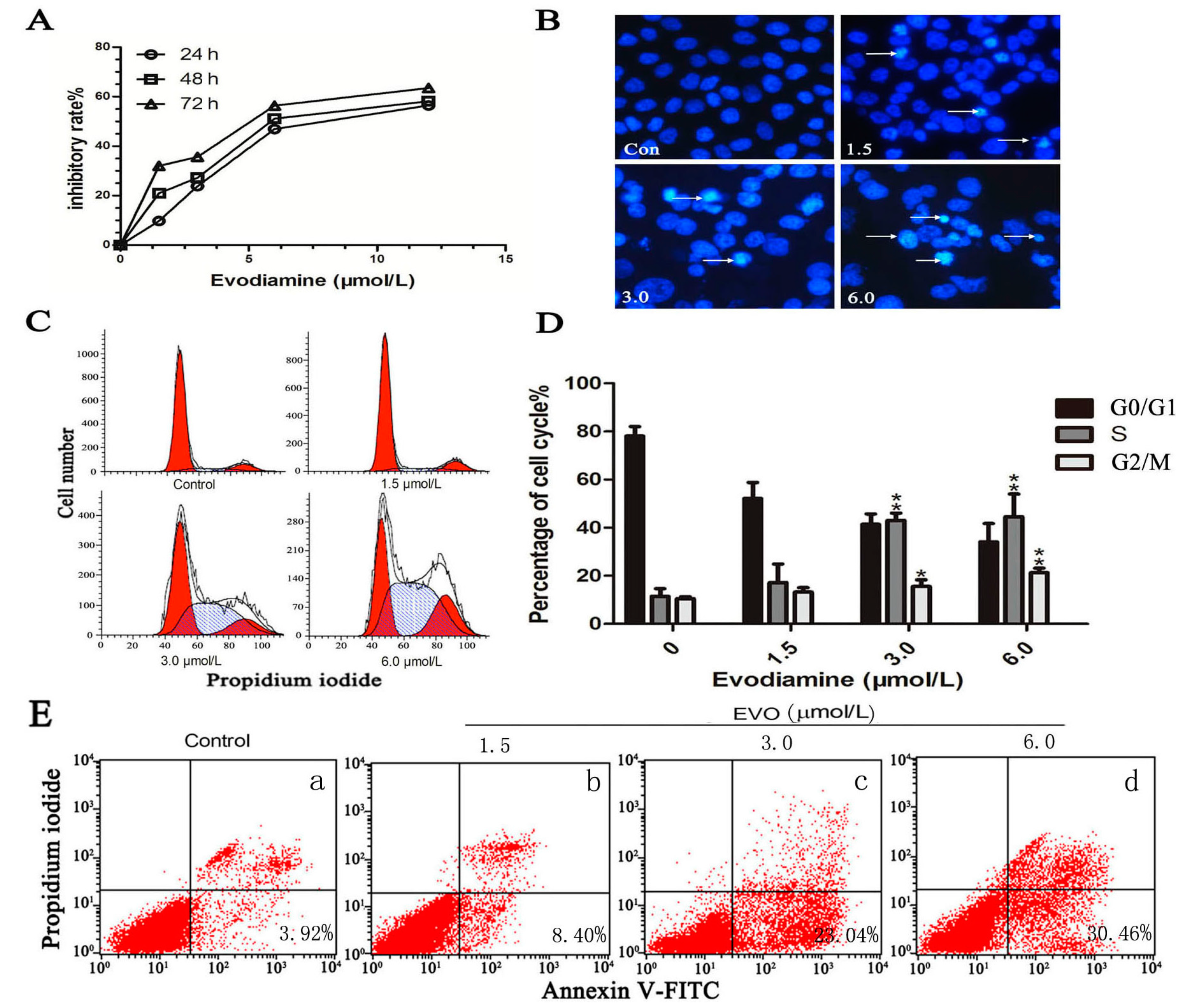 Figure 1
This is an open access article distributed under the
Creative Commons Attribution License
which permits unrestricted use, distribution, and reproduction in any medium, provided the original work is properly cited. (CC BY 4.0).
Share & Cite This Article
MDPI and ACS Style
Zhao, L.-C.; Li, J.; Liao, K.; Luo, N.; Shi, Q.-Q.; Feng, Z.-Q.; Chen, D.-L. Evodiamine Induces Apoptosis and Inhibits Migration of HCT-116 Human Colorectal Cancer Cells. Int. J. Mol. Sci. 2015, 16, 27411-27421.
Related Articles
Comments
[Return to top]