Streamlining the Pipeline for Generation of Recombinant Affinity Reagents by Integrating the Affinity Maturation Step
1
Department of Biological Sciences, University of Illinois at Chicago, 900 S. Ashland Ave., Chicago, IL 60607, USA
2
Structural Genomics Consortium, University of Toronto, 101 College St., Toronto, ON M5G1L7, Canada
†
Current address: Meso Scale Diagnostics, 1601 Research Blvd., Rockville, MD 20850, USA.
‡
Current address: Integrated DNA Technologies, 8180 McCormick Blvd., Skokie, IL 60076, USA.
*
Author to whom correspondence should be addressed.
Academic Editor: Qiang "Shawn" Chen
Received: 21 August 2015 / Revised: 18 September 2015 / Accepted: 23 September 2015 / Published: 30 September 2015
Abstract
Often when generating recombinant affinity reagents to a target, one singles out an individual binder, constructs a secondary library of variants, and affinity selects a tighter or more specific binder. To enhance the throughput of this general approach, we have developed a more integrated strategy where the "affinity maturation" step is part of the phage-display pipeline, rather than a follow-on process. In our new schema, we perform two rounds of affinity selection, followed by error-prone PCR on the pools of recovered clones, generation of secondary libraries, and three additional rounds of affinity selection, under conditions of off-rate competition. We demonstrate the utility of this approach by generating low nanomolar fibronectin type III (FN3) monobodies to five human proteins: ubiquitin-conjugating enzyme E2 R1 (CDC34), COP9 signalosome complex subunit 5 (COPS5), mitogen-activated protein kinase kinase 5 (MAP2K5), Splicing factor 3A subunit 1 (SF3A1) and ubiquitin carboxyl-terminal hydrolase 11 (USP11). The affinities of the resulting monobodies are typically in the single-digit nanomolar range. We demonstrate the utility of two binders by pulling down the targets from a spiked lysate of HeLa cells. This integrated approach should be applicable to directed evolution of any phage-displayed affinity reagent scaffold.
View Full-Text
►

▼

Figures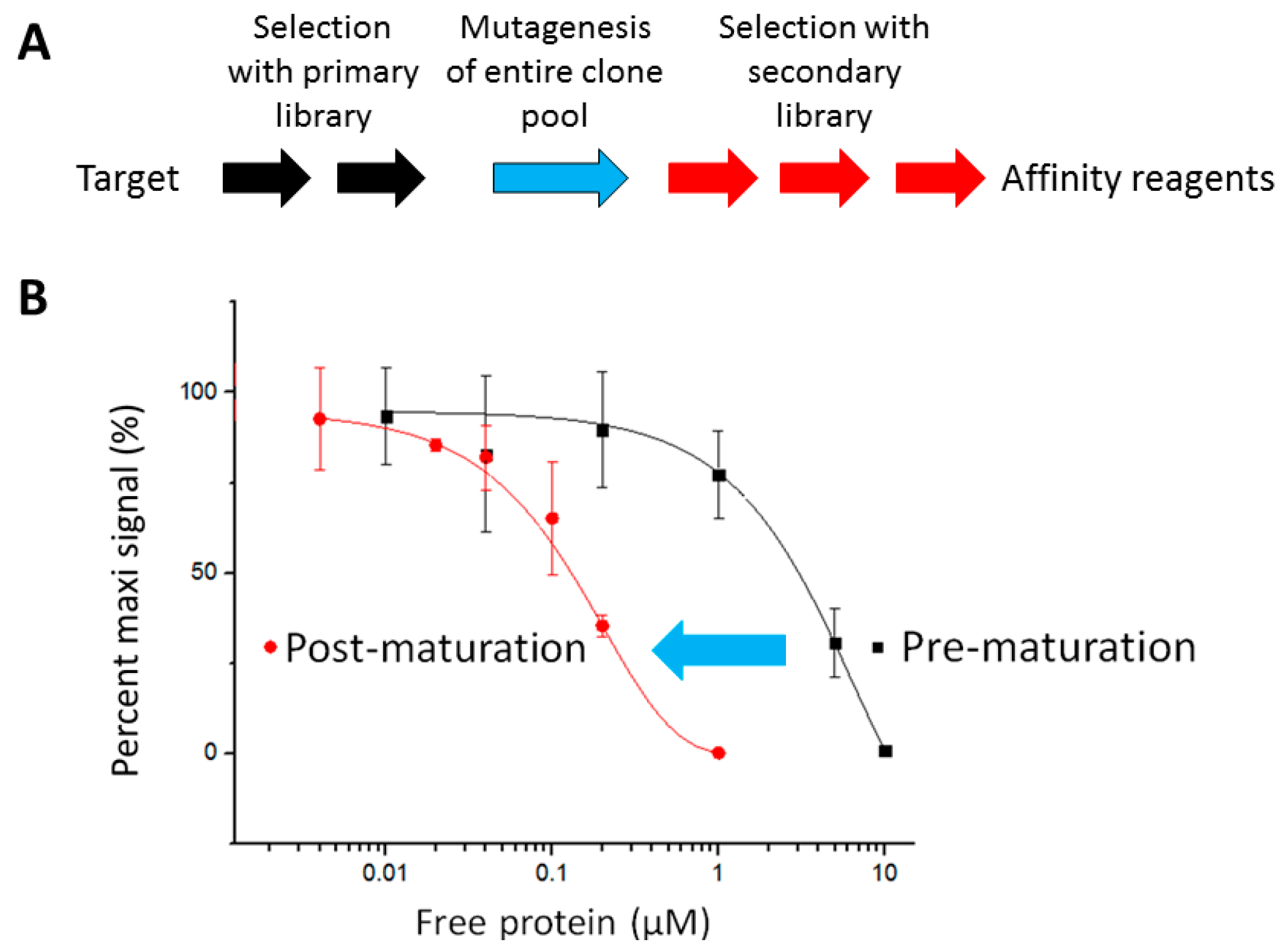 Figure 1
This is an open access article distributed under the
Creative Commons Attribution License
which permits unrestricted use, distribution, and reproduction in any medium, provided the original work is properly cited. (CC BY 4.0).
Share & Cite This Article
MDPI and ACS Style
Huang, R.; Gorman, K.T.; Vinci, C.R.; Dobrovetsky, E.; Gräslund, S.; Kay, B.K. Streamlining the Pipeline for Generation of Recombinant Affinity Reagents by Integrating the Affinity Maturation Step. Int. J. Mol. Sci. 2015, 16, 23587-23603.
Related Articles
Comments
[Return to top]