Alkyl Chain Growth on a Transition Metal Center: How Does Iron Compare to Ruthenium and Osmium?
Manchester Institute of Biotechnology and School of Chemical Engineering and Analytical Science, the University of Manchester, 131 Princess Street, Manchester M1 7DN, UK
*
Author to whom correspondence should be addressed.
Academic Editor: Francesc Illas
Received: 2 September 2015 / Revised: 22 September 2015 / Accepted: 23 September 2015 / Published: 28 September 2015
Abstract
Industrial Fischer-Tropsch processes involve the synthesis of hydrocarbons usually on metal surface catalysts. On the other hand, very few homogeneous catalysts are known to perform a Fischer-Tropsch style of reaction. In recent work, we established the catalytic properties of a diruthenium-platinum carbene complex, [(CpRu)
2
(μ
2
-H) (μ
2
-NHCH
3
)(μ
3
-C)PtCH
3
(P(CH
3
)
3
)
2
](CO)
n
+
with
n
= 0, 2 and Cp = η
5
-C
5
(CH
3
)
5
, and showed it to react efficiently by initial hydrogen atom transfer followed by methyl transfer to form an alkyl chain on the Ru-center. In particular, the catalytic efficiency was shown to increase after the addition of two CO molecules. As such, this system could be viewed as a potential homogeneous Fischer-Tropsch catalyst. Herein, we have engineered the catalytic center of the catalyst and investigated the reactivity of trimetal carbene complexes of the same type using iron, ruthenium and osmium at the central metal scaffold. The work shows that the reactivity should increase from diosmium to diruthenium to diiron; however, a non-linear trend is observed due to multiple factors contributing to the individual barrier heights. We identified all individual components of these reaction steps in detail and established the difference in reactivity of the various complexes.
View Full-Text
►

▼

Figures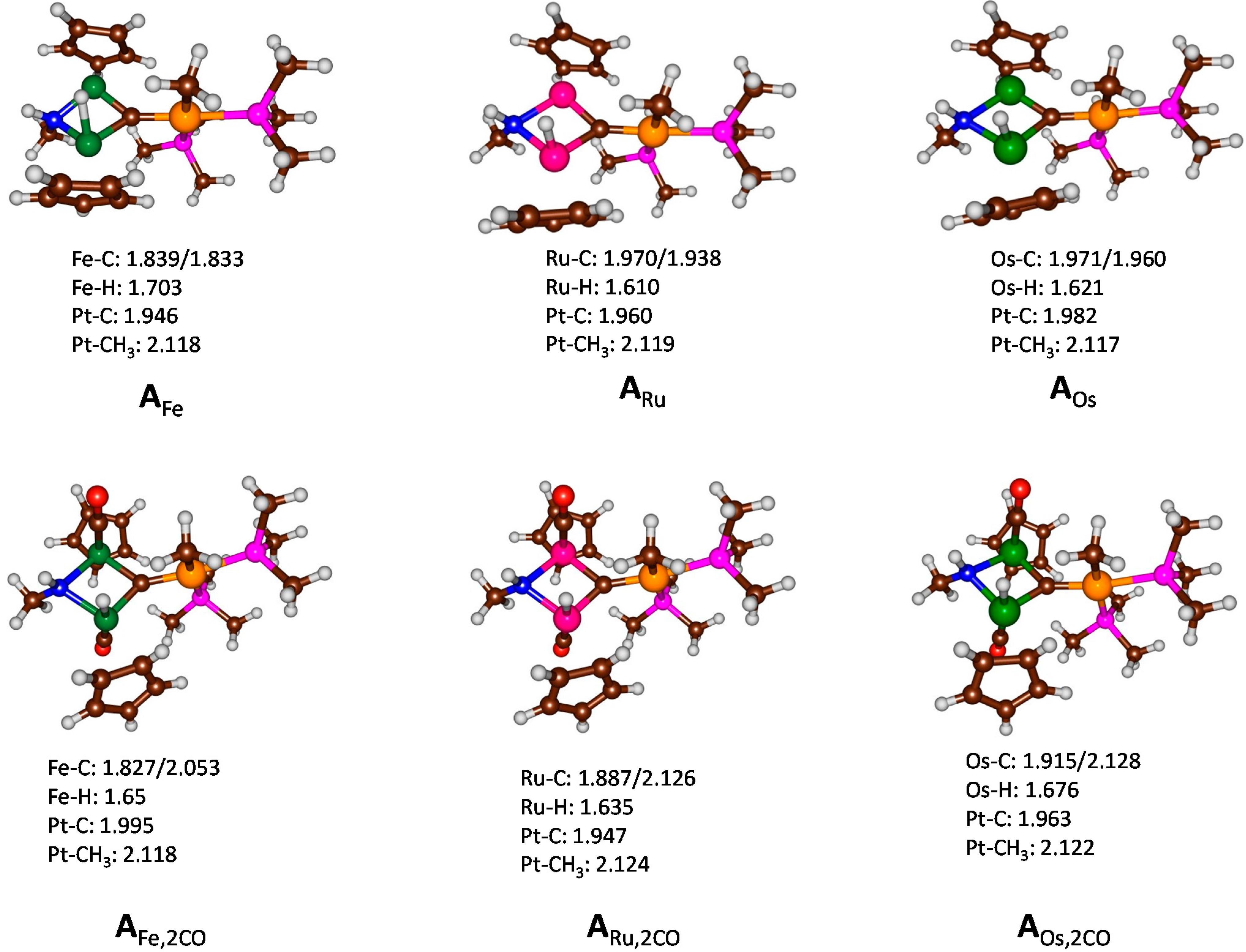 Figure 1
This is an open access article distributed under the
Creative Commons Attribution License
which permits unrestricted use, distribution, and reproduction in any medium, provided the original work is properly cited. (CC BY 4.0).
Share & Cite This Article
MDPI and ACS Style
Sainna, M.A.; de Visser, S.P. Alkyl Chain Growth on a Transition Metal Center: How Does Iron Compare to Ruthenium and Osmium? Int. J. Mol. Sci. 2015, 16, 23369-23381.
Related Articles
Comments
[Return to top]