Effects of the Novel Compound DK223 ([1E,2E-1,2-Bis(6-methoxy-2H-chromen-3-yl)methylene]hydrazine) on Migration and Proliferation of Human Keratinocytes and Primary Dermal Fibroblasts
1
Department of Biochemistry, School of Medicine, Jeju National University, Jeju 690-756, Korea
2
Department of Pediatrics, School of Medicine, Jeju National University, Jeju 690-756, Korea
3
Department of Urology, School of Medicine, Jeju National University, Jeju 690-756, Korea
4
Division of Bioscience and Biotechnology, Konkuk University, Seoul 143-701, Korea
5
Institute of Medical Science, Jeju National University, Jeju 690-756, Korea
*
Author to whom correspondence should be addressed.
Received: 19 May 2014 / Revised: 26 June 2014 / Accepted: 14 July 2014 / Published: 23 July 2014
Abstract
Wound healing plays an important role in protecting the human body from external infection. Cell migration and proliferation of keratinocytes and dermal fibroblasts are essential for proper wound healing. Recently, several studies have demonstrated that secondary compounds produced in plants could affect skin cells migration and proliferation. In this study, we identified a novel compound DK223 ([1
E
,2
E
-1,2-bis(6-methoxy-2
H
-chromen-3-yl)methylene]hydrazine) that concomitantly induced human keratinocyte migration and dermal fibroblast proliferation. We evaluated the regulation of epithelial and mesenchymal protein markers, such as E-cadherin and Vimentin, in human keratinocytes, as well as extracellular matrix (ECM) secretion and metalloproteinase families in dermal fibroblasts. DK223 upregulated keratinocyte migration and significantly increased the epithelial marker E-cadherin in a time-dependent manner. We also found that reactive oxygen species (ROS) increased significantly in keratinocytes after 2 h of DK223 exposure, returning to normal levels after 24 h, which indicated that DK223 had an early shock effect on ROS production. DK223 also stimulated fibroblast proliferation, and induced significant secretion of ECM proteins, such as collagen I, III, and fibronectin. In dermal fibroblasts, DK223 treatment induced TGF-β1, which is involved in a signaling pathway that mediates proliferation. In conclusion, DK223 simultaneously induced both keratinocyte migration via ROS production and fibroblast proliferation via TGF-β1 induction.
View Full-Text
►

▼

Figures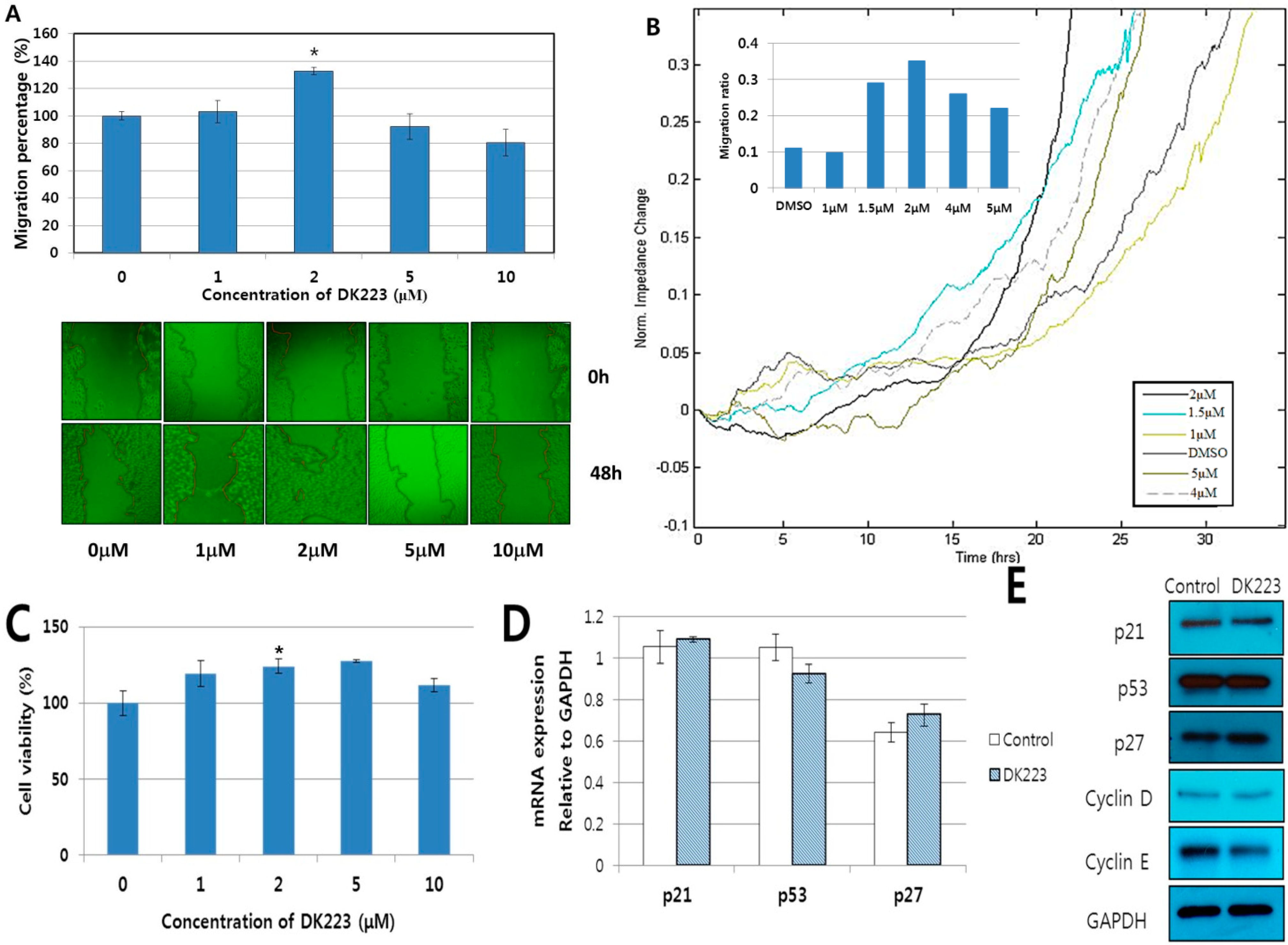 Figure 1
Share & Cite This Article
MDPI and ACS Style
Ho, M.T.; Kang, H.S.; Huh, J.S.; Kim, Y.M.; Lim, Y.; Cho, M. Effects of the Novel Compound DK223 ([1E,2E-1,2-Bis(6-methoxy-2H-chromen-3-yl)methylene]hydrazine) on Migration and Proliferation of Human Keratinocytes and Primary Dermal Fibroblasts. Int. J. Mol. Sci. 2014, 15, 13091-13110.
Related Articles
Comments
[Return to top]