Arginine Enhances Osteoblastogenesis and Inhibits Adipogenesis through the Regulation of Wnt and NFATc Signaling in Human Mesenchymal Stem Cells
1
East-West Bone & Joint Research Institute, Kyung Hee University, 149, Sangil-dong, Gangdong-gu, Seoul 134-727, Korea
2
Department of Acupuncture and Moxibustion, College of Oriental Medicine, Kyung Hee University, 1, Hoegi-dong, Dongdaemun-gu, Seoul 130-701, Korea
3
Department of Cancer Preventive Material Development, College of Oriental Medicine, Kyung Hee University, 1, Hoegi-dong, Dongdaemun-gu, Seoul 130-701, Korea
4
Department of Acupuncture and Moxibustion, Kyung Hee University Hospital at Kangdong, 149, Sangil-dong, Gangdong-gu, Seoul 134-727, Korea
*
Author to whom correspondence should be addressed.
Received: 16 June 2014 / Revised: 2 July 2014 / Accepted: 10 July 2014 / Published: 22 July 2014
Abstract
Arginine, an α-amino acid, has been reported to exert beneficial effects that ameliorate health problems and prevent excessive fat deposition. In this study, we investigated whether the activation of cell signaling by arginine can induce osteogenic differentiation and modulate excessive adipogenic differentiation in human mesenchymal stem cells (MSCs). Arginine potently induced the expression of type Iα1 collagen, osteocalcin, and ALP in a dose-dependent manner without causing cytotoxicity. Arginine significantly increased the mRNA expression of the osteogenic transcription factors runt-related transcription factor 2 (Runx2), DIx5, and osterix. Furthermore, arginine demonstrated its antiadipogenicity by decreasing adipocyte formation and triglyceride (TG) content in MSCs and inhibiting the mRNA expression of the adipogenic transcription factors peroxisome proliferator-activated receptor γ (PPARγ), CCAAT/enhancer-binding protein α (C/EBPα), and fatty acid binding protein 4 (Fabp4). This effect was associated with increased expression of Wnt5a, and nuclear factor of activated T-cells (NFATc), and was abrogated by antagonists of Wnt and NFATc, which indicated a role of Wnt and NFATc signaling in the switch from adipogenesis to osteoblastogenesis induced by arginine. In conclusion, this is the first report of the dual action of arginine
in promoting osteogenesis and inhibiting adipocyte formation through involving Wnt5a and NFATc signaling pathway.
View Full-Text
►

▼

Figures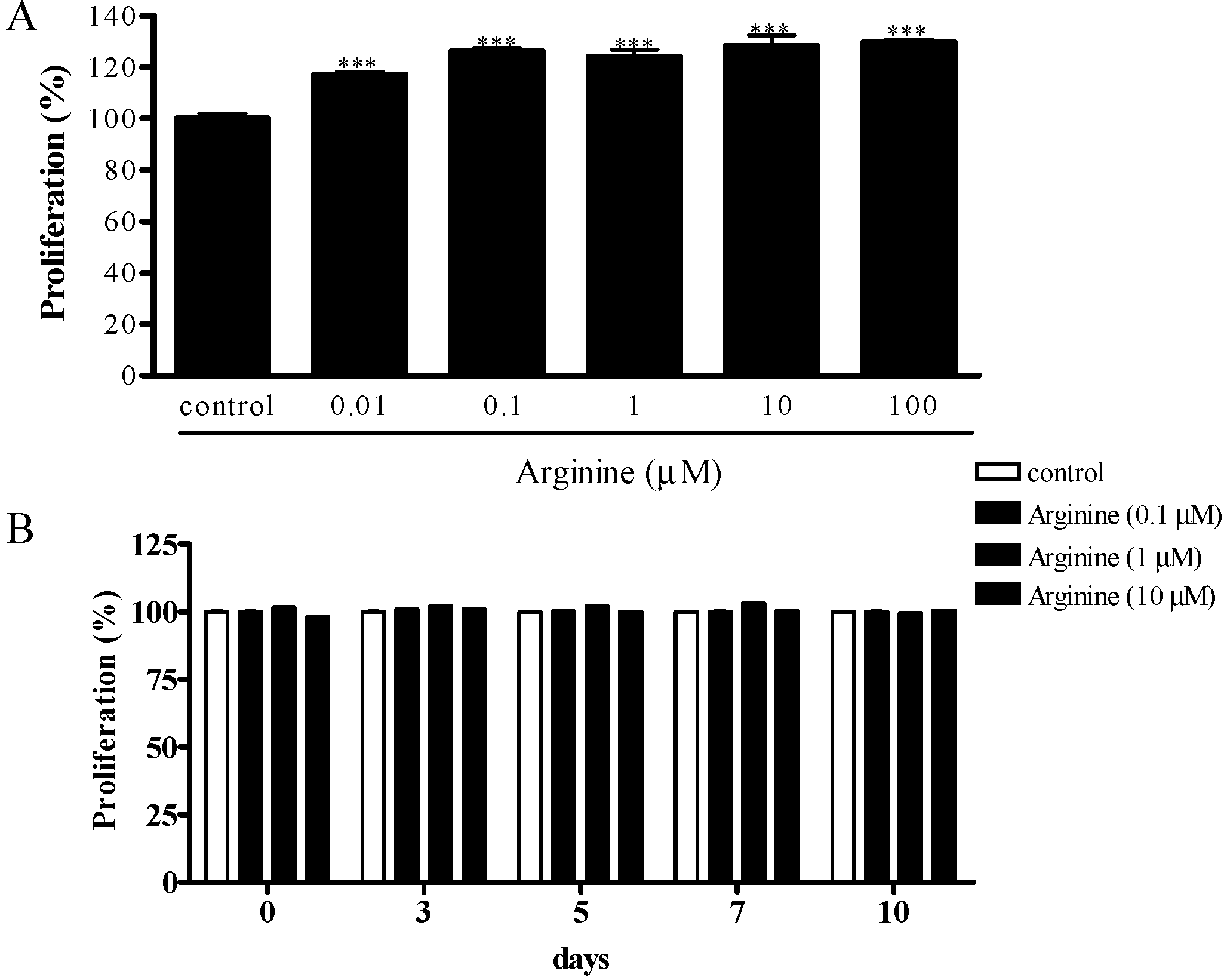 Figure 1
Share & Cite This Article
MDPI and ACS Style
Huh, J.-E.; Choi, J.-Y.; Shin, Y.-O.; Park, D.-S.; Kang, J.W.; Nam, D.; Choi, D.-Y.; Lee, J.-D. Arginine Enhances Osteoblastogenesis and Inhibits Adipogenesis through the Regulation of Wnt and NFATc Signaling in Human Mesenchymal Stem Cells. Int. J. Mol. Sci. 2014, 15, 13010-13029.
Related Articles
Comments
[Return to top]