Molecular Method for Sex Identification of Half-Smooth Tongue Sole (Cynoglossus semilaevis) Using a Novel Sex-Linked Microsatellite Marker
1
Key Laboratory for Sustainable Development of Marine Fisheries, Ministry of Agriculture, Yellow Sea Fisheries Research Institute, Chinese Academy of Fishery Sciences, Qingdao 266071, China
2
Key Laboratory of Ecological Impacts of Hydraulic-Projects and Restoration of Aquatic Ecosystem of Ministry of Water Resources, Institute of Hydroecology, Ministry of Water Resources and Chinese Academy of Sciences, Wuhan 430079, China
*
Author to whom correspondence should be addressed.
Received: 23 January 2014 / Revised: 28 March 2014 / Accepted: 23 April 2014 / Published: 22 July 2014
Abstract
Half-smooth tongue sole (
Cynoglossus semilaevis
) is one of the most important flatfish species for aquaculture in China. To produce a monosex population, we attempted to develop a marker-assisted sex control technique in this sexually size dimorphic fish. In this study, we identified a co-dominant sex-linked marker (
i.e.
, CyseSLM) by screening genomic microsatellites and further developed a novel molecular method for sex identification in the tongue sole. CyseSLM has a sequence similarity of 73%–75% with stickleback, medaka, Fugu and Tetraodon. At this locus, two alleles (
i.e.
, A244 and A234) were amplified from 119 tongue sole individuals with primer pairs CyseSLM-F1 and CyseSLM-R. Allele A244 was present in all individuals, while allele A234 (female-associated allele, FAA) was mostly present in females with exceptions in four male individuals. Compared with the sequence of A244, A234 has a 10-bp deletion and 28 SNPs. A specific primer (CyseSLM-F2) was then designed based on the A234 sequence, which amplified a 204 bp fragment in all females and four males with primer CyseSLM-R. A time-efficient multiplex PCR program was developed using primers CyseSLM-F2, CyseSLM-R and the newly designed primer CyseSLM-F3. The multiplex PCR products with co-dominant pattern could be detected by agarose gel electrophoresis, which accurately identified the genetic sex of the tongue sole. Therefore, we have developed a rapid and reliable method for sex identification in tongue sole with a newly identified sex-linked microsatellite marker.
View Full-Text
►

▼

Figures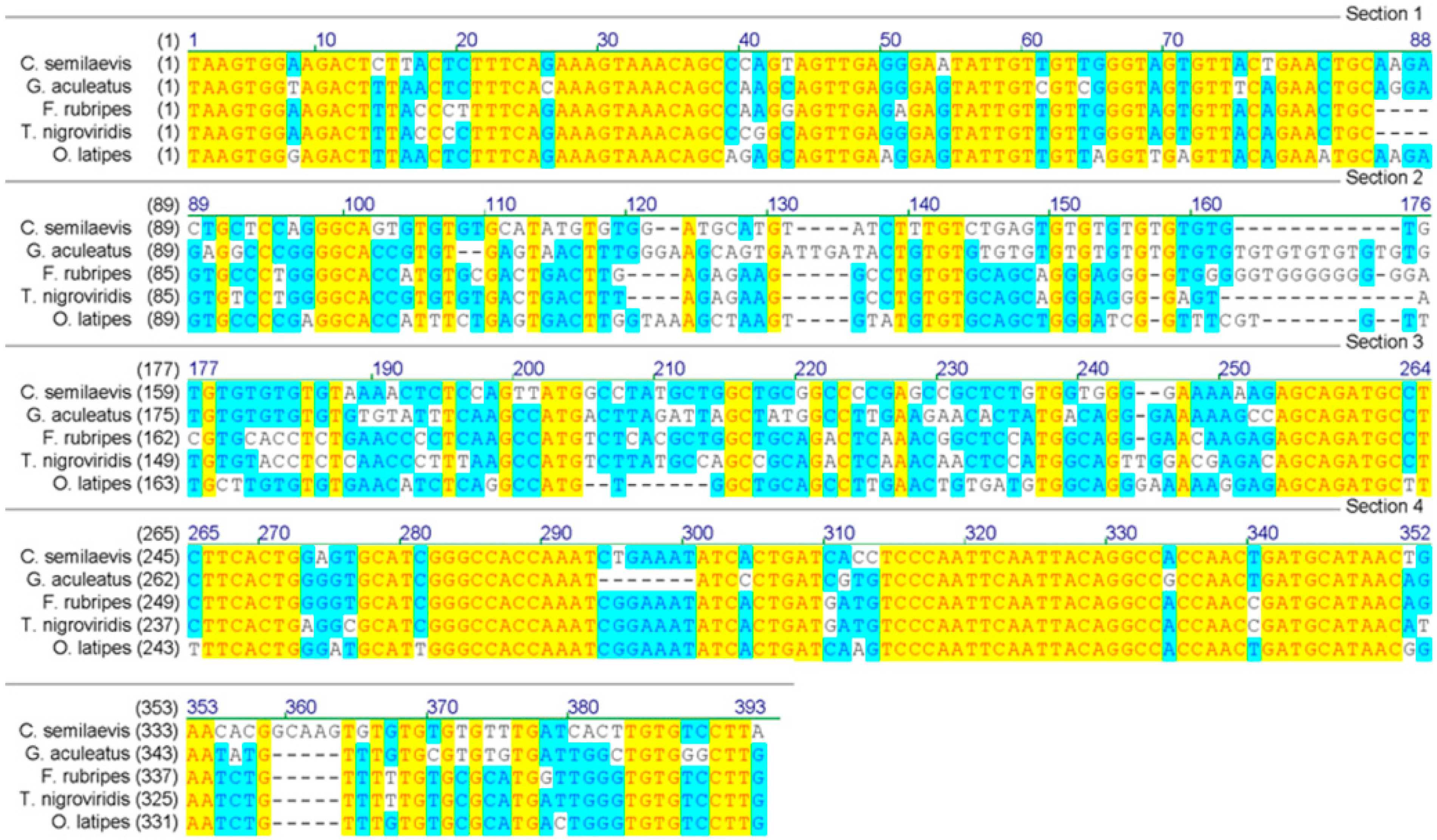 Figure 1
Share & Cite This Article
MDPI and ACS Style
Liao, X.; Xu, G.; Chen, S.-L. Molecular Method for Sex Identification of Half-Smooth Tongue Sole (Cynoglossus semilaevis) Using a Novel Sex-Linked Microsatellite Marker. Int. J. Mol. Sci. 2014, 15, 12952-12958.
Related Articles
Comments
[Return to top]