The Dipeptidyl Peptidase-4 Inhibitor Sitagliptin Protects against Dyslipidemia-Related Kidney Injury in Apolipoprotein E Knockout Mice
Department of Endocrinology and Metabolism, Nanfang Hospital, Southern Medical University, Guangzhou 510150, China
*
Author to whom correspondence should be addressed.
Received: 1 April 2014 / Revised: 16 June 2014 / Accepted: 20 June 2014 / Published: 26 June 2014
Abstract
The goal of this study was to investigate the possible protective effects of sitagliptin against dyslipidemia-related kidney injury in
apolipoprotein E
knockout (apoE
−/−
) mice. Eight-week-old male apoE
−/−
mice were randomized to receive either a high fat diet (HFD, apoE
−/−
group) or HFD mixed with sitagliptin (sita + apoE
−/−
group) for 16 weeks. A control group of age- and gender-matched C57BL/6J mice were fed a HFD. The apoE
−/−
group exhibited increases in body weight and serum lipid levels in addition to high-density lipoprotein, and increases in 24-h urinary 8-hydroxy-2-deoxyguanosine and albuminuria excretion. Decreased insulin sensitivity was also observed in the apoE
−/−
group. These mice additionally contained enlargements of the glomerular mesangial matrix area, lipid deposition area, and renal interstitium collagen area. The apoE
−/−
group also demonstrated down-regulation of phosphorylated AMP-activated protein kinase (AMPK), increases in renal mRNA expression of
transforming growth factor-beta 1
(TGF-β1) and
fibronectin
(FN), and increased protein expression of Akt, TGF-β1, FN and p38/ERK mitogen-activated protein kinase (MAPK). Sitagliptin treatment successfully ameliorated all the deleterious effects of dyslipidemia tested. To our knowledge, this is the first time that sitagliptin has been shown to reverse the renal dysfunction and structural damage induced by dyslipidemia in apoE
−/−
mice. Our results suggest that the renoprotective mechanism of sitagliptin may be due to a reduction in Akt levels, a restoration of AMPK activity, and inhibition of TGF-β1, FN, and p38/ERK MAPK signaling pathways.
View Full-Text
►

▼

Figures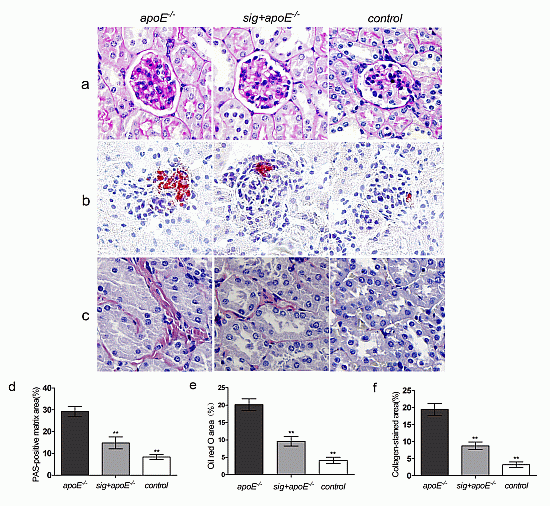 Share & Cite This Article
MDPI and ACS Style
Li, J.; Guan, M.; Li, C.; Lyv, F.; Zeng, Y.; Zheng, Z.; Wang, C.; Xue, Y. The Dipeptidyl Peptidase-4 Inhibitor Sitagliptin Protects against Dyslipidemia-Related Kidney Injury in Apolipoprotein E Knockout Mice. Int. J. Mol. Sci. 2014, 15, 11416-11434.
Related Articles
Comments
[Return to top]