Inhibition of Autophagy Potentiates Atorvastatin-Induced Apoptotic Cell Death in Human Bladder Cancer Cells in Vitro
1
Graduate School of Medical Science and Engineering (GSMSE), Korea Advanced Institute of Science and Technology (KAIST), 291 Daehak-ro, Yuseong-gu, Daejeon 305-701, Korea
2
Department of Urology, Seoul National University Hospital, 101 Daehak-ro, Jongno-gu, Seoul 110-744, Korea
*
Author to whom correspondence should be addressed.
Received: 4 March 2014 / Revised: 20 March 2014 / Accepted: 1 April 2014 / Published: 8 May 2014
Abstract
Statins are cholesterol reduction agents that exhibit anti-cancer activity in several human cancers. Because autophagy is a crucial survival mechanism for cancer cells under stress conditions, cooperative inhibition of autophagy acts synergistically with other anti-cancer drugs. Thus, this study investigates whether combined treatment of atorvastatin and autophagy inhibitors results in enhancing the cytotoxic effects of atorvastatin, upon human bladder cancer cells, T24 and J82,
in vitro
. To measure cell viability, we performed the EZ-Cytox cell viability assay. We examined apoptosis by flow cytometry using annexin-V/propidium iodide (PI and western blot using procaspase-3 and poly (ADP-ribose) polymerase (PARP) antibodies. To examine autophagy activation, we evaluated the co-localization of LC3 and LysoTracker by immunocytochemistry, as well as the expression of LC3 and p62/sequestosome-1 (SQSTM1) by western blot. In addition, we assessed the survival and proliferation of T24 and J82 cells by a clonogenic assay. We found that atorvastatin reduced the cell viability of T24 and J82 cells via apoptotic cell death and induced autophagy activation, shown by the co-localization of LC3 and LysoTracker. Moreover, pharmacologic inhibition of autophagy significantly enhanced atorvastatin-induced apoptosis in T24 and J82 cells. In sum, inhibition of autophagy potentiates atorvastatin-induced apoptotic cell death in human bladder cancer cells
in vitro
, providing a potential therapeutic approach to treat bladder cancer.
View Full-Text
►

▼

Figures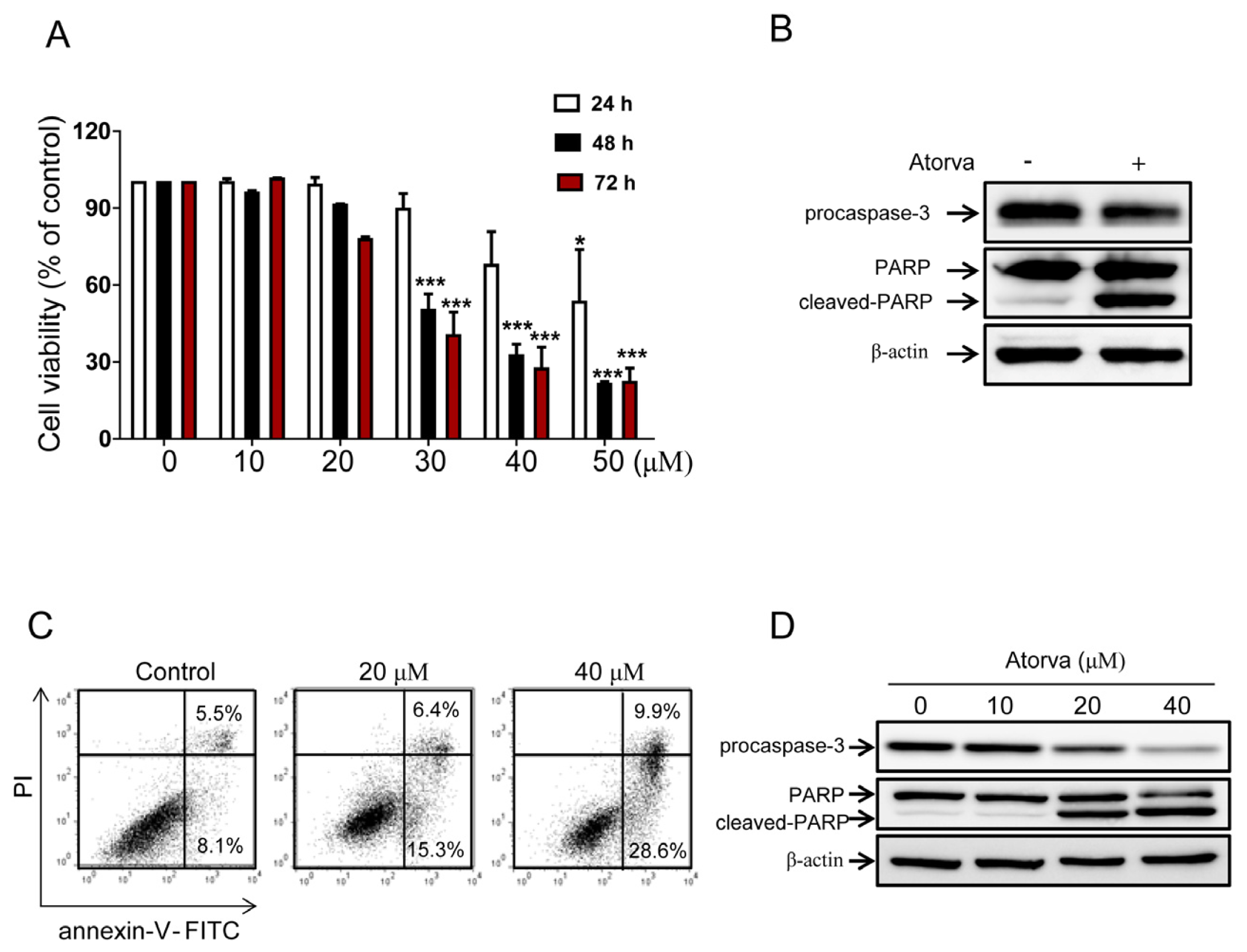 Share & Cite This Article
MDPI and ACS Style
Kang, M.; Jeong, C.W.; Ku, J.H.; Kwak, C.; Kim, H.H. Inhibition of Autophagy Potentiates Atorvastatin-Induced Apoptotic Cell Death in Human Bladder Cancer Cells in Vitro. Int. J. Mol. Sci. 2014, 15, 8106-8121.
Related Articles
Comments
[Return to top]