The Relationship between Dioxin Congeners in the Breast Milk of Vietnamese Women and Sister Chromatid Exchange
1
Department of Nursing, Toyota West Hospital, 100 Yokoyama, Homi-cho, Toyota, Aichi 470-0344, Japan
2
Faculty of Health Science, Institute of Medical, Pharmaceutical and Health Sciences, Kanazawa University, 5-11-80 Kodatsuno, Kanazawa, Ishikawa 920-0942, Japan
3
School of Medicine and Pharmacy, Vietnam National University, 144 Xuan Thuy Str., Cau Giay Dist., Hanoi 100803, Vietnam
4
Department of Epidemiology and Public Health, Kanazawa Medical University, 1-1 Daigaku, Uchinada, Kahoku, Ishikawa 920-0293, Japan
5
Department of Environment Technology and Measurement, Hyogo Environmental Advancement Association, 3-1-31 Yukihira-cho, Suma-ku, Kobe, Hyogo 654-0037, Japan
6
Division of Ultrafine Structure, Department of Pathology, Research Institute, International Medical Center of Japan, 1-21-1 Toyama, Shinjuku, Tokyo 162-8655, Japan
7
Centre for Environment and Population Health, Griffith School of Environment, Griffith University, 170 Kessels Road, Nathan Campus, Brisbane, QLD 4111, Australia
8
Division for Mitigation of the Consequences of the Chemicals used during the War on Human Health (10-80 Division), Hanoi Medical University, 1 Ton That Tung Str., Dong Da Dist., Hanoi 100803, Vietnam
†
These authors contributed equally to this work.
*
Author to whom correspondence should be addressed.
Received: 14 March 2014 / Revised: 11 April 2014 / Accepted: 14 April 2014 / Published: 30 April 2014
Abstract
The aim of this study was to clarify the relationship between dioxin concentrations in breast milk and the sister chromatid exchange (SCE) frequency in women from herbicide-sprayed and non sprayed areas. Blood samples were taken from 21 women with high TCDD (tetrachlorodibenzo-p-dioxin) levels from sprayed areas, 23 women with moderate TCDD levels from sprayed areas, and 19 women from non sprayed areas to determine their SCE frequency. The SCE frequencies for the high and moderate TCDD groups from the sprayed area and for the non sprayed area group were 2.40, 2.19, and 1.48 per cell, respectively. Multiple regression analysis showed that the standardized β values for 1,2,3,6,7,8-hexaCDD (β = 0.60), 1,2,3,4,6,7,8-heptaCDD (β = 0.64), and octaCDD (β = 0.65) were higher than those for TCDD (β = 0.34) and 1,2,3,7,8-pentaCDD (β = 0.42). The adjusted
R
2
value for polyCDDs (
R
2
= 0.38) was higher than that for polyCDD toxic equivalents (TEQ (toxic equivalents);
R
2
= 0.23). This study therefore shows that levels of hexa-, hepta-, and octaCDD, which were previously regarded as being less toxic than TCDD, are closely related to SCE frequency and that the level of dioxin (pg/g lipid) is potentially more useful as an indicator than TEQ value for explaining SCE frequency.
View Full-Text
►

▼

Figures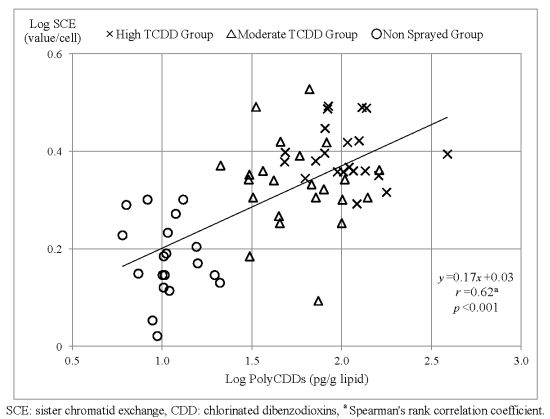 Share & Cite This Article
MDPI and ACS Style
Suzuki, H.; Kido, T.; Okamoto, R.; Nhu, D.D.; Nishijo, M.; Nakagawa, H.; Tawara, K.; Horikawa, H.; Sato, Y.; Dung, P.T.; Thom, L.H.; Hung, N.N. The Relationship between Dioxin Congeners in the Breast Milk of Vietnamese Women and Sister Chromatid Exchange. Int. J. Mol. Sci. 2014, 15, 7485-7499.
Related Articles
Comments
[Return to top]