Transgene IL-6 Enhances DC-Stimulated CTL Responses by Counteracting CD4+25+Foxp3+ Regulatory T Cell Suppression via IL-6-Induced Foxp3 Downregulation
1
Cancer Research Unit, Saskatchewan Cancer Agency, Saskatoon, SK S7N 5E5, Canada
2
Department of Oncology, University of Saskatchewan, Saskatoon, SK S7N 5E5, Canada
3
Pathology and Laboratory Medicine, University of Saskatchewan, Saskatoon, SK S7N 5E5, Canada
4
Department of Oncology, the First Affiliated Hospital of Soochow University, Soochow 215000, China
5
School of Life Sciences, Beijing Institute of Technology, Beijing 100081, China
†
These authors contributed equally to this work.
*
Author to whom correspondence should be addressed.
Received: 24 December 2013 / Revised: 25 February 2014 / Accepted: 6 March 2014 / Published: 31 March 2014
Abstract
Dendritic cells (DCs), the most potent antigen-presenting cells have been extensively applied in clinical trials for evaluation of antitumor immunity. However, the efficacy of DC-mediated cancer vaccines is still limited as they are unable to sufficiently break the immune tolerance. In this study, we constructed a recombinant adenoviral vector (AdV
IL-6
) expressing
IL-6
, and generated
IL-6
transgene-engineered DC vaccine (DC
OVA/IL-6
) by transfection of murine bone marrow-derived ovalbumin (OVA)-pulsed DCs (DC
OVA
) with AdV
IL-6
. We then assessed DC
OVA/IL-6
-stimulated cytotoxic T-lymphocyte (CTL) responses and antitumor immunity in OVA-specific animal tumor model. We demonstrate that DC
OVA/IL-6
vaccine up-regulates expression of DC maturation markers, secretes transgene-encoded IL-6, and more efficiently stimulates OVA-specific CTL responses and therapeutic immunity against OVA-expressing B16 melanoma BL6-10
OVA
in vivo
than the control DC
OVA/Null
vaccine. Moreover, DC
OVA/IL-6
-stimulated CTL responses were relatively maintained in mice with transfer of CD4
+
25
+
Foxp3+
Tr-cells, but significantly reduced when treated with anti-IL-6 antibody. In addition, we demonstrate that IL-6 down-regulates
Foxp3
-expression of CD4
+
25
+
Foxp3+
Tr-cells
in vitro
. Taken together, our results demonstrate that AdV-mediated
IL-6
transgene-engineered DC vaccine stimulates potent CTL responses and antitumor immunity by counteracting CD4
+
25
+
Tr immunosuppression via IL-6-induced
Foxp3
down-regulation. Thus,
IL-6
may be a good candidate for engineering DCs for cancer immunotherapy.
View Full-Text
►

▼

Figures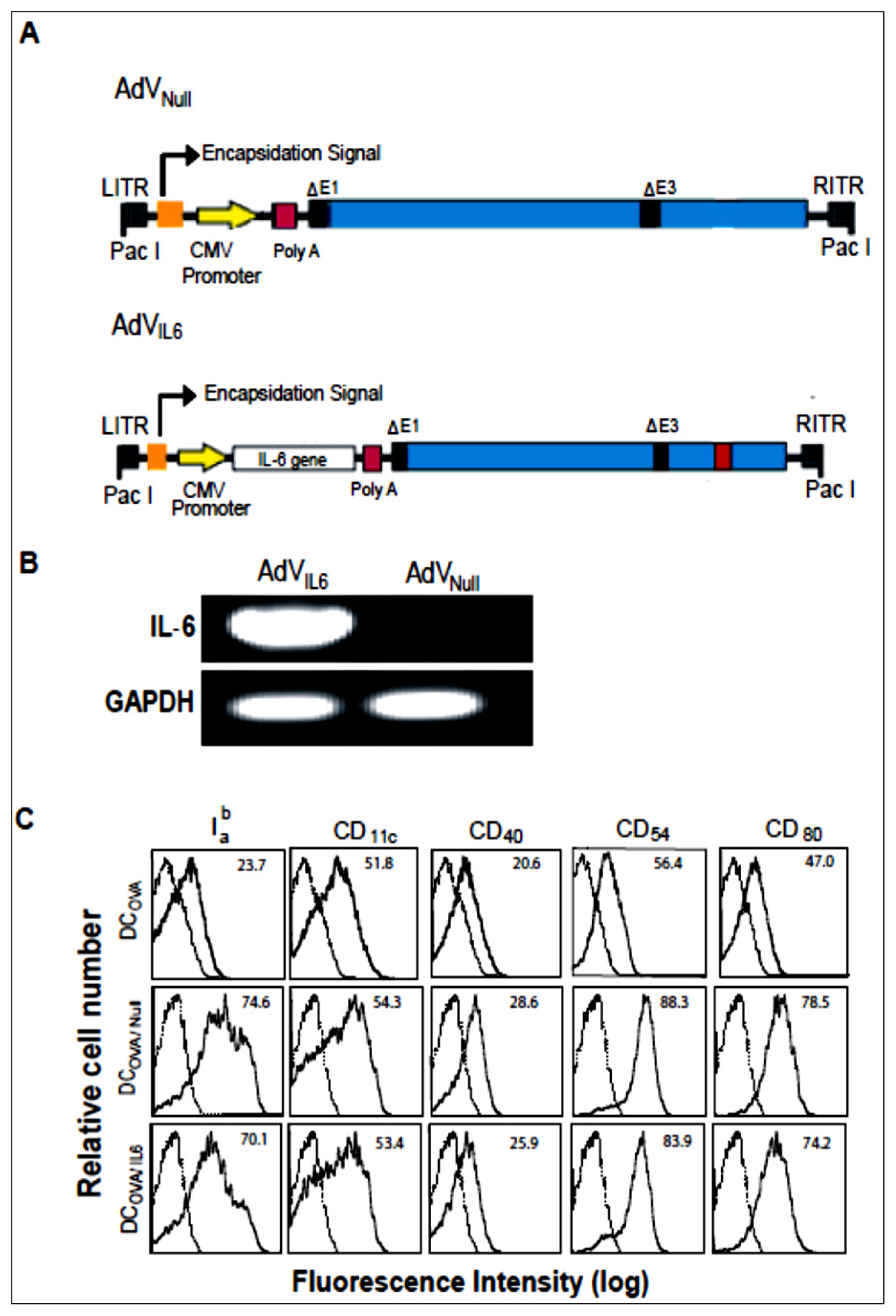 Share & Cite This Article
MDPI and ACS Style
Bhanumathy, K.K.; Zhang, B.; Ahmed, K.A.; Qureshi, M.; Xie, Y.; Tao, M.; Tan, X.; Xiang, J. Transgene IL-6 Enhances DC-Stimulated CTL Responses by Counteracting CD4+25+Foxp3+ Regulatory T Cell Suppression via IL-6-Induced Foxp3 Downregulation. Int. J. Mol. Sci. 2014, 15, 5508-5521.
Related Articles
Comments
[Return to top]