Galectin-9 Induced Myeloid Suppressor Cells Expand Regulatory T Cells in an IL-10-Dependent Manner in CVB3-Induced Acute Myocarditis
1
Laboratory of Medicine of The First Affiliated Hospital, Wannan Medical College, 2 Western Zheshan Road, Wuhu 241001, China
2
Department of Pharmacy, Institute of Dermatology, Chinese Academy of Medical Sciences, Nanjing 210001, China
3
Central Laboratory of The First Affiliated Hospital, Wannan Medical College, 2 Western Zheshan Road, Wuhu 241001, China
†
These authors contributed equally to this work.
*
Author to whom correspondence should be addressed.
Received: 9 December 2013 / Revised: 6 January 2014 / Accepted: 11 February 2014 / Published: 25 February 2014
Abstract
The objective of the study was to explore the effects of galectin-9 on myeloid suppressor cells in Coxsackievirus B3 (CVB3)-induced myocarditis and the possible mechanisms involved. For this purpose, BALB/c male mice were infected with CVB3 on day 0 and then received intraperitoneal (IP) administration of recombinant galectin-9 or phosphate-buffered saline (PBS) daily from day 3 to day 7. The phenotypes and functions of myeloid suppressor cells were evaluated. The role and mechanism of myeloid suppressor cells and subsets in CVB3-induced myocarditis
in vitro
were explored. We found that galectin-9 remarkably increased the frequencies of CD11b
+
Gr-1
+
cells in the cardiac tissue and spleen with myocarditis. Ly-6G
+
cells were decreased and Ly-6C
+
cells were increased in galectin-9-treated mice. In addition, CD11b
+
Gr-1
+
cells were highly effective in suppressing CD4
+
T cells. Moreover, our data demonstrate that CD11b
+
Gr-1
+
cells are capable of expanding regulatory T cells (Tregs) from a preexisting population of natural Tregs, which depends on IL-10 but not TGF-β. Our results indicate that galectin-9 therapy may represent a useful approach to ameliorate CVB3-induced myocarditis.
View Full-Text
►

▼

Figures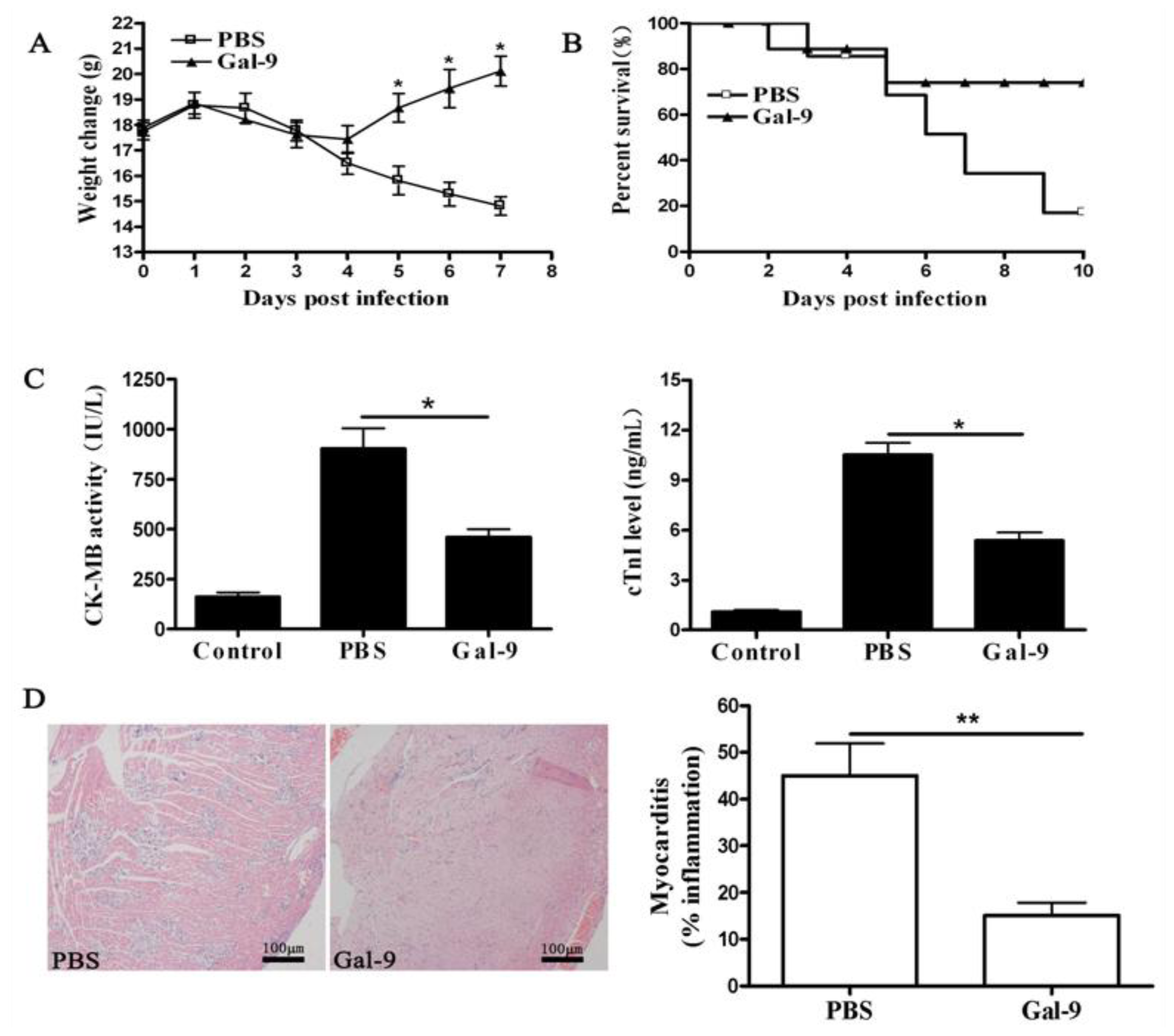 Share & Cite This Article
MDPI and ACS Style
Zhang, Y.; Jiang, L.; Zhang, M.; Lv, K. Galectin-9 Induced Myeloid Suppressor Cells Expand Regulatory T Cells in an IL-10-Dependent Manner in CVB3-Induced Acute Myocarditis. Int. J. Mol. Sci. 2014, 15, 3356-3372.
Related Articles
Comments
[Return to top]