C2-Ceramide Induces Cell Death and Protective Autophagy in Head and Neck Squamous Cell Carcinoma Cells
1
Department of Oral and Maxillofacial Surgery, the First Affiliated Hospital, Zhejiang University, Hangzhou 310003, China
2
Department of Oral and Maxillofacial Surgery, the Affiliated Hospital of Stomatology, College of Medicine, Zhejiang University, Hangzhou 310003, China
3
Department of Oral Implantology, the Affiliated Hospital of Stomatology, College of Medicine, Zhejiang University, Hangzhou 310003, China
*
Author to whom correspondence should be addressed.
Received: 19 November 2013 / Revised: 20 January 2014 / Accepted: 11 February 2014 / Published: 21 February 2014
Abstract
Ceramides are second messengers involved in several intracellular processes in cancer cells, amongst others. The aim of this study was to evaluate the anti-tumor efficacy of C2-ceramide (C2-Cer;
N
-acetyl-D-sphingosine) by investigating cell death and autophagy in head and neck squamous cell carcinoma (HNSCC) cells. C2-Cer showed concentration-dependent cytotoxicity in HN4 and HN30 cell lines. It simultaneously induced caspase-3-independent apoptosis and programmed necrosis. C2-Cer markedly increased the expression level of microtubule-associated protein 1 light chain 3B (LC3B) type II associated with protective autophagy. An autophagy inhibitor enhanced C2-Cer-mediated cytotoxicity, while a programmed-necrosis inhibitor produced the opposite effect. Furthermore, C2-Cer up-regulated the phosphorylation of extracellular signal-regulated kinase 1/2, but down-regulated its downstream substrate phospho-mammalian target of rapamycin (p-mTOR) during the autophagy process. These results suggested that C2-Cer exerts anti-tumor effects by inducing programmed apoptosis and necrosis in HNSCC, and these cytotoxic effects are enhanced by an autophagy inhibitor.
View Full-Text
►

▼

Figures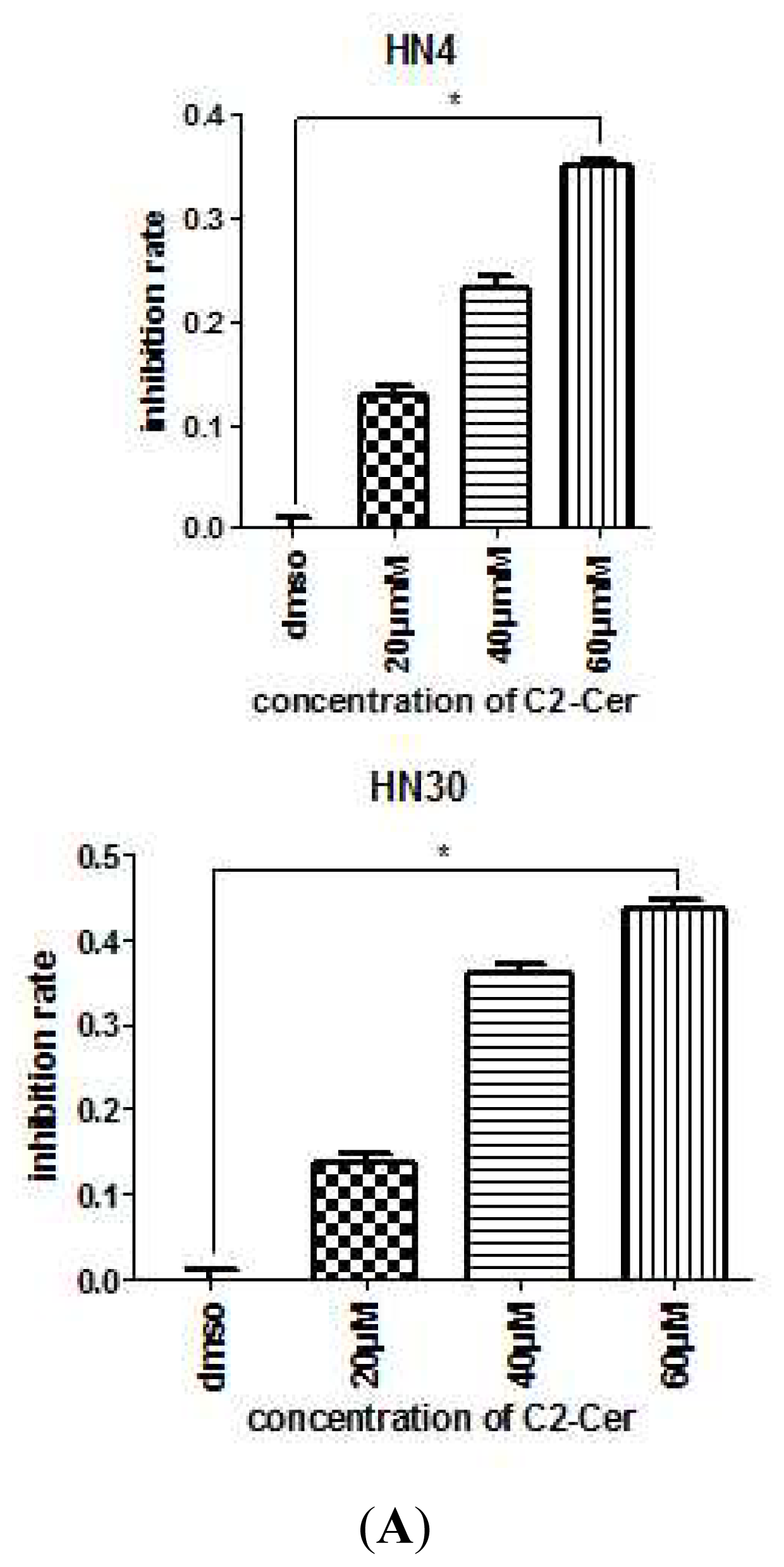 Share & Cite This Article
MDPI and ACS Style
Zhu, W.; Wang, X.; Zhou, Y.; Wang, H. C2-Ceramide Induces Cell Death and Protective Autophagy in Head and Neck Squamous Cell Carcinoma Cells. Int. J. Mol. Sci. 2014, 15, 3336-3355.
Related Articles
Comments
[Return to top]