Evodiamine Induces Apoptosis and Enhances TRAIL-Induced Apoptosis in Human Bladder Cancer Cells through mTOR/S6K1-Mediated Downregulation of Mcl-1
1
Minimally Invasive Urology Center, Provincial Hospital Affiliated to Shandong University, Jinan 250021, China
2
School of Medicine, Shandong University, Jinan 250012, China
3
Department of Urology, the First Hospital of Xi'an Jiaotong University, Xi'an 710061, China
*
Author to whom correspondence should be addressed.
Received: 27 December 2013 / Revised: 13 February 2014 / Accepted: 14 February 2014 / Published: 21 February 2014
Abstract
The tumor necrosis factor-related apoptosis-inducing ligand (TRAIL), either alone or in combination with other anti-cancer agents, has been considered as a new strategy for anti-cancer therapy. In this study, we demonstrated that evodiamine, a quinolone alkaloid isolated from the fruit of
Evodia fructus
, induced apoptosis and enhanced TRAIL-induced apoptosis in human bladder cancer cells. To elucidate the underlying mechanism, we found that evodiamine significantly reduced the protein levels of Mcl-1 in 253J and T24 bladder cancer cells, and overexpression of this molecule attenuated the apoptosis induced by evodiamine alone, or in combination with TRAIL. Further experiments revealed that evodiamine did not affect the mRNA level, proteasomal degradation and protein stability of Mcl-1. On the other hand, evodiamine inhibited the mTOR/S6K1 pathway, which usually regulates protein translation; moreover, knockdown of S6K1 with small interfering RNA (siRNA) effectively reduced Mcl-1 levels, indicating evodiamine downregulates c-FLIP through inhibition of mTOR/S6K1 pathway. Taken together, our results indicate that evodiamine induces apoptosis and enhances TRAIL-induced apoptosis possibly through mTOR/S6K1-mediated downregulation of Mcl-1; furthermore, these findings provide a rationale for the combined application of evodiamine with TRAIL in the treatment of bladder cancer.
View Full-Text
►

▼

Figures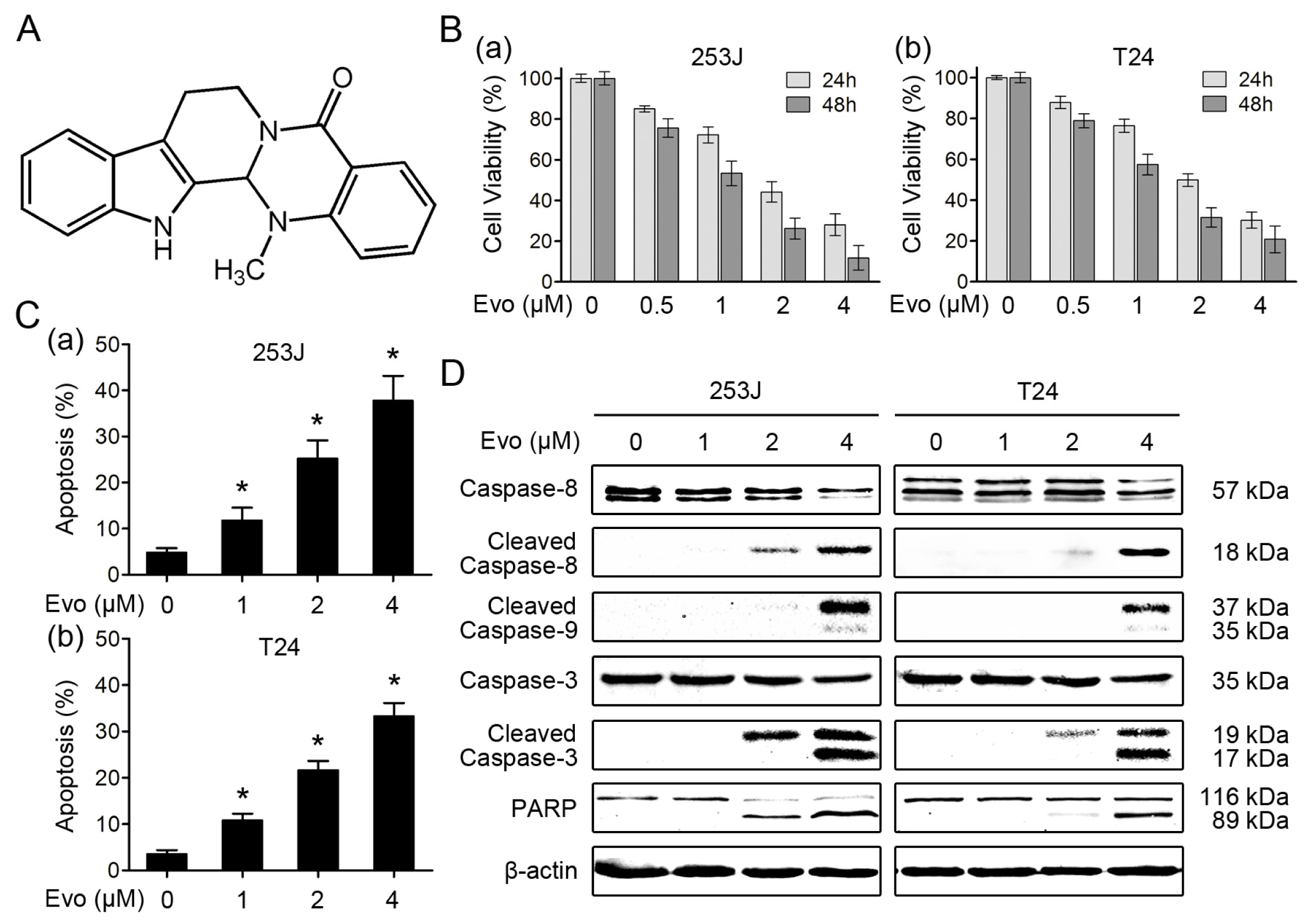 Share & Cite This Article
MDPI and ACS Style
Zhang, T.; Qu, S.; Shi, Q.; He, D.; Jin, X. Evodiamine Induces Apoptosis and Enhances TRAIL-Induced Apoptosis in Human Bladder Cancer Cells through mTOR/S6K1-Mediated Downregulation of Mcl-1. Int. J. Mol. Sci. 2014, 15, 3154-3171.
Related Articles
Comments
[Return to top]