Three-Dimensional Stratification of Bacterial Biofilm Populations in a Moving Bed Biofilm Reactor for Nitritation-Anammox
1
Department of Chemistry & Molecular Biology, Microbiology, University of Gothenburg, Box 462, Göteborg SE-405 30, Sweden
2
Water Environment Technology, Department of Civil and Environmental Engineering, Chalmers University of Technology, Göteborg SE-412 96, Sweden
3
Division of Microbial Ecology, Department of Microbiology and Ecosystem Science, University of Vienna, Vienna 1090, Austria
4
AnoxKaldnes AB, Klosterängsvägen 11A, Lund SE-226 47, Sweden
†
Present address: Civil and Environmental Engineering, Colorado School of Mines, 1500 Illinois Street, Golden, CO 80401-1887, USA;
*
Author to whom correspondence should be addressed.
Received: 23 December 2013 / Revised: 10 January 2014 / Accepted: 14 January 2014 / Published: 29 January 2014
Abstract
Moving bed biofilm reactors (MBBRs) are increasingly used for nitrogen removal with nitritation-anaerobic ammonium oxidation (anammox) processes in wastewater treatment. Carriers provide protected surfaces where ammonia oxidizing bacteria (AOB) and anammox bacteria form complex biofilms. However, the knowledge about the organization of microbial communities in MBBR biofilms is sparse. We used new cryosectioning and imaging methods for fluorescence
in situ
hybridization (FISH) to study the structure of biofilms retrieved from carriers in a nitritation-anammox MBBR. The dimensions of the carrier compartments and the biofilm cryosections after FISH showed good correlation, indicating little disturbance of biofilm samples by the treatment. FISH showed that
Nitrosomonas europaea/eutropha
-related cells dominated the AOB and
Candidatus
Brocadia fulgida
-related cells dominated the anammox guild. New carriers were initially colonized by AOB, followed by anammox bacteria proliferating in the deeper biofilm layers, probably in anaerobic microhabitats created by AOB activity. Mature biofilms showed a pronounced three-dimensional stratification where AOB dominated closer to the biofilm-water interface, whereas anammox were dominant deeper into the carrier space and towards the walls. Our results suggest that current mathematical models may be oversimplifying these three-dimensional systems and unless the multidimensionality of these systems is considered, models may result in suboptimal design of MBBR carriers.
View Full-Text
►

▼

Figures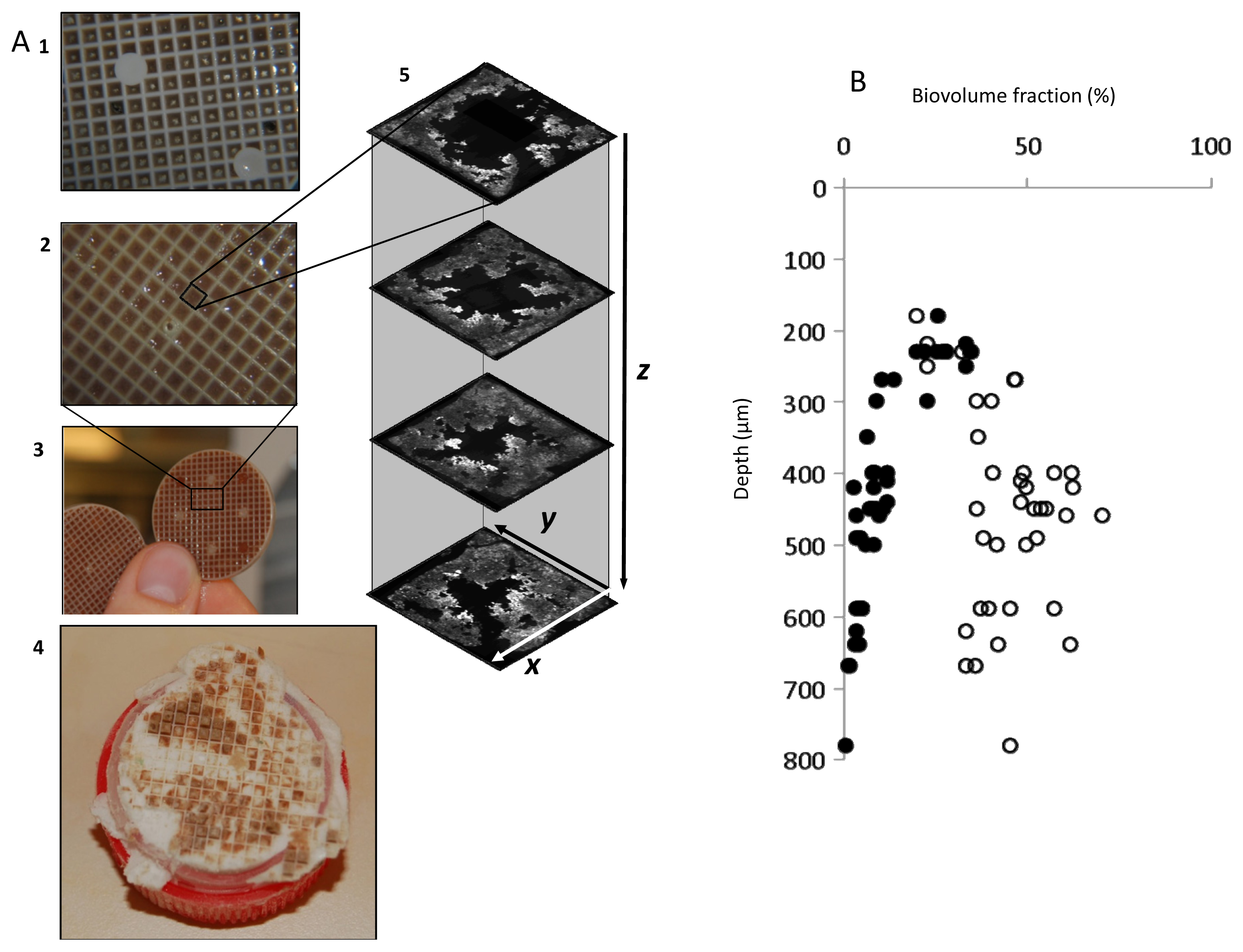 Share & Cite This Article
MDPI and ACS Style
Almstrand, R.; Persson, F.; Daims, H.; Ekenberg, M.; Christensson, M.; Wilén, B.-M.; Sörensson, F.; Hermansson, M. Three-Dimensional Stratification of Bacterial Biofilm Populations in a Moving Bed Biofilm Reactor for Nitritation-Anammox. Int. J. Mol. Sci. 2014, 15, 2191-2206.
Related Articles
Comments
[Return to top]