Proteomic Profiling of Cytosolic Glutathione Transferases from Three Bivalve Species: Corbicula fluminea, Mytilus galloprovincialis and Anodonta cygnea
1
CIIMAR/CIMAR—Interdisciplinary Centre of Marine and Environmental Research, University of Porto, Rua dos Bragas 289, 4050-123 Porto, Portugal
2
IPATIMUP—Institute of Molecular Pathology and Immunology of the University of Porto, 4200-465 Porto, Portugal
3
Faculty of Medicine, University of Porto, 4200-319 Porto, Portugal
4
Centre for GeoGenetics, Natural History Museum of Denmark, University of Copenhagen, Øster Voldgade 5-7, 1350 Copenhagen, Denmark
5
Department of Biology, Faculty of Sciences, Porto University, Rua do Campo Alegre, 4069-007 Porto, Portugal
*
Author to whom correspondence should be addressed.
Received: 18 November 2013 / Revised: 31 December 2013 / Accepted: 20 January 2014 / Published: 27 January 2014
Abstract
Suspension-feeding bivalves are considered efficient toxin vectors with a relative insensitivity to toxicants compared to other aquatic organisms. This fact highlights the potential role of detoxification enzymes, such as glutathione transferases (GSTs), in this bivalve resistance. Nevertheless, the GST system has not been extensively described in these organisms. In the present study, cytosolic GSTs isoforms (cGST) were surveyed in three bivalves with different habitats and life strategies:
Corbicula fluminea
,
Anodonta cygnea
and
Mytilus galloprovincialis
. GSTs were purified by glutathione-agarose affinity chromatography, and the collection of expressed cGST classes of each bivalve were identified using a proteomic approach. All the purified extracts were also characterized kinetically. Results reveal variations in cGST subunits collection (diversity and properties) between the three tested bivalves. Using proteomics, four pi-class and two sigma-class GST subunits were identified in
M. galloprovincialis
.
C. fluminea
also yielded four pi-class and one sigma-class GST subunits. For
A. cygnea
, two mu-class and one pi-class GST subunits were identified, these being the first record of GSTs from these freshwater mussels. The affinity purified extracts also show differences regarding enzymatic behavior among species. The variations found in cGST collection and kinetics might justify diverse selective advantages for each bivalve organism.
View Full-Text
►

▼

Figures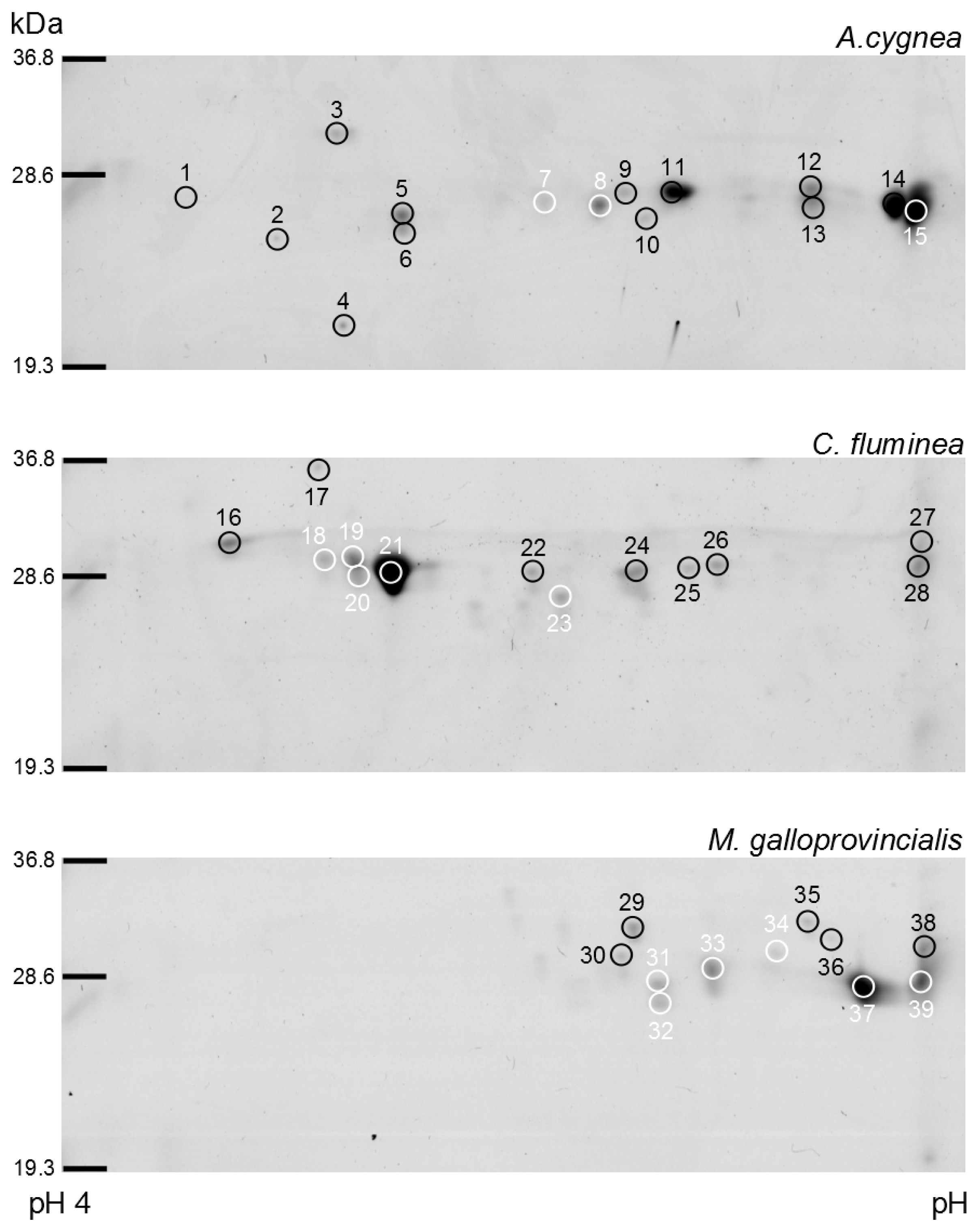 Share & Cite This Article
MDPI and ACS Style
Martins, J.C.; Campos, A.; Osório, H.; da Fonseca, R.; Vasconcelos, V. Proteomic Profiling of Cytosolic Glutathione Transferases from Three Bivalve Species: Corbicula fluminea, Mytilus galloprovincialis and Anodonta cygnea. Int. J. Mol. Sci. 2014, 15, 1887-1900.
Related Articles
Comments
[Return to top]