Effects of Bofu-Tsusho-San on Diabetes and Hyperlipidemia Associated with AMP-Activated Protein Kinase and Glucose Transporter 4 in High-Fat-Fed Mice
1
Department of Internal Medicine, Feng-Yuan Hospital, Ministry of Health and Welfare, Fengyuan District, Taichung City 42055, Taiwan
2
Department of Chinese Pharmaceutical Sciences and Chinese Medicine Resources, China Medical University, Taichung City 40402, Taiwan
3
Department of Biotechnology, Asia University, Taichung City 41354, Taiwan
4
Graduate Institute of Pharmaceutical Science and Technology, College of Health Science, Central Taiwan University of Science and Technology, No. 666, Buzih Road, Beitun District, Taichung City 40601, Taiwan
*
Author to whom correspondence should be addressed.
Received: 16 August 2014 / Revised: 6 October 2014 / Accepted: 23 October 2014 / Published: 4 November 2014
Abstract
This study was undertaken to examine the effect and mechanism of Bofu-tsusho-san formula (BO) on hyperglycemia and hyperlipidemia and in mice fed with a high-fat (HF) diet. The C57BL/6J mice were received control/HF diet for 12 weeks, and oral administration of BO (at three doses) or rosiglitazone (Rosi) or vehicle for the last 4 weeks. Blood, skeletal muscle and tissues were examined by means of measuring glycaemia and dyslipidaemia-associated events. BO treatment effectively prevented HF diet-induced increases in the levels of triglyceride (TG), free fatty acid (FFA) and leptin (
p
< 0.01,
p
< 0.01,
p
< 0.01, respectively). BO treatment exhibited reduced both visceral fat mass and hepatic triacylglycerol content; moreover, BO treatment displayed significantly decreased both the average area of the cut of adipocytes and ballooning of hepatocytes. BO treatment exerted increased the protein contents of glucose transporter 4 (GLUT4) in skeletal muscle, and caused lowered blood glucose levels. BO treatment displayed increased levels of phosphorylated AMP-activated protein kinase (AMPK) in both skeletal muscle and liver tissue. Furthermore, BO reduced the hepatic expression of glucose-6-phosphatase (G6Pase) and phosphenolpyruvate carboxykinase (PEPCK) and glucose production. Therefore, it is possible that the activation of AMPK by BO leads to diminished gluconeogenesis in liver tissue. BO increased hepatic expressions of peroxisome proliferator-activated receptor α (PPARα), whereas down-regulating decreasing expressions of fatty acid synthesis, including sterol regulatory element binding protein 1c (SREBP1c) and fatty acid synthase (FAS), resulting in a decrease in circulating triglycerides. This study originally provides the evidence that amelioration of dyslipidemic and diabetic state by BO in HF-fed mice occurred by regulation of GLUT4, SREBP1c, FAS, PPARα, adiponectin and AMPK phosphorylation.
View Full-Text
►

▼

Figures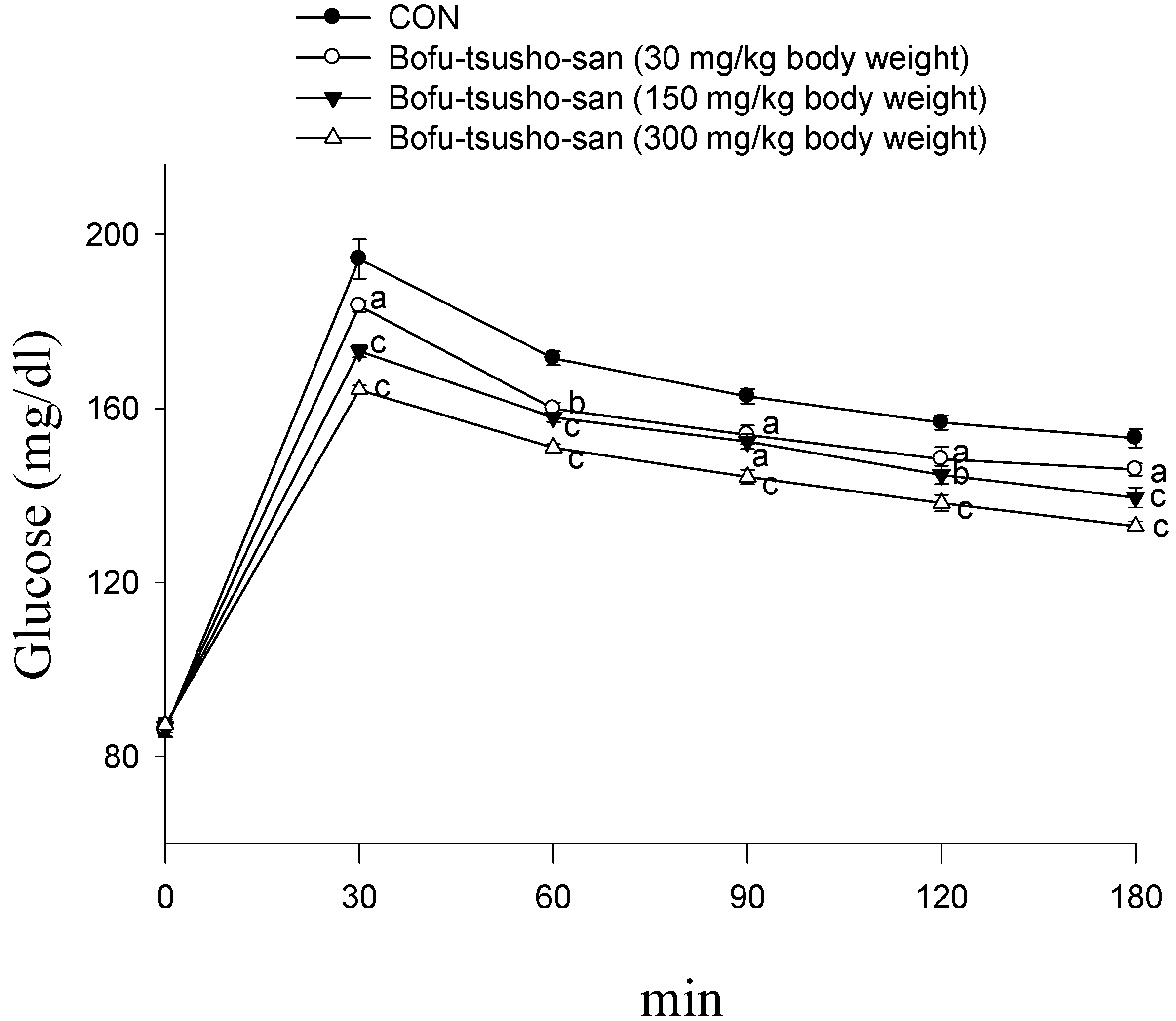 Figure 1
This is an open access article distributed under the
Creative Commons Attribution License
which permits unrestricted use, distribution, and reproduction in any medium, provided the original work is properly cited. (CC BY 4.0).
Share & Cite This Article
MDPI and ACS Style
Lin, C.-H.; Kuo, Y.-H.; Shih, C.-C. Effects of Bofu-Tsusho-San on Diabetes and Hyperlipidemia Associated with AMP-Activated Protein Kinase and Glucose Transporter 4 in High-Fat-Fed Mice. Int. J. Mol. Sci. 2014, 15, 20022-20044.
Related Articles
Comments
[Return to top]