The C-Terminal Region of G72 Increases D-Amino Acid Oxidase Activity
1
Graduate Institute of Basic Medical Science, College of Medicine, China Medical University, No. 91, Hsueh-Shih Road, Taichung 40402, Taiwan
2
Department of Medical Laboratory Science and Biotechnology, China Medical University, Taichung 40402, Taiwan
3
Department of Bioinformatics & Biotechnology, Faculty of Basic and Applied Sciences, International Islamic University (IIU), H-10 Sector, Islamaba 44000, Pakistan
4
Graduate Institute of Clinical Medical Science, China Medical University, Taichung 40402, Taiwan
5
Department of Psychiatry, China Medical University Hospital, Taichung 40402, Taiwan
6
Department of Psychiatry, Harbor-UCLA Medical Center and the Los Angeles Biomedical Research Institute, Torrance, CA 90502, USA
*
Author to whom correspondence should be addressed.
Received: 28 October 2013 / Revised: 28 November 2013 / Accepted: 6 December 2013 / Published: 20 December 2013
Abstract
The schizophrenia-related protein G72 plays a unique role in the regulation of D-amino acid oxidase (DAO) in great apes. Several psychiatric diseases, including schizophrenia and bipolar disorder, are linked to overexpression of DAO and G72. Whether G72 plays a positive or negative regulatory role in DAO activity, however, has been controversial. Exploring the molecular basis of the relationship between G72 and DAO is thus important to understand how G72 regulates DAO activity. We performed yeast two-hybrid experiments and determined enzymatic activity to identify potential sites in G72 involved in binding DAO. Our results demonstrate that residues 123–153 and 138–153 in the long isoform of G72 bind to DAO and enhance its activity by 22% and 32%, respectively. A docking exercise indicated that these G72 peptides can interact with loops in DAO that abut the entrance of the tunnel that substrate and cofactor must traverse to reach the active site. We propose that a unique gating mechanism underlies the ability of G72 to increase the activity of DAO. Because upregulation of DAO activity decreases d-serine levels, which may lead to psychiatric abnormalities, our results suggest a molecular mechanism involving interaction between DAO and the
C
-terminal region of G72 that can regulate
N-
methyl-d-aspartate receptor-mediated neurotransmission.
View Full-Text
►

▼

Figures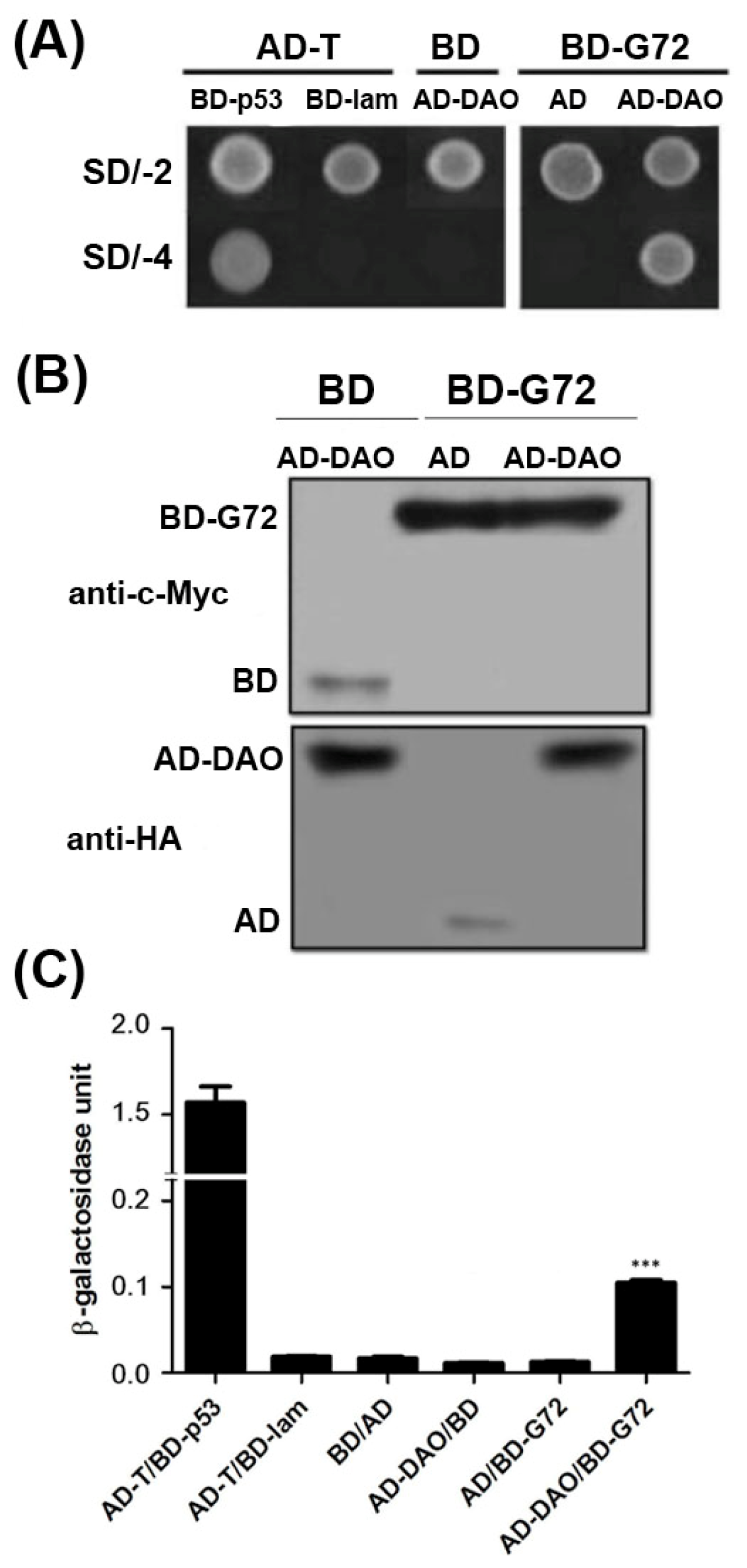 Share & Cite This Article
MDPI and ACS Style
Chang, S.L.-Y.; Hsieh, C.-H.; Chen, Y.-J.; Wang, C.-M.; Shih, C.-S.; Huang, P.-W.; Mir, A.; Lane, H.-Y.; Tsai, G.E.; Chang, H.-T. The C-Terminal Region of G72 Increases D-Amino Acid Oxidase Activity. Int. J. Mol. Sci. 2014, 15, 29-43.
Related Articles
Comments
[Return to top]